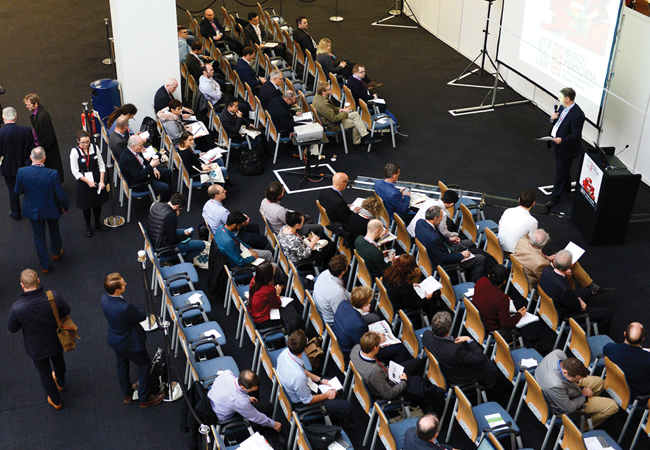 Taking note: one of the scores of streams hosted by Build2Perform Live
More than 1,000 delegates attended CIBSE's new Build2Perform Live event last month. The new format saw CIBSE leverage the expert membership of its groups and societies, with 80 sessions taking place over the two-day conference and exhibition.
The event also featured a programme of presentations from exhibitors, including CPDs, giving delegates an even wider selection of content.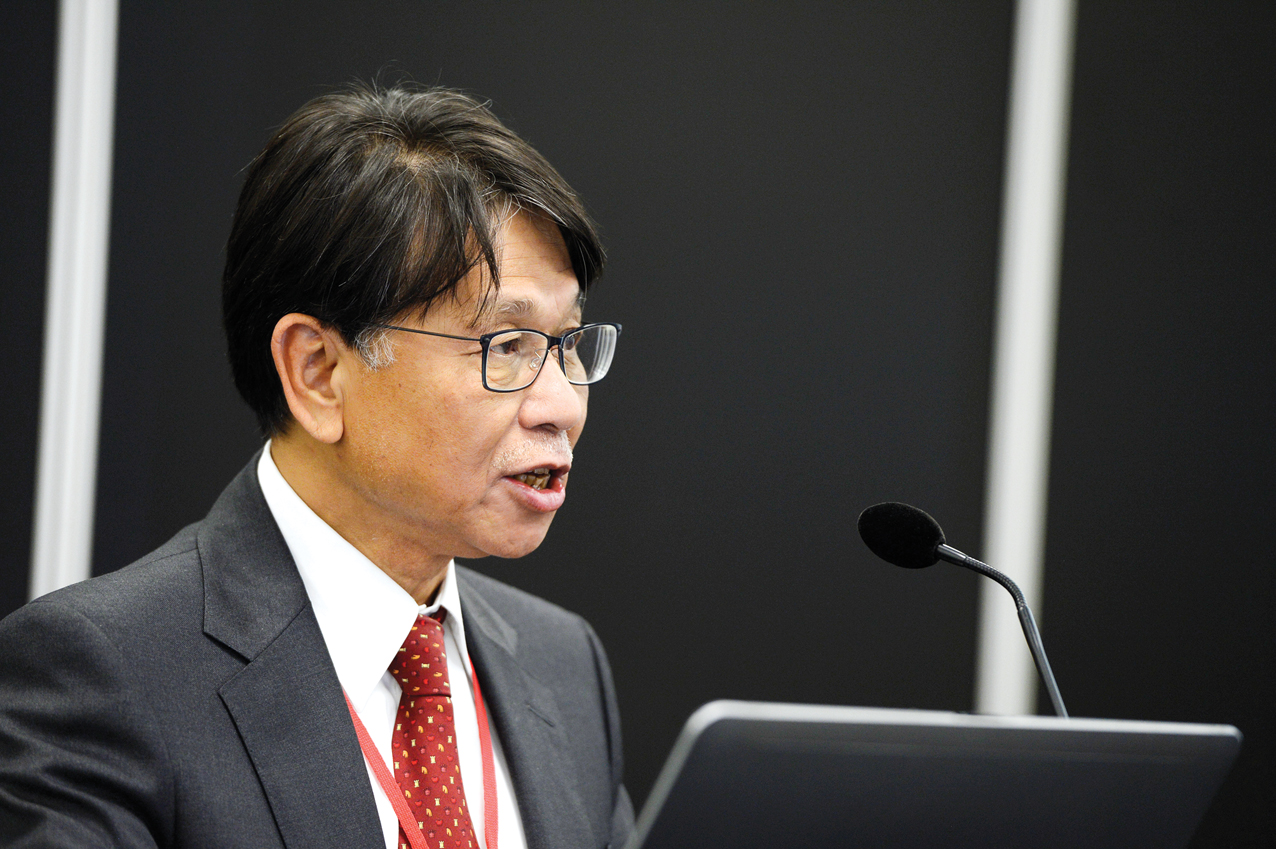 CIBSE President Peter Y Wong
CIBSE's Young Engineer Networks were at the fore, organising three seminar streams. These included 'How to engage better with clients', which saw energy managers and engineers at the Co-op, LandSec and M&S discuss how they are working with supply chains to improve building performance (see panel, 'The client side').
CIBSE Fellows also gave the benefit of their industry experience at the 'Fellows unwritten rules of building services' seminar.
The event saw the official launch of a new CIBSE group, several award announcements and teasers for new CIBSE publications, including TM40 Health and Wellbeing, which aims to guide CIBSE engineers through the plethora of research and standards that have been published on the subject.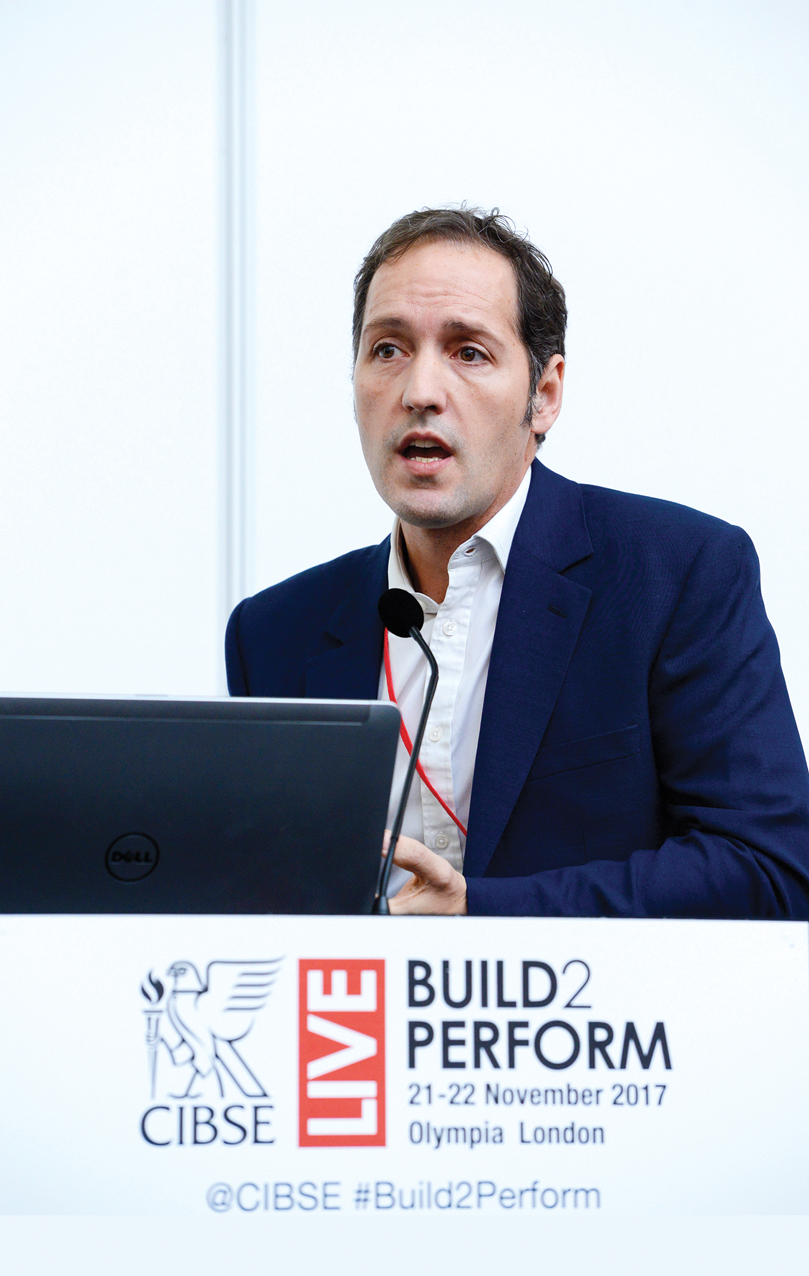 FairHeat's Gareth Jones
As well as presenting the shortlist for the 2018 Building Performance Awards (see page 24), the event introduced five inaugural members of the Society of Digital Engineers' hall of fame (see panel 'Digital hall of fame'), while the Green Infrastructure Design Challenge was launched with ARCC/UKCIP.
The conference was opened by CIBSE President Peter Y Wong, who focused on the burgeoning wellbeing agenda and the opportunity the Clean Growth Strategy presented to the industry, despite Brexit.
On the digital front, the new Society of Digital Engineering hosted two half-day sessions, one on design and another entitled 'Make', which focused on building. In 'Design', Carl Collins covered the requirements that project clients have to do to enable BIM Level 2 processes.
Aleksander Wisniewski, a senior mechanical engineer at Buro Happold, and Dejan Mumovic, professor of Building Performance Analysis at University College London (UCL), covered automated concept design and how digital tools and processes can standardise early design methods without compromising the design itself. Mumovic described a benchmarking tool CIBSE is developing with UCL.
In a mathematical modelling session, SE Controls design manager Chris Iddon looked at the most effective way of calculating ventilation opening areas, (Air of Credibility, CIBSE Journal, May 2016).
The client side
The Young Engineers Networks hosted three seminar streams. David Mather, YEN global chair, opened a session on clients by discussing how building aesthetics often takes precedence over sustainability, leading to projects with glazed façades rather than insulated opaque envelopes.
Madeleine Velupillai and Charles Sainsbury, from LandSec, looked at the science-based target approach to measuring building performance in their property porfolio. The key was to ensure all team members shared experiences, both good and bad.
Dr Maria Spyrou revealed details of M&S' Plan A for 2025. The three pillars of this were described as 'happy people, transformed communities and zero-waste business'. Meanwhile, the Co-operative Group's head of engineering, John Bradshaw, described the post occupancy evaluation at Angel Square in Manchester. He spoke about the issues with supply for the CHP powered by rape-seed oil, and the challenge of keeping on top of controls, which he described as being like painting the 'Forth Bridge.'
Breathing Buildings chief executive Shaun Fitzgerald discussed how a water bath was used to model airflow in the Bloomberg building (see page 28). Henry Burridge, a lecturer in fluid mechanics at Imperial College London, attracted interest when he shared research on modelling airflows in a room, showing how heating affected air movement and, subsequently, the indoor air quality.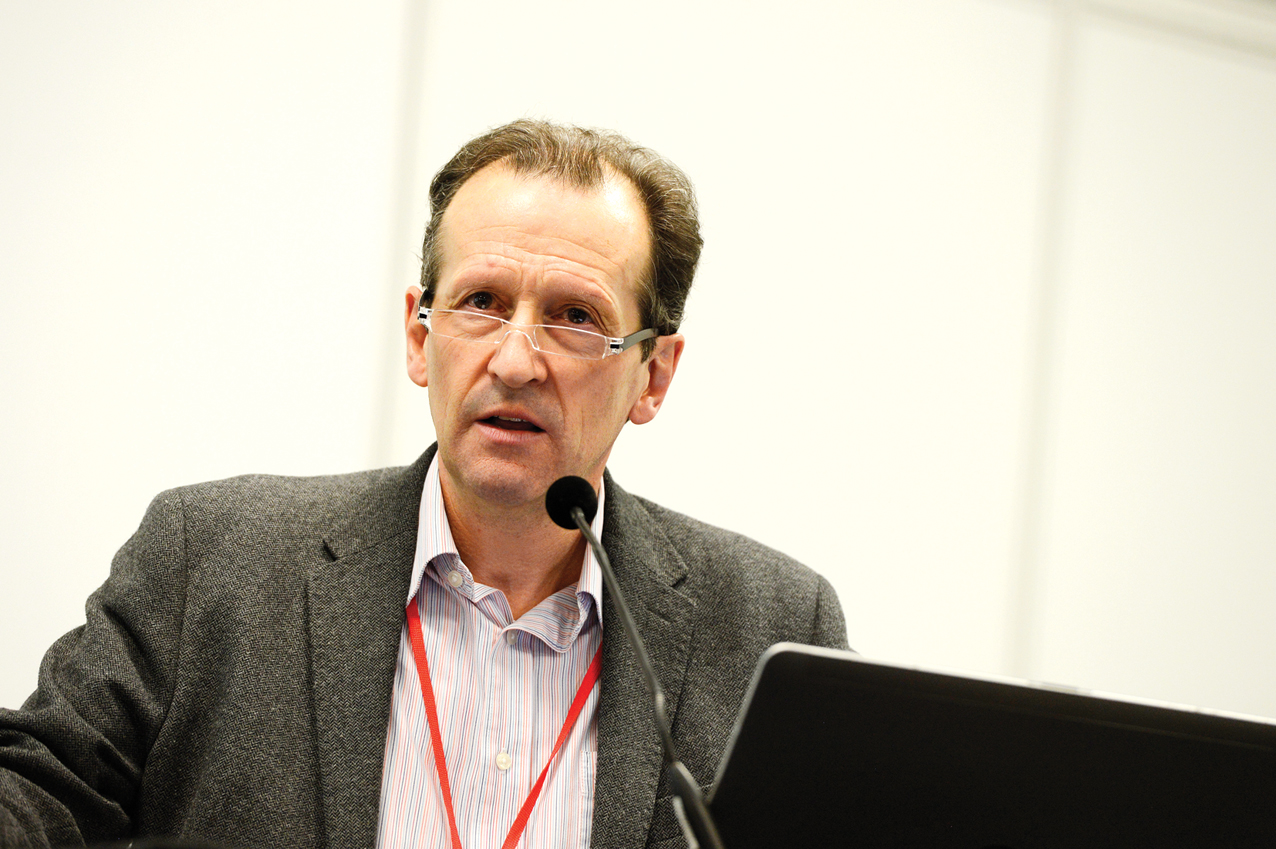 Chris Twinn
On day two, in the session on end users' relationship with building controls and management, speakers said occupant education and post-handover aftercare were key to a good controls strategy.
Dr Michelle Agha-Hossein, soft landings operational lead at BSRIA, said a simple-to-understand guide for both the user and the facilities manager (FM) is essential, as well as helping users understand how they should interact with their building during the early stage of occupancy.
She said: 'People are more productive if they have some level of control over their environment. However, when a building has both automatic and manual controls, they can create conflict.'
For example, in one building, users forgot to open the blinds in the afternoon, so the perimeter lights – with daylight sensors – were always on. Occupants were not aware of this, so there was conflict between the automatic and manual control systems.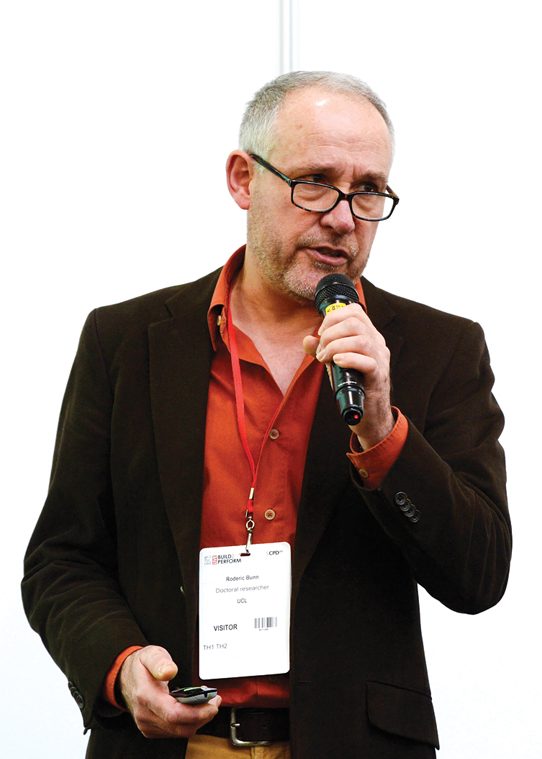 Rod Bunn
This could lead to even worse consequences; in another building, Agha-Hossein said because occupants opened the windows instead of turning down the heating in the afternoon, the FM simply encased the controls in a locked box on the wall, rather than educating the users.
Kate van Someren, research engineer at the University of Reading, said controls should be intuitive, so anyone can use them without instructions. Controls with feedback – like an audible click – can help users understand and engage with them. 'If we design for the most vulnerable users, everybody benefits,' she added.
Dr Zack Gill, senior energy solutions engineer at Fortem Energy Solutions, said he witnessed good practice at an academy in Folkestone, Kent, where the FM reported energy use to the finance director on a weekly basis, and the building started saving £40,000 a year on energy bills. 'Championing more performance-based targets will ensure all stakeholders pull up their socks and work together to deliver well-performing buildings, and then follow up on them,' he said.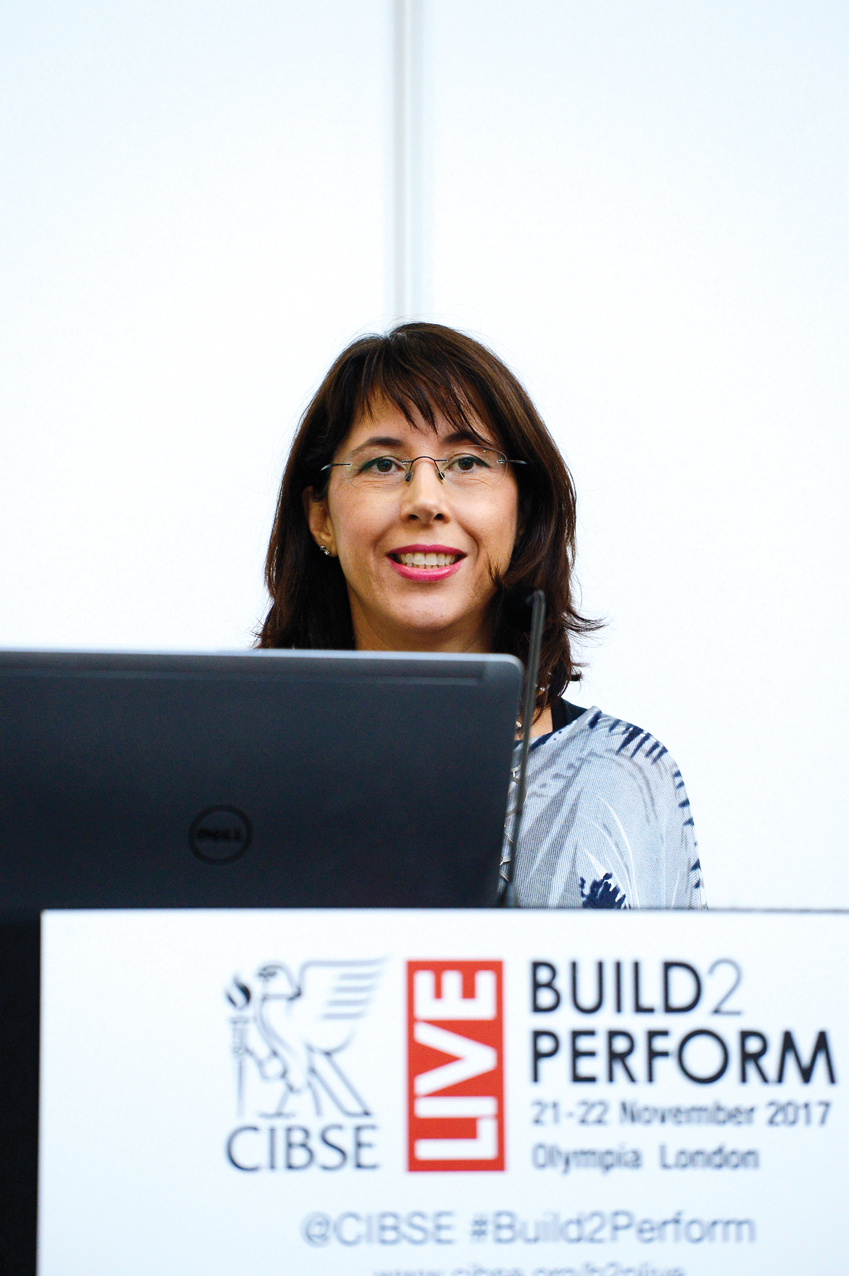 UCL's Dr Marcella Ucci
Richard Tetlow, sustainability consultant at Aecom, said the real challenge is trying to communicate the design intent of a control system to the building occupants.
During a post-occupancy evaluation at one school, Tetlow discovered that the project ran out of money, so a natural ventilation strategy – with night cooling – replaced a mechanical solution. 'The users left the night vents open all the time, so the BMS engaged the heating earlier to warm up the building. Because the industry is so siloed, it's hard to ensure all the systems are linked up.'
At the resilient cities session, Lee Chapman, professor of climate resilience in the school of geography, earth and environmental science at the University of Birmingham, said big data can help safeguard critical infrastructure. The Birmingham Urban Climate Laboratory's HiTemp project is examining the city's urban heat island (UHI) by deploying the densest air temperature-sensor network in the world to identify, model and promote adaptation to the impacts of urban heat and climate change on the people and infrastructure.
Top tweets
The #Build2Perform hashtag attracted great running commentary from delegates. Here are five favourites:
Susan Hone-Brookes @brookes_hone
Budget News! Proceeds to fund a new £220m Clean Air Fund. Very timely given our discussions at #build2perform @cibse.
Kyle Gray @KyleAlexGray
Nottingham Trent new housing project Trent Basin went for tender for a battery that would guarantee an output of 1MWh after 10 years of use. They are installing a 2.1MWh Tesla battery. Food for thought
Paula Morgenstern @pau_morg
In multi-tenanted buildings all sub-meters need to be specified so they can be used in billing + client & managing agents need to know how to use the system #Build2Perform #metering
Loic Jacob @lfmcjacob
Smart sensing with… Pigeons? Turns out you can learn a lot from them. Lee Chapman from @unibirmingham. @arbnco @CIBSE #Build2Perform
Ben Virgo @virgoben
It's not 'leaves on the line' it's moisture from the leaves… oh, that makes a bit more sense @CIBSE #build2performw
By deploying a high resolution sensor network, the project has helped unearth the impact of temperature on electricity transformers. 'Once temperatures reach 6oC above their operating temperature of 98oC, their life expectancy halves. So we know they will need replacing by 2050.' Its Wintersense project measures road surface temperatures for gritting applications, and its Summersense project uses infrared sensors to investigate ways to reduce heat-related railroad buckling.
Its next project – CityFlocks – will involve strapping lightweight sensors to pigeons' backs to understand the 3D nature of UHI. 'If we understand how heat behaves, we can get insights into things like pollution,' he said.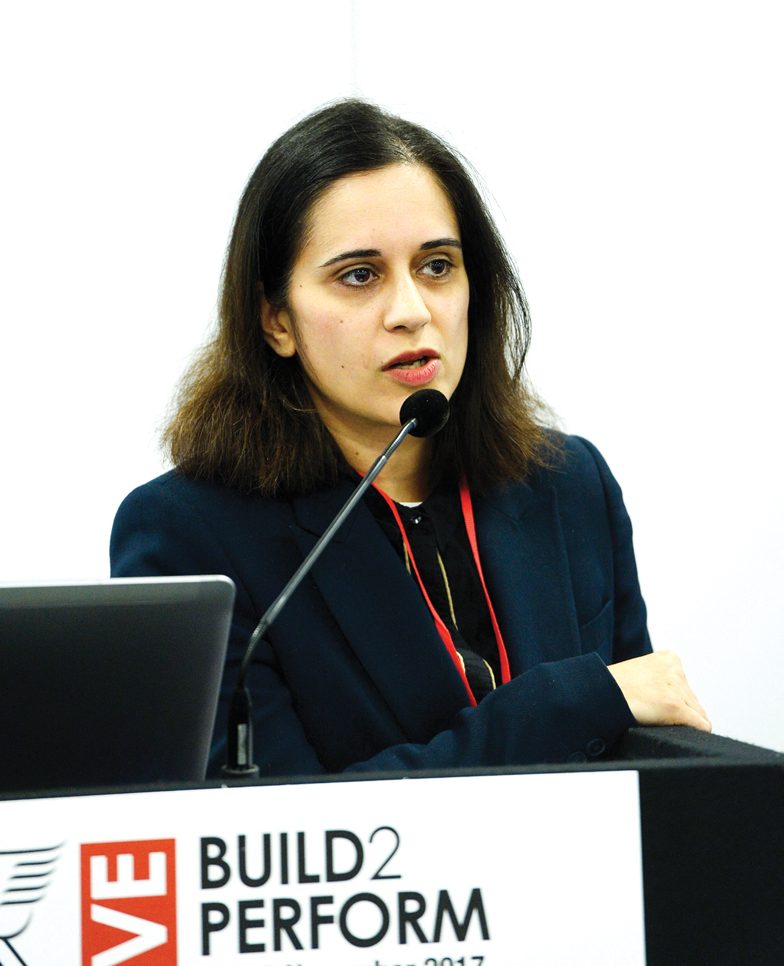 BSRIA's Dr Michelle Agha-Hossein
Dr Debbie Clifford, environmental data consultant at the Institute for Environmental Analytics (IEA), said it uses satellite data to create tools that help people safeguard their infrastructure and improve their local environment.
In one of its projects, the IEA has used satellite data to produce solar maps of the Seychelles – studying incoming radiation levels and the impact of clouds – for the Public Utilities Corporation and the government to make better investment in renewable technologies. 'The tool explores data and allows the users to run their own scenarios to see how a different mix of technologies at different sites would help them address the energy challenge of the future,' Clifford said.
She added that a new European satellite was launched last month to monitor nitrogen oxide, ozone, formaldehyde, methane and carbon monoxide levels.
'Cities face a lot of environmental challenges in the future, so they need to consider how adapted they are to mitigate them,' she said.
Digital hall of fame
Mike Bartyzel, regional BIM lead, Buro Happold
Matt Crunden, training & BIM manager at Legrand 
Les Copeland, commercial director, WSP
Paul Marsland, chief electrical engineer at NG Bailey
Paddy Conaghan, FCIBSE. CIBSE vice president