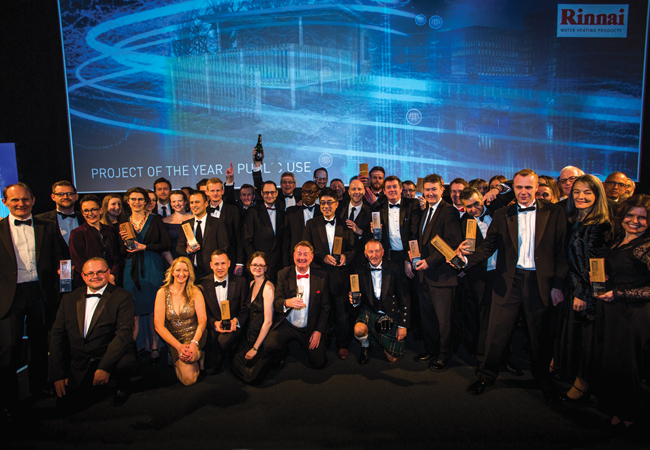 This year, 16 awards were presented to 13 organisations at the awards ceremony
On a night that celebrated the 10th anniversary of the CIBSE Building Performance Awards, 16 accolades were presented to recognise the projects, teams, products and organisations that truly excel and deliver exceptional building performance.
Five years after lifting the Carbon Champion trophy at the 2012 awards, the University of Bradford's department of estates and facilities was crowned the overall winner at Grosvenor House Hotel on 7 February 2017, and also took the Facilities Management Team Award.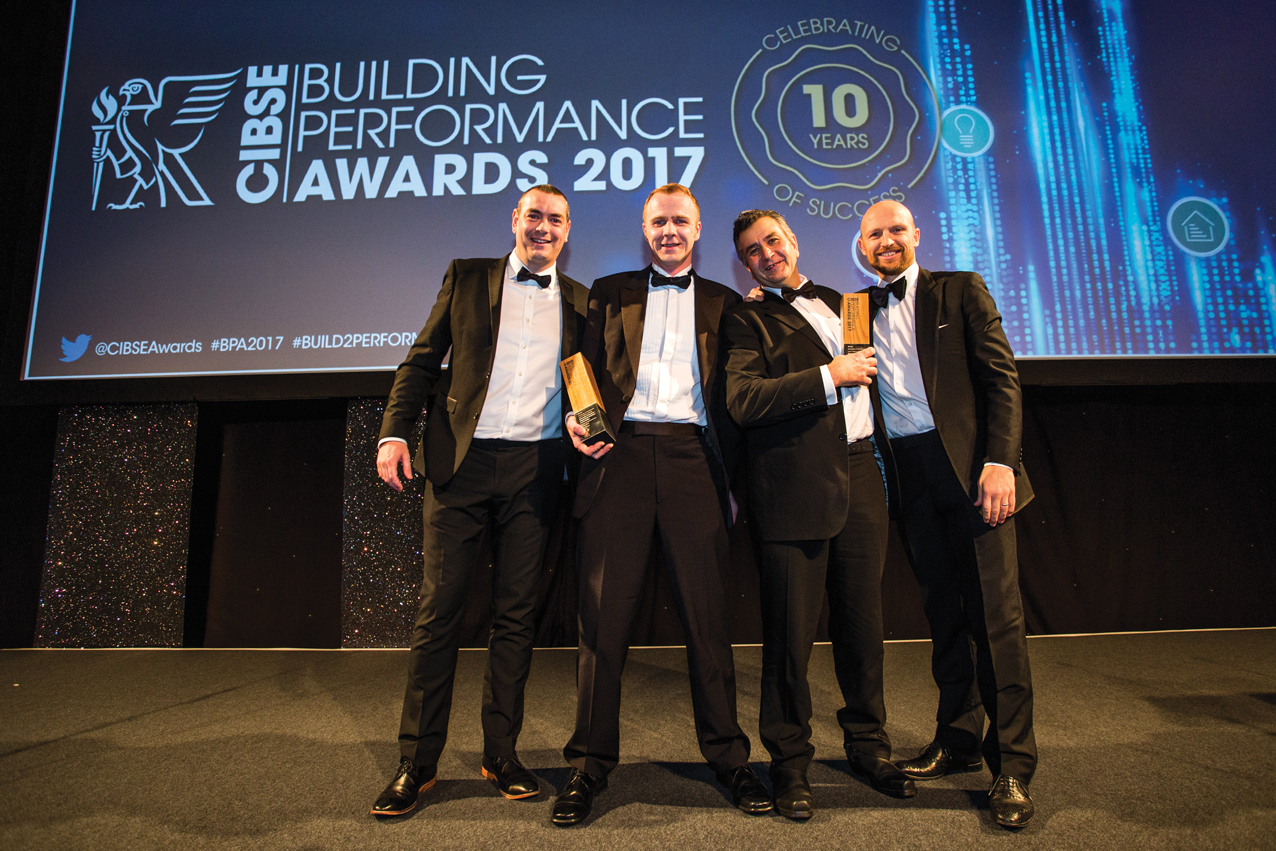 University of Bradford's department of estates and facilities was crowned Building Performance Champion
Andrew Chadwick, electrical project manager at the university, said: 'It's a reward for all the hard work that the team has done – we work really hard every day and, as a client, we're not often appreciated for the work we do.'
He added: 'Over the past 10 years, the university has worked hard on setting the standard for the whole industry, so it [building performance] is important for us, because we're leading the way for other higher education organisations to follow us.'
Elementa Consulting also celebrated a double victory, picking up the Building Performance Consultancy of the Year (up to 100 employees) gong and – for the second year running – the Project of the Year: International Award for the DPR net positive energy San Francisco office.
Kevin Hydes, chief executive officer of Integral Group – of which Elementa Consulting is a member – said: 'Our people work so hard to create high-performing projects day in, day out, throughout the year, and, for them, it's everything.'
Hydes said demonstrating true performance is what sets CIBSE's awards programme apart from any other, and he encouraged others to enter next year. 'Get your best work, make sure it really works as you think it should, and then submit. It's worth everything,' he said.


By becoming winners today, we're a good example that even a small family-run business from Hertfordshire can do it if you have a go
– Michaela Stephens-Smith

Max Fordham didn't fail to impress, also scooping two awards – Building Performance Consultancy of the Year (101-1,000 employees) and Project of the Year: Public Use for Keynsham Civic Centre.
Tamsin Tweddle, senior partner at Max Fordham, said: 'It feels like a wonderful reward for all the effort we've put in. I'm particularly pleased to win the practice award because so many people from our organisation have contributed to this. It inspires people to do the very best they can and continue pushing the boundaries.'
Scott Rushford, senior engineer at Max Fordham, said the firm focused on the detail when completing its award entry for Keynsham Civic Centre.
'We have looked at the tiniest detail to determine how much energy has been used – down to the specific number of cups of tea made every year. The little details feed into the bigger picture and that feeds into the project as a whole.'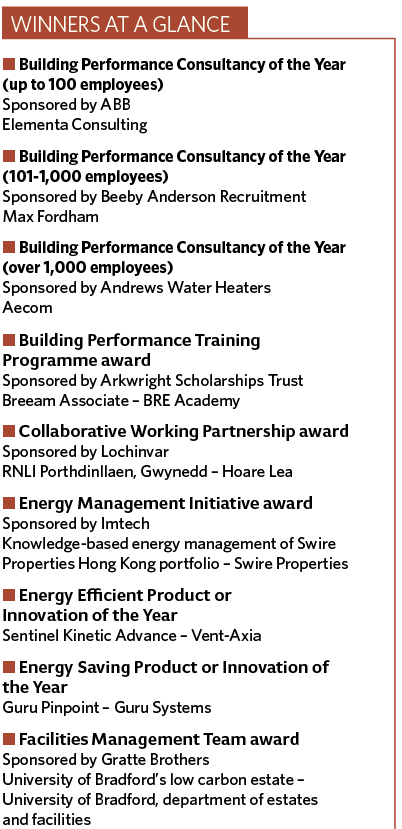 For the third year running, Aecom was crowned Building Performance Consultancy of the Year (over 1,000 employees). Sasha Krstanovic, director at Aecom, said: 'Winning a CIBSE award helps us promote our business to young engineers that are interested in working for our company, and it also helps us promote ourselves to our clients.'
She likened the awards dinner to a school reunion, adding: 'You see all your old friends and you learn about what other people do. The atmosphere is great, every year it gets bigger, which means what we do is going out there and getting more and more recognition.'
Picking up the Collaborative Working Partnership Award, Phil Thornsby, associate at Hoare Lea, said: 'We've been working together as part of a framework agreement, delivering some fantastic projects around the UK on behalf of the RNLI, for 12 years now. This is an ideal example of being able to demonstrate that collaborative working does work over a period of time, not just for 12 months.'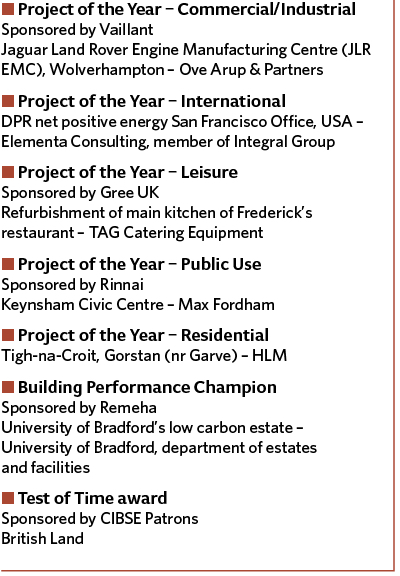 The Project of the Year: Commercial/Industrial gong went to Arup, for the Jaguar Land Rover engine manufacturing centre. Philip Hives, associate at Arup, said it was rewarding to be applauded for a building that was designed to meet the client's high expectations of a comfortable, highly attractive environment, that also achieves the expected energy and carbon goals.
The Energy Management Initiative Award went to Swire Properties, for its knowledge-based energy management system in its Hong Kong portfolio. Raymond Yau, general manager at Swire Properties, said managing the existing buildings – some of which have been in the market place for 10-20 years – demands the constant introduction of new technologies. So, the energy meters the firm installed helped inform Swire about how the buildings were performing and to instigate strategies to improve the energy-consumption reduction further.
Yau added: 'It was worthwhile to come all the way from Hong Kong to receive this high accolade, which is a strong recognition of our achievement over the years. We're really delighted.'
But the big organisations were not the only ones to get recognition – some smaller firms also got their moment in the spotlight.
The refurbishment of the main kitchen of Frederick's restaurant, Islington, by TAG Catering Equipment, was crowned Project of the Year: Leisure, and Guru Systems took the Energy Saving Product or Innovation of the Year accolade for Guru Pinpoint.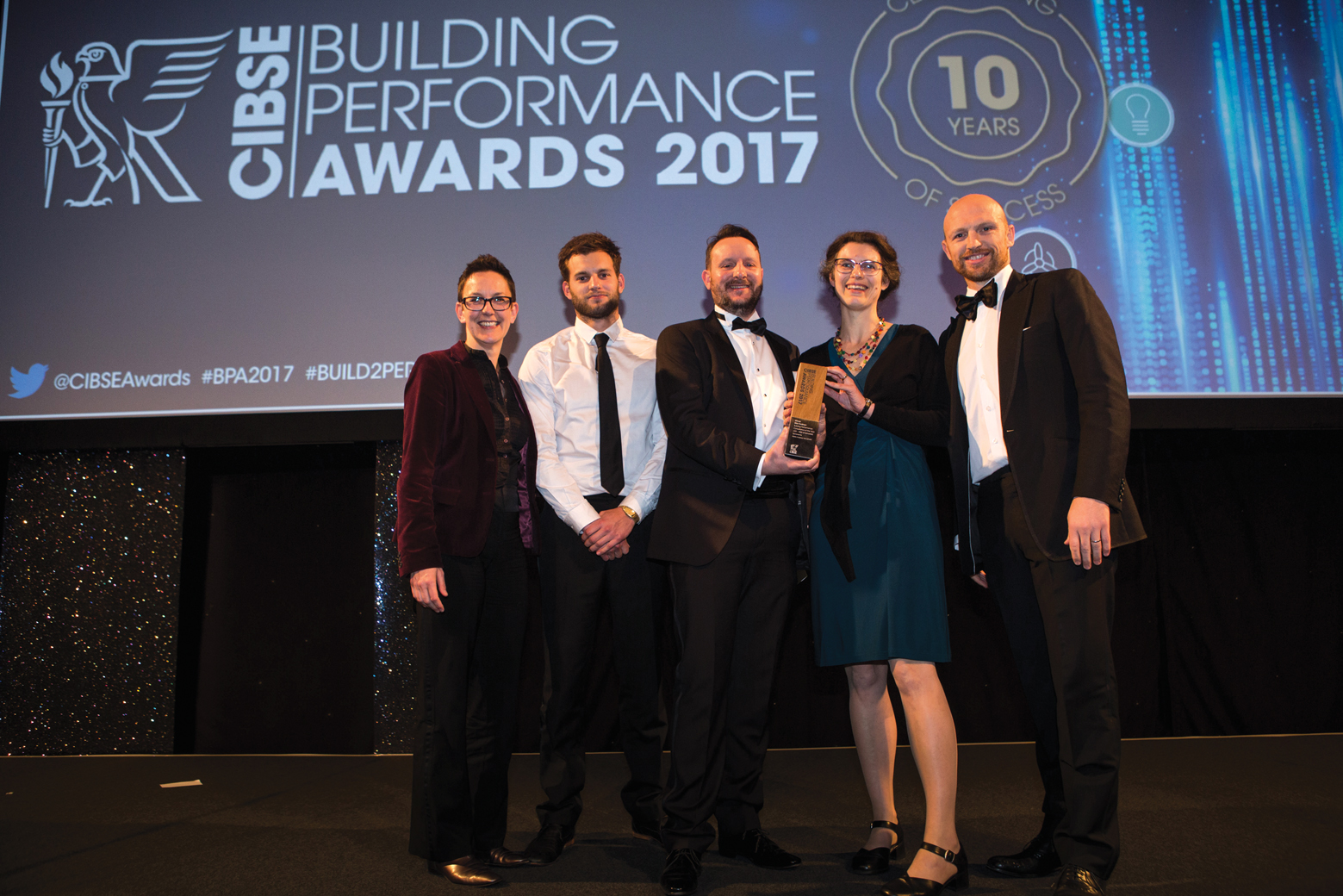 Max Fordham was crowned Building Performance Consultancy of the Year (101-1,000 employees)
Michaela Stephens-Smith, financial director at TAG, said she felt proud to be recognised by people who know and understand buildings, not just catering equipment. 'By becoming winners today, we're a good example that even a small family-run business from Hertfordshire can do it if you have a go,' she said.
Casey Cole, managing director of Guru Systems, said: 'To get pulled out from that crowd and to have our product highlighted as being particularly innovative is an amazing honour.'
The evening – which was attended by more than 750 people – was praised by delegates. 'It's fantastic that everybody gets together from different sectors and they all cheer the winners on,' said David Clark, sales director (new build) at Vent-Axia, which won Energy Efficient Product or Innovation of the Year for Sentinel Kinetic Advance.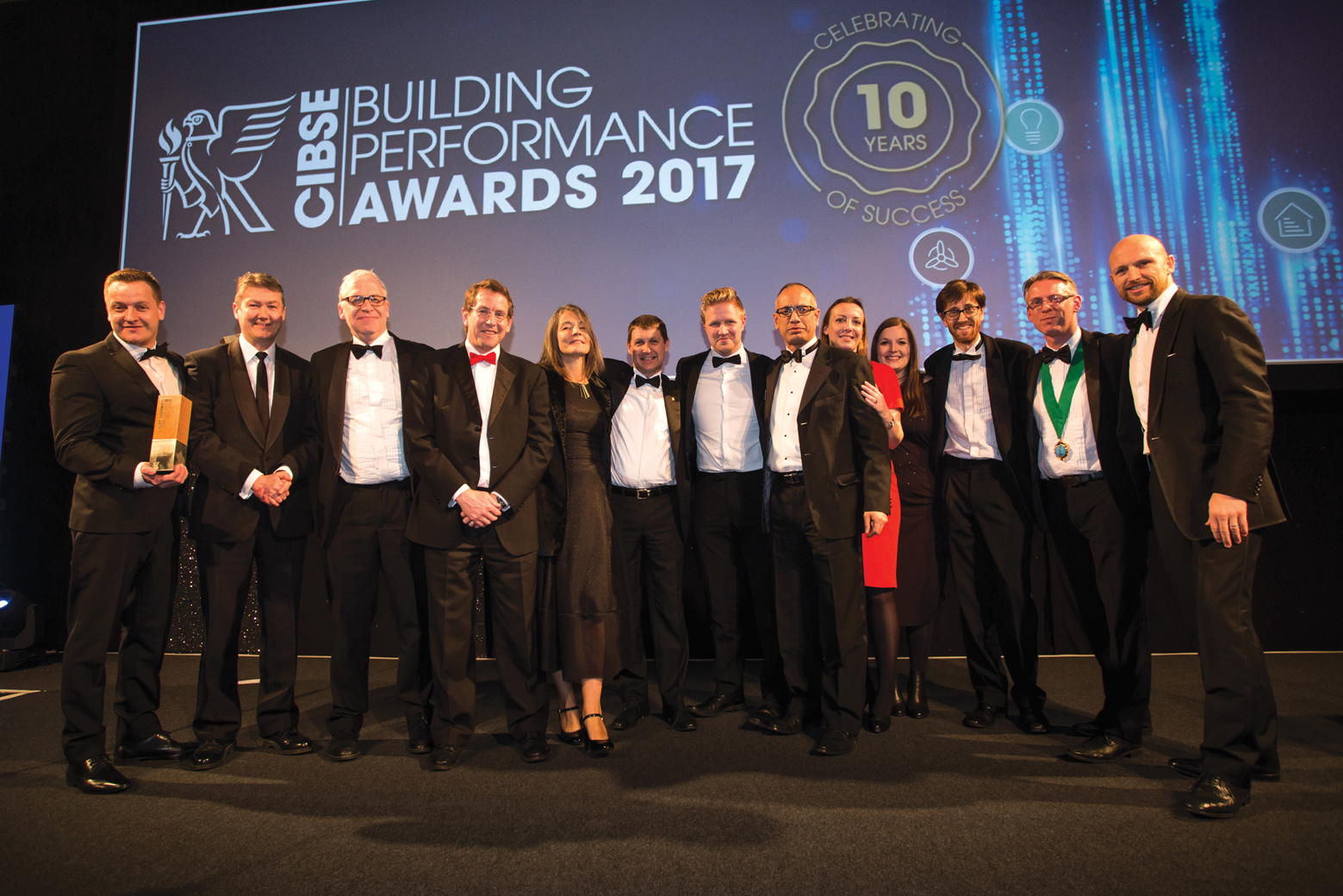 Aecom was named Building Performance Consultancy of the Year (over 1,000 employees)
Unfortunately, not everyone was able to attend. For Tony Woodley MCIBSE, of Aces Fans, who became a CIBSE member in 1950, this was the first annual dinner he has missed – because of illness – since 1946.
Other notable winners included British Land, which won the Test of Time Award; HLM's Tigh-na-Croit, Gorstan, which won Project of the Year: Residential; and BRE Academy's Breeam Associate programme, which won the Building Performance Training Programme accolade. Hayley Tanner, operations manager at BRE Academy, said 500 people had already been trained on the course, 'so this award is perfect'.
Guest speaker, Dr Pawel Wargocki, associate professor at the Technical University of Denmark, spoke about the effects of indoor environmental quality (IEQ) on humans. He said both old and new buildings face fresh challenges, so they need to become much more flexible and resistant to changing temperatures and populations, while also protecting against a wide range of both man-made and natural pollutants.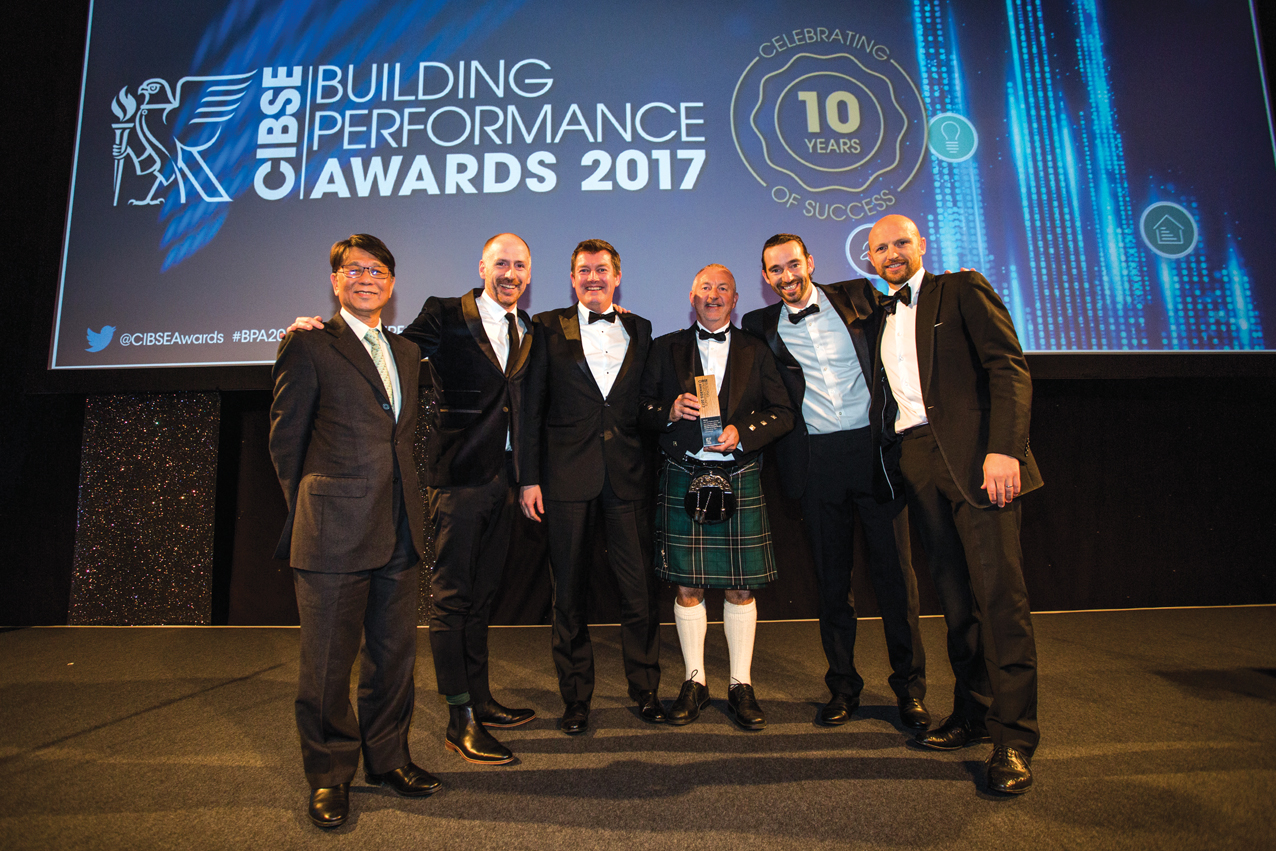 Elementa Consulting scooped Project of the Year: International
As well as adapting buildings to the 'hypersensitive' young and the increasing older population, Wargocki said we must reduce the overdependence on existing, 'rather crude' technological solutions and minimum standards.
He said the main objective of the built environment is to create great conditions for people – an objective that's often eclipsed by tangible savings. 'Buildings are not erected to save energy; they are constructed to create shelter and to promote conditions for work, studying, healing and resting.'
He added: 'Energy is important, and should not be neglected. But it should go hand in hand with human-centric design.'