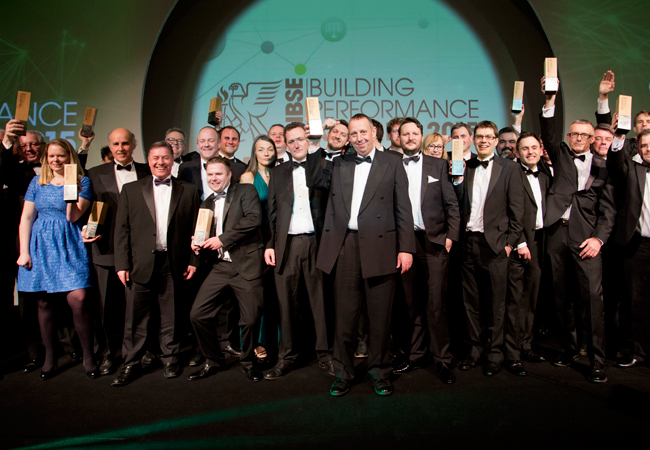 The winners of the 2015 British Performance Awards – could your team be on stage next year?
Nearly 50 organisations have been shortlisted for the 2016 Building Performance Awards following the addition of four new project categories. The companies were nominated across 13 categories at an all-day judging session in London last month.
The 16 industry experts were impressed with the variety of entries, and the amount of evidence produced to support their award submissions.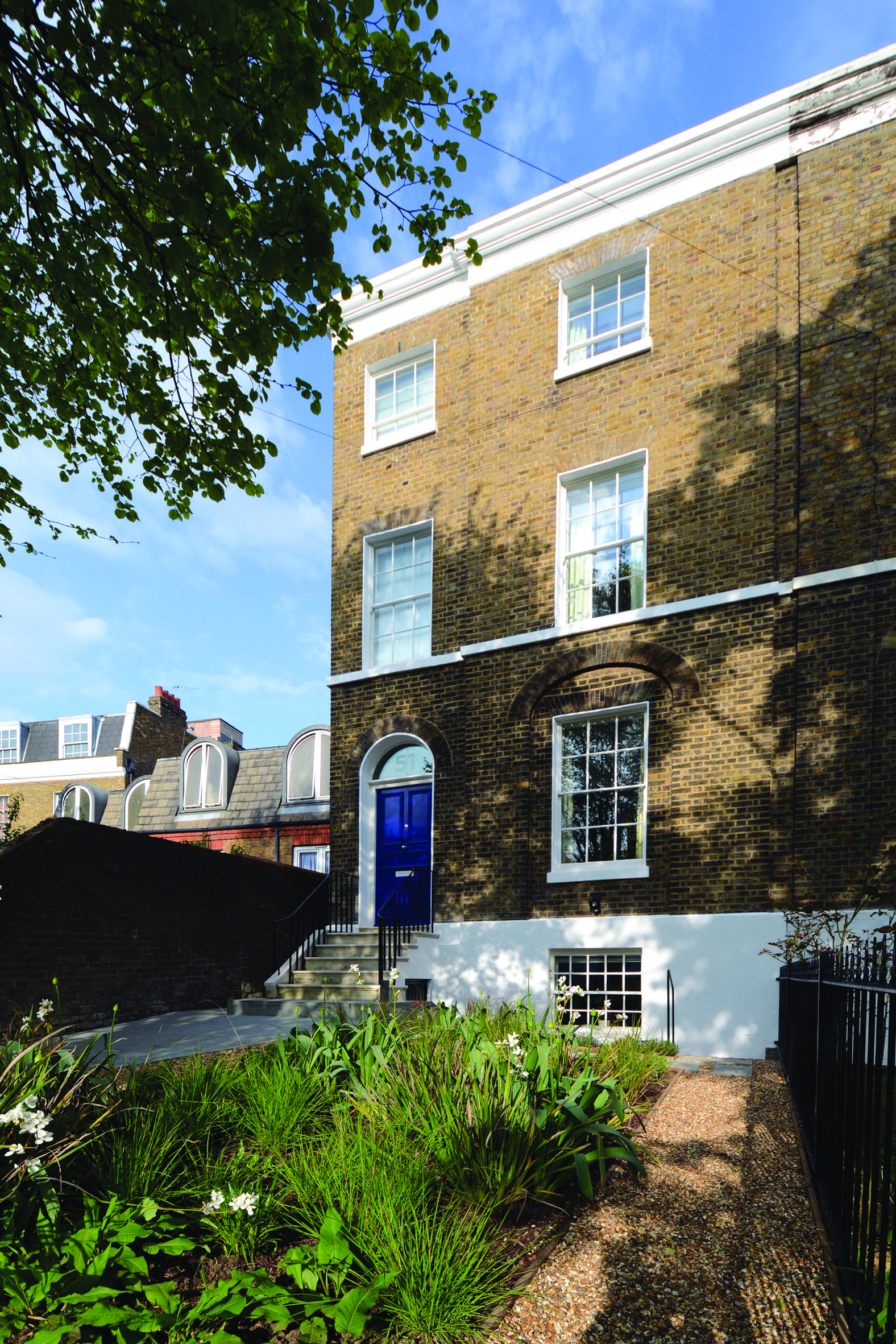 Arboreal Architecture, Clapham Retrofit
The new project categories were launched for the 2016 Awards in response to the popularity of the building categories in previous years. There are now individual Project of the Year Awards in sectors covering: Commercial/Industrial/Retail; Leisure; Public Use; and Residential buildings. In total, 17 organisations were shortlisted in these categories.
The judges said the new categories attracted a high calibre of entrants. They were particularly impressed by the Project of the Year Residential category. 'This was a really fantastic set of entries, but they were all very different,' said Bill Gething, professor of architecture at University of the West of England. 'There are entries here that are really changing the agenda. Choosing a winner is a delightfully difficult decision,' he said.
The judges agreed that the housing sector was becoming increasingly important for engineers, as house builders struggled to address the technical challenges of overheating and energy reduction.
Aecom technical director Foroutan Parand congratulated CIBSE for focusing on the domestic sector. 'We are being asked to do more and more in this area as people realise that physics applies as much to domestic buildings as commercial buildings,' said chair of the judges, Hywel Davies.
The Project of the Year International attracted a high calibre of entries, and was whittled down to a shortlist of five by the judges. The judges found it difficult to separate the leading entries, which had excellent performance data. 'The buildings are exceptional,' said Tamsin Tweddell, partner and sustainability leader at Max Fordham. 'They're game-changers.'
Sheffield University/Wroclaw University of Technology, Poland – LILAC Leeds
The Energy Saving Project of the Year had a substantial number of entries highlighting the search for innovation in the sector. 'This was a varied category, with products for both domestic and commercial use,' said Davies. 'Several entries demonstrated good evidence for their ability to deliver cost-effective
energy savings.'
In the Collaborative Partnership Award, Munish Datta, head of facilities management and Plan A, Marks & Spencer, remarked that the entries showed how important it was to collaborate at the right time. 'In the best entries the stakeholders were involved at a really important design stage – they didn't get involved too late in the project.'
In the Energy Management Initiative Award, judges were impressed by how companies were able to find energy savings in their estates, after the low-hanging fruit had been picked. 'I know how hard it is to achieve year-on-year savings,' said Mitch Layng, associate director: portfolio energy management at M&G Real Estate. 'I like the idea of a new process that affects operations,' he said.
In the Commercial/Industrial/Retail category, there were some closely matched entries. Davies was pleased to note that the entries understood the difference between DECs and EPCs. Something that was 'almost worthy of a prize itself,' he said.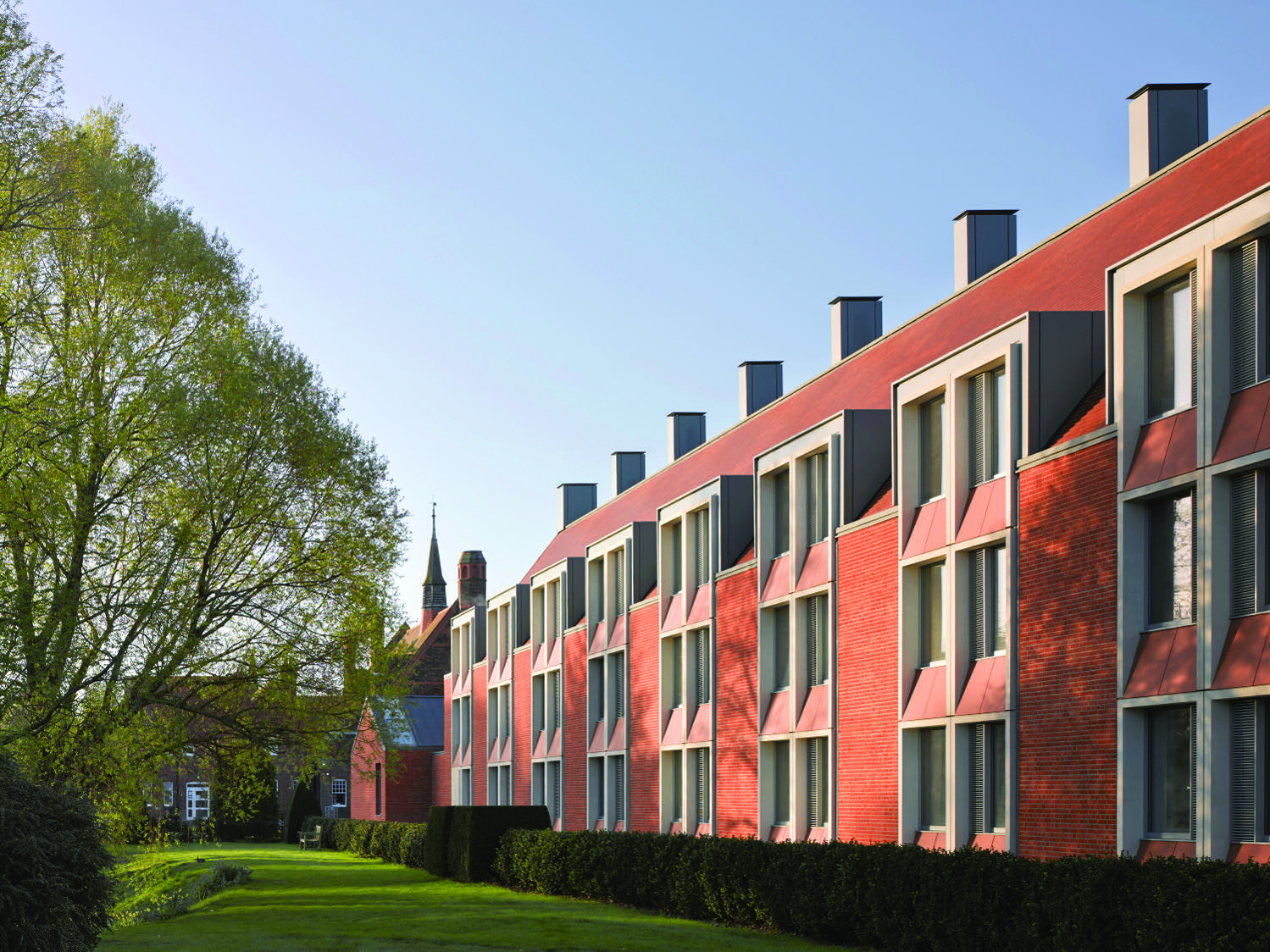 Max Fordham, Girton College Cambridge
Entrants for the Project of the Year Public Use came from the opposite end of the funding spectrum, but the judges said the quality of entries was excellent. 'There were really good submissions in this sector,' said managing director of Building Services Design, David White, while Jamie Agombar, head of sustainability, National Union of Students, felt that the entries weren't overselling themselves in this category. 'There was no gloss,' he said, though Gething noted there was 'good data'.
Agombar thought the excellence of the best projects would inspire designers and clients of future public buildings.
In the Building Services Consultancy of the Year category (up to 100 Employees), the judges were impressed by the enthusiasm of some of the entries. Trox key account manager Michelle Perry praised one entry in particular. 'You can feel the passion the company has in its people and its genuine desire to motivate the client and build better buildings.'
The Consultant of the Year category contained the 'heavy artillery' and the judges remarked on the professionalism of the entries. 'I read the first one, and I thought the second couldn't be as good, but it was and so were the third and fourth,' said Perry. The judges spent longer talking about the merits of these entries than any other category. 'They're all pretty even but they bring different things to the table,' said Sarah Ratcliffe, programme director at Better Building Partnership.
The judges noted that a number of entries had missing or difficult to understand data. Davies hoped that future entrants would follow entry requirements and provide the data which would maximise chances of victory.
The full shortlist is overleaf on page 20, and the awards will be presented on February 24 at Grosvenor House Hotel in London. To attend the event please visit www.cibse.org/bpa
Awards night
Join the best of the industry's talent on awards night to see who will scoop the accolades. The glittering event – on 24 February 2016, at London's Grosvenor House Hotel – will celebrate achievements across the built environment supply chain. Don't miss your chance to be there. To book a table, visit
www.cibse.org/bpa
CIBSE Building Performance Awards 2016 shortlists
Building Services Consultancy of the Year (up to 100 Employees)
Sponsored by Beeby Anderson Recruitment
Beverley Clifton Morris (BCM)

Steven A. Hunt & Associates

SVM Consulting Engineers
Building Services Consultancy of the Year (more than 100 Employees)
Sponsored by Andrews Water Heaters
Aecom

Arup

Atelier Ten

Hoare Lea
Building Performance Training Programme Award
Sponsored by Vaillant
Refrigeration and Climate Control Centre of Excellence (RCCC) – Air Conditioning and Mechanical Contractors' Association (AMCA)

BIM Level 2 Fundamentals – BRE Academy

Soft Landings Training – B

SRIA

Building Disclosure and Benchmarking Course – University of Nebraska (UNL) – Lincoln

Building Services Explained for VolkerFitzpatrick Site Teams – VolkerFitzpatrick
Collaborative Working Partnership Award
Sponsored by RS Components
Bolton Market, Bolton – Beverley Clifton Morris (BCM)/Willmott Dixon

John Lewis, York – IES/John Lewis

Barclays CPMO – Realys (part of ISG)/Barclays
Facilities Management Team Award
Sponsored by Gratte Brothers
Aston Go Green, Birmingham – Aston University

Broadgate Estates London Portfolio – Broadgate Estates

International Commerce Centre (ICC), Hong Kong – Kai Shing Management Services (KS)

Sirius, Canberra, Australia – Mirvac Group
Energy Management Initiative Award
Sponsored by Imtech
Energy Management and Optimisation Project – ALDI Stores

British Land Portfolio Energy Reduction Programme – British Land

Bupa Energy Saver Fund – Bupa UK

John Lewis, York – Lateral Technologies and Solutions

Project Graphite – Sainsbury's Supermarkets
Energy Saving Product of the Year
Sponsored by Spirotech
Emerald – R290 Refrigeration & Heating Plant – A1 Engineering Solutions

Totem by Asjagen Microcogenerator – Adveco

EW-HT heat pump – Climaveneta SpA

EndoTherm –Endo Enterprises (UK)

Hydromx® – PBA Energy Solutions
Lighting for Building Performance Award
The National Theatre – NT Future, London – Atelier Ten

WWF, Living Planet Centre, Woking – Atelier Ten

New Emergency department and 24-bed ward, Antrim Hospital, Northern Ireland – Beattie Flanigan Consulting Engineers
Project of the Year – International
Shopping and Entertainment Centre PROSPECT, Kiev, Ukraine – CD International Building Services Engineers

American University of Sharjah (AUS), Campus Service Centre, Sharjah, United Arab Emirates – Cundall

David and Lucile Packard Foundation Headquarters, California, USA – Elementa Consulting/Integral Group

Holiday Inn Express Singapore Orchard Road, Singapore – Intercontinental Hotels Group

Sirius, Canberra, Australia – Mirvac Group
Project of the Year – Commercial/Industrial/Retail
One Embankment Place, London – ChapmanBDSP

Foundry, London – Cullinan Studio

101 Park Drive, Abingdon – Elementa Consulting

50 Shakespeare Street Refurbishment, Nottingham – Nottingham Trent University
Project of the Year – Leisure
Splashpoint, Worthing – Aecom

Butlin's Skegness Firehouse restaurant, Skegness – CD International Building Services Engineers

Chichester Festival Theatre, Oaklands Park – Skelly & Couch

Everyman Theatre, Liverpool – Waterman Building Services
Project of the Year – Public Use
Wilkinson Primary School, Wolverhampton – Architype

Mayville Community Centre (renamed Mildmay Centre), London – Bere: architects

Manchester Town Hall Complex Transformation Project (MTHCTP), Manchester – Building Design Partnership (BDP)

Andrew Wiles Building (Mathematical Institute, University of Oxford), Oxford – Hoare Lea

Britten Pears Archive, Suffolk – Max Fordham
Project of the Year – Residential
Clapham Retrofit, London – Arboreal Architecture

Girton College, Cambridge – Max Fordham

LILAC, Leeds – SSoA, Sheffield University/Faculty of Architecture, Wroclaw University of Technology, Poland

Derwenthorpe Phase 1, York – Studio Partington
Building Performance Champion
Sponsored by Remeha Commercial
The Building Performance Champion of the Year is chosen from the category winners and will be presented to the team, project or product that, in the opinion of the judges, has made the most outstanding contribution and commitment to achieving improved building performance.
Awards judges
Hywel Davies, CIBSE technical director and chair of judges
George Adams, past president, CIBSE
Jamie Agombar, head of sustainability, National Union of Students
Munish Datta, head of facilities management and Plan A, M&S
Alan Fogarty, partner, Cundall
Bill Gething, professor of architecture, University of the West of England
Susan Hone-Brookes, environmental leader, Laing O'Rourke
Mitch Layng, associate director: portfolio energy management, M&G Real Estate
Richard Jackson, director, sustainability, UCL
Foroutan Parand, technical director, Aecom
Michelle Perry, key account manager, Trox
Geoff Prudence, chair, CIBSE FM Group
Sarah Ratcliffe, programme director, Better Building Partnership
Jeff Shaw, president elect, Society of Light and Lighting
Tamsin Tweddell, partner & sustainability leader, Max Fordham
David White, managing director, Building Services Design