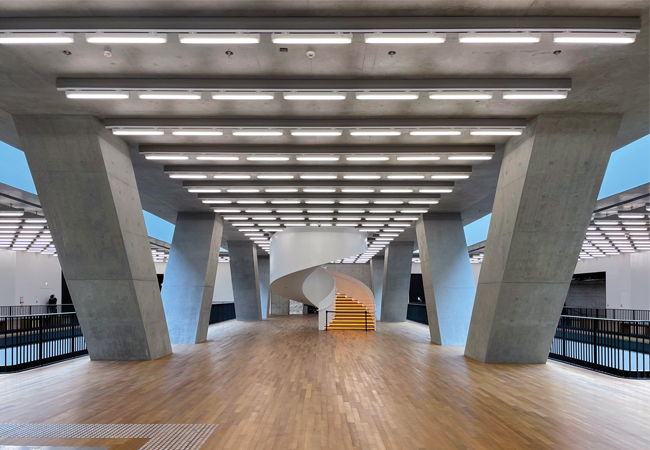 Lighting by M+ at Kowloon Cultural District in Hong Kong
The Lighting Education Trust's (LET's) Diploma in Lighting Design teaches the latest lighting design, technical developments and research in light and lighting, and focuses on environmental issues affecting the sector. It takes a modular, distance-learning approach and is a recognised qualification to one of the routes to Society of Light and Lighting (SLL) Membership (corporate status). Students are enrolled as student members of the SLL, gaining access to the CIBSE Knowledge Portal.
The diploma was originally developed to provide a pathway for students applying for admission to the Master's degree in lighting at University College London, and is affiliated to the university. CIBSE is a Trustee of the LET.
Kristina Allison MSLL MCIBSE, senior lighting designer at Atkins Global and SLL vice-president, is technical course coordinator at LET, and here she talks more about the diploma.
What is the LET Diploma?
It is a distance-learning course delivered via an online platform. Exams are held in London; however, when necessary, alternative locations can be arranged for overseas students.
How long is the course?
The course is two years, starting in September, and is based on about 8-12 hours' study time per week to complete the 13 modules. The actual time will vary between students and they may find some modules easier than others.
Who is the LET Diploma aimed at?
The content has a broader appeal than its original intent, and the course is helpful to anyone with an interest in lighting the built environment – from electrical engineers furthering their understanding of lighting, to computer game developers wanting to finesse lighting effects. It will benefit anyone involved in designing lighting schemes, or the design and development of light sources. Those working on the manufacture of luminaires, and their application, maintenance and use, should also consider the course.
What does the course cover?
It gives an introduction to lighting design, light sources and luminaires, interior lighting, and architectural/exterior lighting, as well as an introduction to  industry-standard lighting software packages, environmental issues, daylight, and emergency lighting. 
There are also guest lectures by leading lighting professionals on topics such as lighting design for human-centric inclusivity, the circular economy and embodied carbon, and dark skies.
Do I already need to know about lighting?
No; there are no prerequisite skills or education needed for this course. Its set up to be an introduction to lighting design developed on the basis that the student has no previous knowledge. Having a familiarity with mathematics is helpful, but is by no means essential. We provide a 'maths primer' if it's not your strength.
I will be working as well as studying; will I keep up?
The course is designed to be suitable for people who work full-time – so, if you have the discipline, you should be absolutely fine to take part. You may find the 'study at home' guide useful; if you have not studied for a while, it has tips on getting back into the habit.
Could I be too old?
There's no age limit for the course. If you have the desire to learn, you're never too old. Course administrators are always on hand to support and encourage all students.
Is lighting design art or science?
Most probably both – and the diploma reflects this attitude. Without a sound knowledge of the nature of light, it is difficult to develop lighting solutions that are sustainable, sympathetic to nature and energy efficient.
Contact let@cibse.org for more information about the course or if you are interested in enrolling.