The shortlist for the 2022 CIBSE Young Engineers Awards features 21 apprentices and graduates working for the cream of the building services industry.
There are eight engineers shortlisted in the CIBSE ASHRAE Graduate of the Year award, which has been running for more than 25 years.
In the CIBSE Apprentice of the Year award – now in its third year – there are six engineers shortlisted in the Technician (Level 3-4) category and eight in the Degree (Level 5-7) category. To determine the winners, judges will evaluate video entries from the shortlisted candidates.
The CIBSE Young Engineers Awards take place on Tuesday 11 October at RIBA headquarters in London. They aim to reward the innovative thinking, hard work and skills of graduate engineers, while also showcasing employers who are truly committed to developing and encouraging young talent.
The Graduate of the Year in 2021 was FairHeat's Lucy Sherburn, while the winners of the Apprentice of the Year awards were NG Bailey's Harry Playfair (Technician) and WSP's Josie Cheeseman (Degree).
To book your free place at the awards evening, visit www.cibse.org/YEA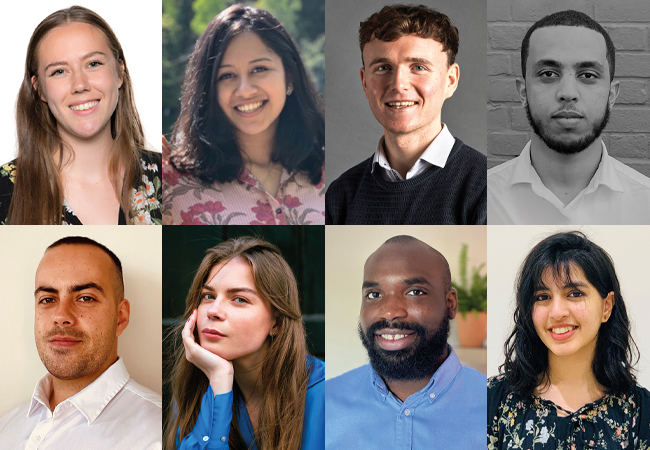 From top left clockwise: Anna Donaldson, Apurva Jaishankar, Conor Deane, Eyob Kibrom, Sana Hafsa, Prince Isofi, Maria Zagorulko and Jean-Baptiste Clochet
CIBSE ASHRAE Graduate of the Year
Anna Donaldson
Mechanical engineer, Foster + Partners
Anna graduated last year from the University of Sheffield, with a degree in architectural engineering, before joining the environmental engineering team at Foster + Partners, as a mechanical engineer. She works in an integrated design team, across a variety of international projects, designing and optimising MEP systems, energy modelling, and doing environmental analysis. She contributes to research, including developing methods to estimate embodied carbon in HVAC systems, and finding ways to reduce the performance gap in buildings.
Apurva Jaishankar
Graduate building services engineer, Atkins
Apurva joined Atkins' building services team with a BEng (Hons) in architectural engineering from Heriot-Watt University and a MSc in smart buildings and digital engineering from UCL. She is interested in thermal simulations, energy efficiency and digital innovation, and enjoys participating in competitions such as Solar Decathlon and ASHRAE LowDown Showdown. She is due to take part in TeamBuild later this year. Apurva is passionate about embedding sustainability in the building services industry, and she is currently working on an innovative project called 'Decarbonomics' (see 'Delivering on the net zero promise, CIBSE Journal March 2022), for which she has been leading technical and design tasks.
Conor Deane
Project engineer at JV Tierney & Co
Conor is a sustainable engineer with a leading consulting engineer in Dublin. He received a research Master's scholarship in sustainable engineering from the University of Galway, and co-published research on implementing a smart grid on the Aran Islands. He won the ASHRAE Student Award in 2021, and was a founder of Ireland's first student-led Energy Summit. In 2022, as ASHRAE Ireland YEA chair, he co-founded the joint ASHRAE CIBSE Mentorship Programme, which pairs younger engineers with industry leaders to guide and foster their early career growth. Conor is now a certified Building Energy Rating assessor with the Sustainable Energy Authority of Ireland and is a Home Performance Index-accredited professional with the Irish Green Building Council.
Eyob Kibrom
Graduate electrical engineer, Aecom
Eyob has worked across all design stages and a variety of end markets since joining Aecom. He is a well-rounded engineer, leading electrically on multiple projects. He coordinates internal and external CPDs, participates in STEM events, and engages in corporate social responsibilities.
Jean-Baptiste Clochet
Sustainability and building physics engineer, Cundall
Jean-Baptiste is a multi-curriculum architect engineer, with a background in architecture, and structural and environmental engineering. Having worked in France, Switzerland and the UK, he has a unique and strong understanding of sustainability principles in the built environment. He implements thorough sustainability strategies, to deliver durable, healthy spaces and shape the built environment through organisations such as the London Energy Transformation Initiative. 
Maria Zagorulko
Development and operations engineer, Naked Energy
Employed by a hybrid solar-thermal manufacturer, Maria works on technological changes to the product and optimisation of the company's supply chain. Her background is in chemical engineering (MEng from Imperial College London, 2021) and she is passionate about product life-cycles and environmental, social and governance standards in the supply chain. Maria volunteers as an enterprise adviser at a London school, where she is working to develop a careers programme.
Prince Isofi
Graduate mechanical engineer, Mott Macdonald
Before joining Mott Macdonald, Prince studied at the University of the West of England, where he obtained a first-class BEng (Hons) in mechanical engineering and a MSc Distinction in façade engineering. He has worked on decarbonisation studies for North Bristol NHS Trust and led on the mechanical and electrical design for five new offices for the Department for Environment, Food and Rural Affairs. Prince is passionate about combining his mechanical and façade engineering knowledge to produce high-performing, energy-efficient, functional designs that are resilient to the need for greener infrastructure.
Sana Hafsa
Sustainability coordinator, AESG
Sana Hafsa is an architectural engineering graduate, currently working to deliver sustainable and smart megaprojects in the Middle East and North Africa region. At Heriot-Watt University, she was leader of a group of more than 100 students who designed and constructed an innovative home for the Solar Decathlon 2021. Sana was a panellist at the Future Skills Conference at Expo2020 Dubai, volunteers for Class of Your Own, and is an ambassador for Women in STEM.
CIBSE Apprentice of the Year
Technician (Level 3-4)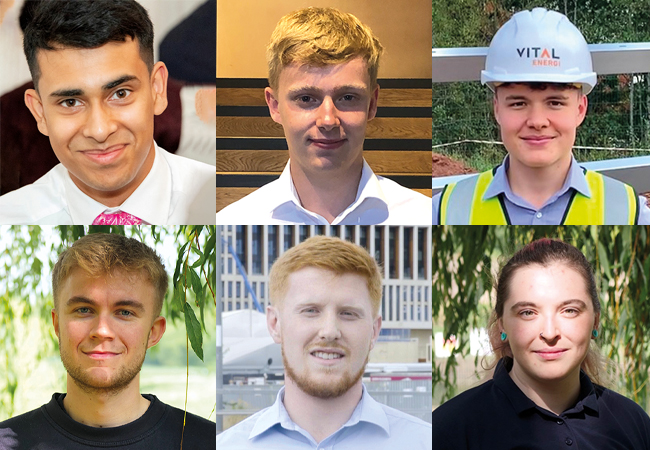 From top left clockwise: From top left clockwise: Alim Chaudhri, Bill Robson, Tommy Treanor, Xantha Smee, Harvey Hudson, Ryan Goode
Alim Chaudhri
Apprentice mechanical engineer, Aecom
Alim started at Aecom in 2021. He is currently working towards a HNC in building services and will be aiming to progress to a BEng degree. Alim was seconded to GSK in the science sector for 11 months and is a STEM ambassador.
Billy Robson
Apprentice mechanical engineer, ChapmanBDSP
Billy joined ChapmanBDSP's Kent office in September 2021, after studying maths, physics and geography at A Level. He aims to gain a degree in building services engineering with ChapmanBDSP.
Harvey Hudson
Building services apprentice, Vital Energi
Harvey is one of the first cohort studying Vital Energi's renewable energy and heat network apprenticeships, in partnership with the City of Liverpool College. He has worked on solar farms and energy centres. 
Ryan Goode
Apprentice installation engineer, Otis
Ryan joined the Otis Lift and Escalator apprenticeship programme in 2020, to explore his passion for electrical and mechanical engineering. He is in his final year of an installation engineer apprenticeship and is working in the firm's modernisation department. 
Tommy Treanor
MEP assistant, Mace
In his role as MEP assistant, Tommy won Mace Apprentice of the Year 2021. He is currently working as part of the MEP project delivery team on the UCL East Marshgate project, while studying towards a HND in building services engineering at London South Bank University. 
Xantha Smee
Lift and escalator servicing apprentice, Otis
Xantha has been an apprentice at Otis for two years. Since she stepped on site Xantha has been determined to learn all she can – whether it's fault finding on printed circuit boards or servicing components twice her age, hidden in the top of repurposed mills. Xantha is grateful for this apprenticeship and the vital, rewarding career ahead of her. 
CIBSE Apprentice of the Year
Technician
Degree (Level 5-7)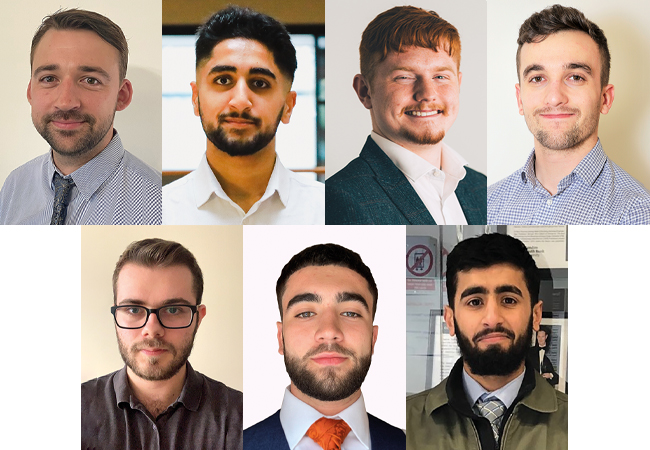 From top left clockwise: From top left clockwise: Daniel Bailey, Kai Devani, Lewis Coleing, Louis Kimber, Musab Mahmoo, Matty Brady, Matthew Nash
Daniel Bailey
Junior mechanical design engineer, Derry Building Services
Daniel Bailey is a student at Leeds College of Building, in the final year of a HNC qualification in building services engineering (BSE).
Kai Devani
BSE design apprentice, Elementa Consulting
Kai has developed a wide range of skills and knowledge in BIM and mechanical and electrical engineering. He has worked on various group projects and presented to local schools about being an apprentice. 
Lewis Coleing
Apprentice electrical design engineer, CPW
Since joining CPW, Lewis has achieved a BTEC ONC and HNC in building services engineering at Solihull College. He is now in the final year of his building services engineering degree at Coventry University. 
Louis Kimber
Apprentice mechanical engineer, Atkins
Louis joined Atkins in 2017, as a level 3 apprentice mechanical engineer. He is in year four of his building services degree at the University of the West of England, and achieved his EngTech and LCIBSE membership status in 2019. He became a certified Passive House Designer in 2021.  
Matthew Nash
Mechanical apprentice, Jacobs
Matthew is in his fourth year of a level 6 building services degree. After A Levels, he joined Jacobs and London South Bank University (LSBU), and is currently working in HVAC design and thermal modelling roles.  
Matty Brady
Building services engineering apprentice, Arup
Matty is in his final year of a BEng building services engineering degree apprenticeship at Leeds Beckett University. He has delivered a range of large Arup multidisciplinary projects, primarily data centres.
Musab Mahmood
Apprentice building services engineer, Atkins
In year four of a degree apprenticeship at LSBU, Musab is on track to complete his BEng with first-class honours and obtain IEng ACIBSE. He started his apprenticeship after his GCSEs and went on to complete a BTEC level 3 and obtain an EngTech LCIBSE.