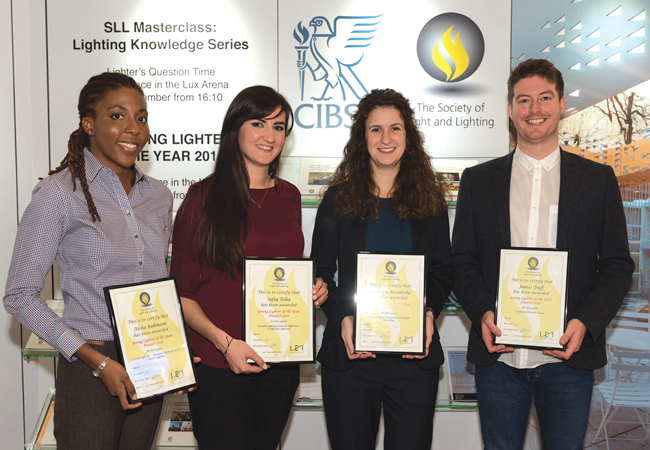 Lighting engineer Sofia Tolia has been named Society of Light and Lighting (SLL) Young Lighter of the Year 2016, for her work on energy saving in road lighting.
Her paper, Variable lighting levels for highways: A different approach, was delivered in a 15-minute presentation – alongside three other finalists – before a panel of judges at the LuxLive exhibition.
Based on research on the Greek port of Piraeus for her Master's diploma thesis, the paper examines the current methods used to save energy by dimming road lighting when traffic is predicted to be low, and suggests an alternative methodology.
Richard Caple, SLL vice-president and Young Lighter of the Year judge said: 'The judging for 2016 has been particularly tough because of the exceptional quality of the four finalists, each topic being unique and applicable, and each finalist giving outstanding presentations.
'Sofia's choice of topic, succinct written paper and engaging presentation meant she lifted the overall trophy. I would like to congratulate her and all the finalists.'
The best presented paper prize was won by James Duff for A journey towards change. The other finalists were Aisha Robinson – A visible light communication scheme for use in accent lighting – and Eleonora Brembilla, Applicability of climate-based daylight modelling.
The winners and finalists are pictured (left to right): Aisha Robinson, Sofia Tolia, Eleonora Brembilla and James Duff.
The Young Lighter of the Year awards are designed to test not just the finalists' academic ability, but also their presentation skills, which can make a big difference in the communication and implementation of theoretical ideas on a lighting design project.
The competition offers a unique platform for young lighters to raise their profile within the industry. All finalists received a cash prize, plus a year's free membership to SLL.