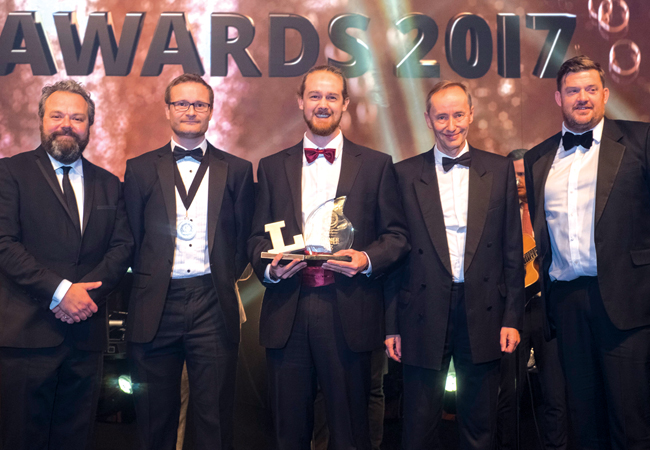 Last year's Young Lighter of the Year Matt Hanbury (centre), with (from left) comedian and Lux Awards host Hal Cruttenden; SLL president Richard Caple; and Mark Sutton Vane, judging on behalf of the LET
To preview the potential winner of the 2018 SLL Young Lighter of the Year competition, visit the SLL site, where you can view the longlist of video submissions. This includes:
Emma Beadle – 'Children's utopian visions of the city: co-designing lighting masterplans through play and exploration'
Katia Kolovea – 'Light as a medium to enhance communication in urban spaces'
Carla Piatti – 'Interactive lighting in public spaces'
Sunny Sribanditmongkol – 'Design strategies for daylighting in a Thai rowhouse'
Sanny Yuwono – 'Is there a threshold for the degree of chroma used to allow colour in exterior lighting without making the building incongruous to its surroundings?'
At the time of going to print, the judges were still deciding on the shortlist of finalists, who will present their papers at the LuxLive exhibition, at London's Excel, on 15 November. The winner will be announced at the Lux Awards that evening.
The competition helps young lighters show their research and hone their presentation skills.