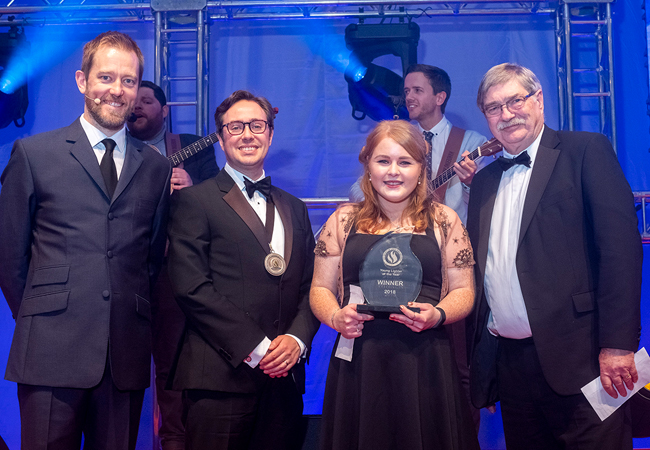 Last year's SLL Young Lighter of the Year Emma Beadle received her prize at the Lux Awards 2018
The shortlist for the Society of Light and Lighting (SLL) Young Lighter of the Year 2019 award has been announced.
Representing the best new talent in the industry, the list includes eight young lighters, who make up a very international group, coming from Stockholm, Germany, Estonia and the UK.
They were selected by a panel of judges from across the lighting industry, representing design, academia, sales and manufacturing. The shortlist is:
● Anna Tomschik, Black Ljusdesign, Stockholm, Daylight inspired lighting – design concepts aligned with nature
● Anna Wawryzniak, Peter Andres Lichtplanung, Germany, A light booster metro car for the commuting workforce: humancentric lighting in underground transportation
● Beatrice Bertolini, GIA Equation, London, Urban lighting meets people: social engaging lighting settings for sustainable cities
● Fatemeh Dastgheib, KTH Royal Institute of Technology, Stockholm, Outdoor lighting and perception of safety from a female perspective
● Jie Xu, University College London, Will and how the ETFE and glazing materials influence the light distribution of roof gardens?
● Joan-Tähven Vene, DeltaE Engineering, Estonia, Lighting passport for the city of towers and the ways to achieve it
● Melissa Kennedy, WSP, London, Texture within the light: evaluating the impact of textured light upon the sensual atmospheres within art, architecture and design
● Nils Voerste, Bauhaus-Universität Weimar, Germany, Evidence-based lighting design for urban environments: natural and artifical lighting impacts on people's experiences of public space.
This year marks the 25th anniversary of the competition, which offers a unique platform for young lighters to illustrate their knowledge and research, hone their presentation skills, and raise their profile within the industry