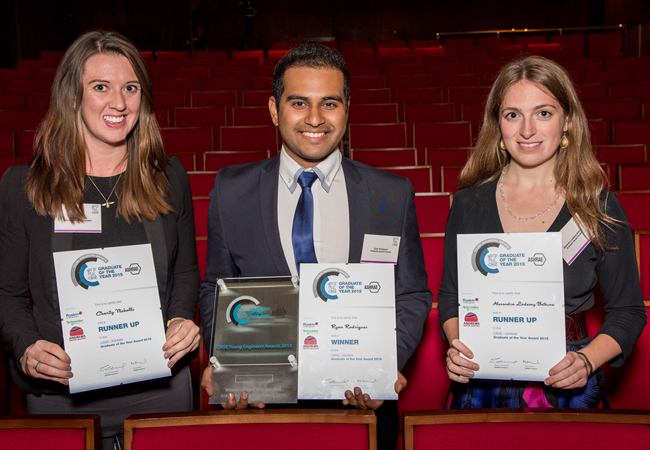 The CIBSE Young Engineers Awards 2016 are open for entries.
The accolades celebrate the industry's best young engineering talent, as well as employers' strategies for recruiting, nurturing and empowering young people.
Comprising the Graduate of the Year and Employer of the Year prizes, the awards scheme is sponsored by Andrews Water Heaters, Ruskin Air Management and Waterloo Air Products. It is supported by the CIBSE Patrons and organised by the CIBSE ASHRAE Group, in conjunction with the CIBSE Young Engineers' Network.
The Graduate Award – jointly presented by CIBSE and ASHRAE – celebrated its 20th anniversary last year. It has long been the most sought-after accolade for young building services engineers, and this year's winner will enjoy an all-expenses-paid trip to the ASHRAE Winter Conference in Las Vegas next January.
The two runners-up will receive cash bursaries from The Rumford Club, and all other finalists will receive £100 from The Manly Trust.
Any engineer who has graduated in a building services-related field – at either undergraduate or postgraduate level – in the past two years is eligible to take part.
The Employer Award has three categories giving small, medium and large employers the opportunity to demonstrate how they place young engineers at the centre of their business, and invest in their career progression.
The judges will be looking for evidence of innovative methods of engaging and motivating young engineers, and encouraging them to fulfil their potential for the long-term benefit of themselves, their employers and the industry's clients.
The judging panel includes the CIBSE, ASHRAE and IMechE presidents, along with the current graduate of the year, Ryan Rodrigues, and The Rumford Club chair.
Enter the CIBSE Young Engineers' Awards here and for more information email yea@cibse.org