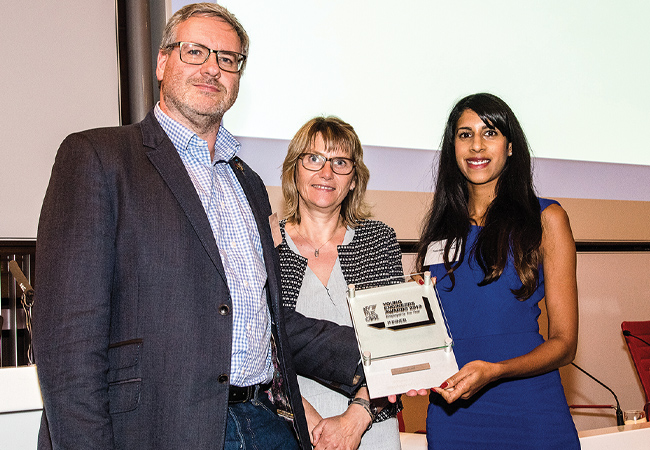 2019 Employer of the Year Aecom: Aecom's Robert Mitchell and Tracy D'Souza with Lynne Jack (centre)
Six forward-looking companies have been shortlisted for the Employer of the Year awards, which – together with the Graduate and Apprentice of the Year accolades – form the Young Engineers Awards.
The employer award highlights the achievements of firms in supporting and encouraging young people entering the industry.
It has three categories, with one overall winner.
The shortlist is:
Small (under 50 employees)
– InTandem Systems
– S I Sealy & Associates
Medium (51-300 employees)
– Troup Bywaters + Anders
– Elementa Consulting
Large (over 300 employees)
– Hoare Lea
– Cundall
Kevin Mitchell, Employer of the Year judge, said: 'The companies in this year's shortlist have put young engineers at the heart of their business.
'By committing to nurture, mentor and encourage the new talent entering the industry, they are helping to ensure a skilled and motivated engineering community for the future.'
Winners will be unveiled on 8 October at the online Young Engineers Awards, event, delivered in partnership with CIBSE Patrons, and sponsored by Kingspan Industrial Insulation, Baxi and Ideal Commercial Boilers and Swegon Air Management.
For details, visit cibse.org/yea