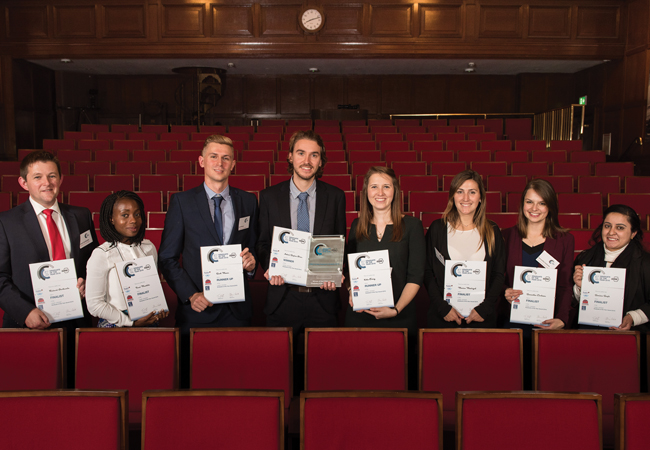 Antoni Sapina Grau, of WSP Parsons Brinckerhoff, has been named the 2016 CIBSE ASHRAE Graduate of the Year. His talk on digital engineering was voted the best presentation by a panel of five judges at the CIBSE Young Engineers' Awards, held at the Institution of Mechanical Engineers (IMechE) headquarters in central London. Grau's prize is a trip to Las Vegas for the 2017 ASHRAE Winter conference.
The Employer of the Year Award winners were also revealed at the ceremony, with the overall accolade going to TÜV SÜD Wallace Whittle. It also won the medium-sized employer category, in which 2014 winner Max Fordham was runner-up.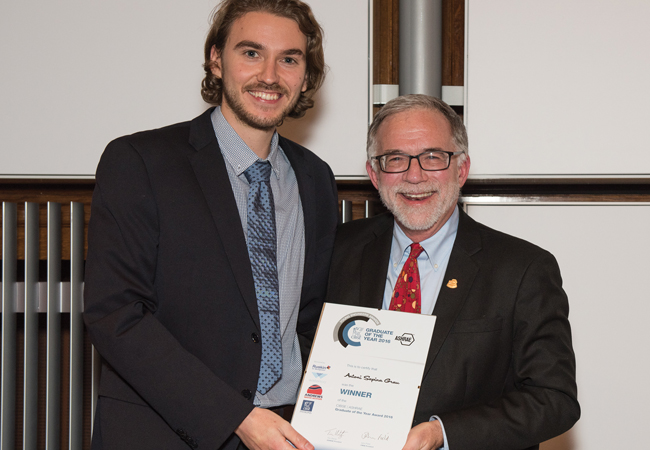 Grau with ASHRAE president Tim Wentz
Atkins was named large employer of the year – with Hoare Lea as runner-up – while Methods won the small employer category, with QODA Consulting runner-up.
In his winning presentation Grau explained how the digital revolution was changing the engineering profession through a series of 'stories'.
Each finalist had to give a five-minute presentation to an audience that included CIBSE President John Field and ASHRAE President Tim Wentz, who gave his own talk. The judges included chair Tim Dwyer, and last year's winner of the graduate award, Ryan Rodrigues.
Entrants had to respond to the following question: 'Computers and digital techologies are transforming the way engineers work. What impact do you think this is having on innovation, professionalism and traditional engineering skills?'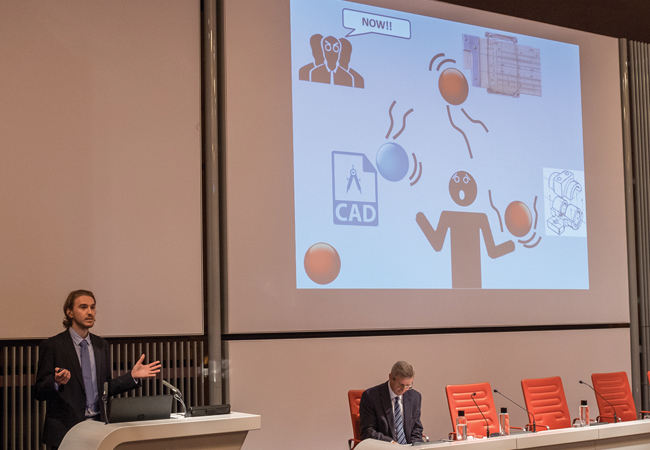 Grau showed an engineer juggling three balls
In his presentation, Grau explained how engineers were adapting to new technology. He showed an engineer juggling three balls, representing a slide rule, a 3D drawing and a drawing board. One by one, the balls were replaced by CAD software, building information modelling (BIM), and a laptop. Grau also explained how increased knowledge gives engineers a technical understanding that transcends national borders.
After being presented with his award Grau said: 'I feel I have achieved something, but the best is yet to come. I now have a responsibility to work harder and harder. It's not the end – it's the beginning.'
Grau joined WSP Parsons Brinckerhoff as a graduate engineer, having obtained an MSc in building services engineering with sustainable energy. He qualified as a Breeam Associate, Low Carbon Consultant and LCIBSE, and was part of the team that won this year's Teambuild Construction Competition UK.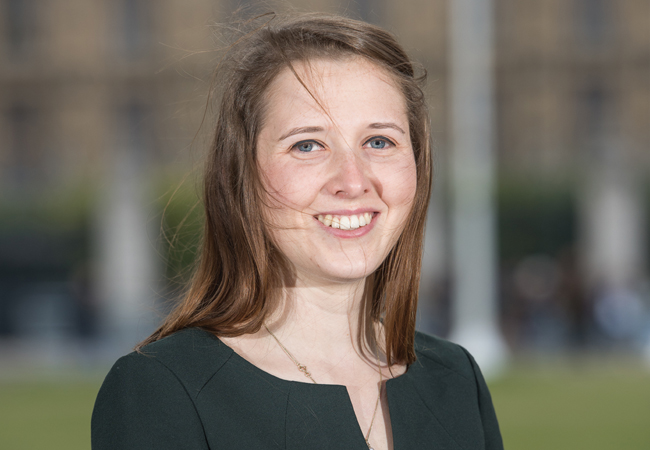 Katie Ewing was awarded second place
Grau was one of two Spaniards in the final, which featured eight engineers from all over the world.
The judges awarded second place to Katie Ewing, of the University of Bath and Atkins, and third place to Scott Mason, Lochinvar's UK senior technical sales engineer for integrated renewable solutions. They won £500 and £300 respectively. The five other finalists were: Samantha Carlsson, Cardiff University/Hoare Lea; Richard Garthwaite, University of Durham/Royal School of Military Engineering; Farai Mwashita, Loughborough University/Hilson Moran; Samima Saqib, Heriot-Watt (Dubai); and Monica Mondelo Madrigal, Universidad Politécnica Madrid/Foster + Partners.
The event also featured a presentation by Doug Ward – director of estates and facilities management at Newcastle upon Tyne Hospitals NHS Foundation Trust – who won the IMechE Construction and Building Services Division (CBSD) Special Achievement Award. Ward outlined the outstanding work done by engineers in hospitals that 'kept people alive', and explained how important it was to have a robust system of electrical power distribution.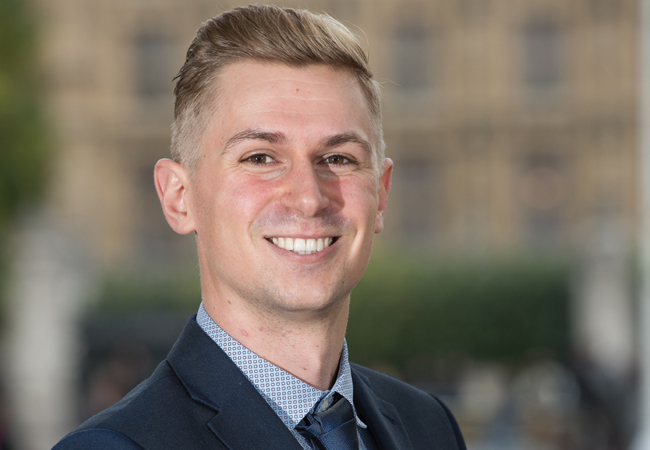 Scott Mason took third place in the competition
ASHRAE President Wentz also gave a talk, during which he told the audience that construction was on the cusp of a golden age, as the industry could build more holistically and sustainably than ever before. He said technology would 'redefine the concept of engineering and enable true integrated design'.
Wentz added that ASHRAE would lead improvements in buildings by recording performance using its energy labelling programme, Building Energy Quotient (BEQ).
CIBSE, ASHRAE and IMechE support the CIBSE Young Engineers' Awards 2016, which are sponsored by Andrews Water Heaters, Ruskin Air Management and Waterloo Air Products. The awards also receive support from the CIBSE Patrons