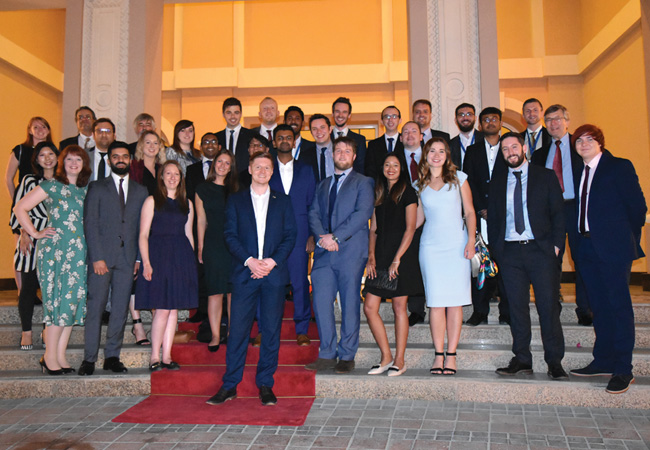 CIBSE YEN chairs and vice-chairs
A group of 22 CIBSE YEN chairs and vice-chairs, from seven countries, attended the CIBSE YEN Global Conference in Dubai in October. They were joined by Jacob Kopocis, from Young Engineers in ASHRAE (YEA), YEN mentor Andrew Saville, and CIBSE technical director Hywel Davies.
The event aimed to strengthen connections between YEN centres across the globe and with the young engineers of ASHRAE, as well as support newer centres in the Gulf and Australia. It was also an opportunity to explore the challenges of designing tall buildings in hot climates, learn from sustainable case studies, and gain an understanding of the history and culture of the United Arab Emirates (UAE).
The group joined the UAE's first Technical Conference, which looked at the sustainability of tall buildings. Topics included cyber security, fire strategy and the challenges of designing hydraulic systems – such as chilled water and mains water – in super-tall buildings.
During a meeting at Dubai's World Trade Centre, the group discussed the status of the network and a series of initiatives for the future. On a visit to Amity University, the delegates celebrated the launch of the university's YEN chapter – the latest link between YEN and academia.
They were treated to technical site tours at the Etihad Museum, Cleveland Clinic and Masdar City. Paul Binns, Yorkshire YEN Centre chair, who worked on the Cleveland Clinic project, said: 'The visit was very moving as I could see how my efforts during the design had paid off. The building, its services and staff were testament to the luxury reputation it holds.'
In Arabic, Masdar means 'the source', a clever name for a city set to become a source of knowledge and its own energy supply, largely through PV arrays. The arrays on site generate 1MW from rooftops and 10MW from a solar farm. The Masdar Institute of Science and Technology, in affiliation with the Massachusetts Institute of Technology, has invested in renewable energy across the world, totalling 2.8GW from wind, solar and waste-to-energy plants.
CIBSE's UEA regional annual dinner wrapped up the week, with a keynote address from CIBSE President Peter Y Wong.
The event was only possible because of the hard work of CIBSE YEN's UAE Centre Committee, the CIBSE UAE Regional Committee, and the support of CIBSE staff. Thanks go to all the people and companies that supported the conference, and the employers who enabled the young engineers to take part.