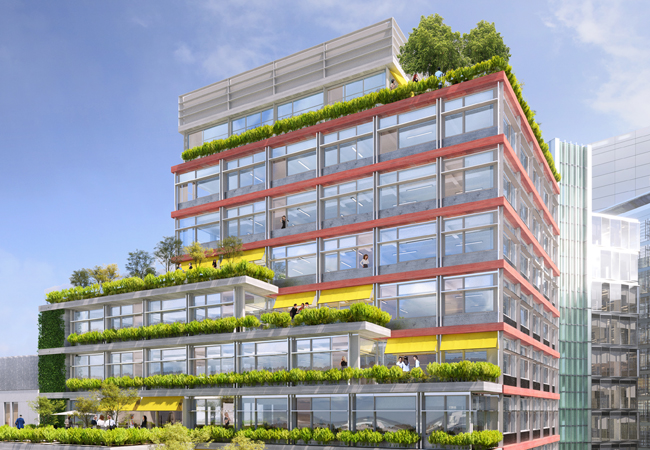 Design for Edenica offi ce building in London, which will have 40% less embodied carbon than the industry benchmark
Embodied energy is increasingly flagged as a major issue for engineers, as clients chase net zero targets for their buildings. As operational energy is reduced with more efficient building design, embodied carbon now makes up a significant proportion of a building's whole life carbon (WLC).
With the release of CIBSE TM65.2 Embodied carbon in buildings: non-residential buildings imminent, CIBSE's HVAC group led a timely event on embodied energy. I opened the evening by highlighting how vital embodied carbon analysis will be to reaching zero carbon goals.
Detailing what is included in a WLC assessment, Celine McLoughlin-Jenkins, a graduate sustainability consultant at Aecom, emphasised why taking a holistic view provides a more complete picture of a building's carbon impact. She lamented that there currently isn't much scope to recycle or reuse MEP equipment.
CIBSE TM65 and the Greater London Authority's Whole Lifecycle Carbon Assessments guidance (March 2022) were highlighted as key documents that reflect the increased visibility and importance of embodied carbon analysis.
WLC analyses are rapidly becoming common requirements for planning permission; McLoughlin-Jenkins cited the widespread opposition to plans for a new M&S store in London's Oxford Street because of the embodied carbon impact. She concluded by summarising the four biggest contributors to embodied carbon: refrigerants, distribution routes, sourcing and weight.
Ankit Singh, technical director of sustainability at the Waterman Group, introduced the 94,000ft2 Edenica office development in the City of London, which he said would achieve an embodied carbon saving of 40% compared with LETI benchmarks.
Singh emphasised that a particular issue for offices is that tenants make significant changes to systems. With a standard ducted ceiling void system, as much as 50% of the services could be removed or altered by tenants, he said. Selecting strategies that remove that option minimises the post-construction impact.
The 12-storey Edenica building hasn't compromised on operational emissions, said Ankit, with energy consumption expected to be lower than the UK Green Building Council's 2030 targets. Edenica features a mixed-mode ventilation strategy, exposed thermal mass, and significant solar shading.
Yara Machnouk, an environmental design engineer at Elementa Consulting, gave a brief insight into CIBSE TM65.2, due to be published this winter. She said TM65 gives a framework for approximate embodied carbon in developments with less information from manufacturers. It allowed for flexibility, added Machnouk, offering different levels of calculation based on the amount of detail manufacturers can provide.
She then highlighted key conclusions from TM65.1 Embodied carbon in building services: residential heating data, discussing the importance of heating systems, refrigerant leakage, and high-performance building fabric.
Concluding the evening was Chris Newman, zero carbon design manager at Mitsubishi Electric, who discussed some of the challenges manufacturers have in providing embodied carbon data, including differing national standards. He touted the European market as being leaders in environmental legislation, and highlighted the new Product Environmental Profile in France that requires manufacturers to detail raw material makeup, manufacturing energy, and packing.
Newman described the benefits of standardisation and specificity that the regulation provides. CIBSE TM65 had made an effective start at providing a framework, he added, but there are still several assumptions that must be made, which makes universal adoption difficult
One of the shortfalls of TM65 and Environmental Product Declarations, Newman said, was that they don't factor in site-added refrigerant charge, which can make refrigerant-heavy systems, such as variable refrigerant flow (VRF), appear to have a lower carbon impact than they do in reality. On a standard VRF system, additional refrigerant charge could make up more than 40% of a system's overall embodied carbon load.
About the author
Matt Dickenson ACIBSE is a mechanical engineer at Waterman Group