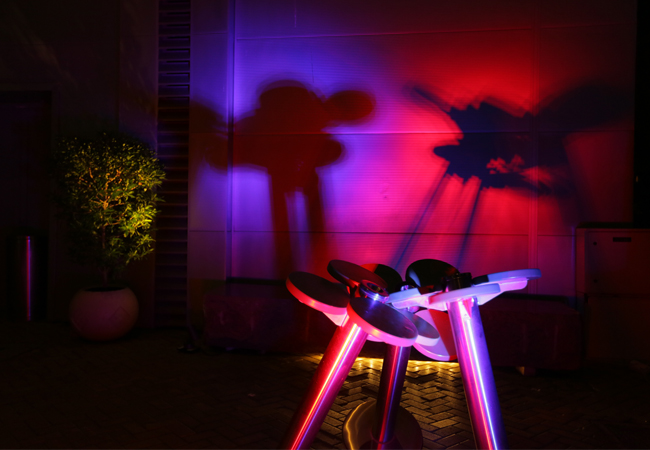 The Society of Light and Lighting (SLL) held the second Ready Steady Light Middle East (RSL ME) event in Dubai in October. It follows the success of the inaugural event last year, and coincided with Light Middle East – the largest lighting exhibition in the region.
SLL president Richard Caple, and secretary Brendan Keely, oversaw 45 competitors from organisations including Lightitude, Nathan Savage Lighting Design, Osram, Studio Lumen, Light Touch PLD, DPA and Nulty+.
Competitors were split into teams of seven, and allocated a site to be lit, at the back of the Dubai World Trade Centre. The teams had two hours to complete their designs and installations, before being judged.
Team Dragon – with members Jessica Munaf, Chayot Kiranatawat, Susan Sonnenberg and Satish Kumar – won a clean sweep of awards. Its installation 'Dance of the Dragonfly' scooped the Technical Award for its minimum use of energy and minimising light trespass. The team also won the Artistic Award for the most creative installation, and claimed the Peer Award – judged by the competitors.
RSL ME 2017 was supported by: acdc; Erco; Ecosense; Feilo Sylvania; Lightitude; Lumascape; Martin Professional ME; Osram; Targetti; Traxon; and Zumtobel. Not only did the organisations deliver a great variety of luminaires and controls, but they also supplied technical support on the evening of the event.
The Ready Steady Light competition started in the UK 15 years ago, with Rose Bruford College, and has been in the society's annual events calendar ever since. It brings together people from all fields of the lighting industry, and gives them a set time to design and deliver an installation with selected luminaires and controls.