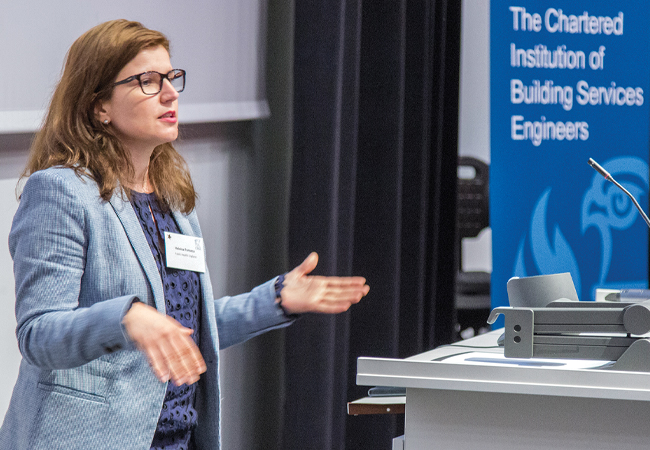 Heloisa Fonseca, of Public Health England, at the 2019 Technical Symposium
The 2020 CIBSE Technical Symposium, taking place in Glasgow on 16 and 17 April, is calling for abstract submissions. Titled 'Engineering buildings, systems and environments for effective operation', it will explore how mitigating and adapting for climate change will reshape engineering of the built environment.
The event offers an opportunity to share key research insights and present best practice case studies to a well informed audience. Papers should focus on aspects of interest to CIBSE and ASHRAE members and the wider society, including: building-related energy; acoustics; comfort; indoor air quality; electrical systems; fire safety; IT; lighting; thermal performance; public health; internal and external transportation; facilities and information management; security; ventilation; and associated standards and systems.
Submissions from both young and experienced practitioners, researchers and building users are encouraged. They should be in the form of research papers, posters, technical reviews, case studies or opinion presentations, and based on recent or current research or application.
Abstracts of 250 words must be received by 16 September. For more information, visit the CIBSE website.