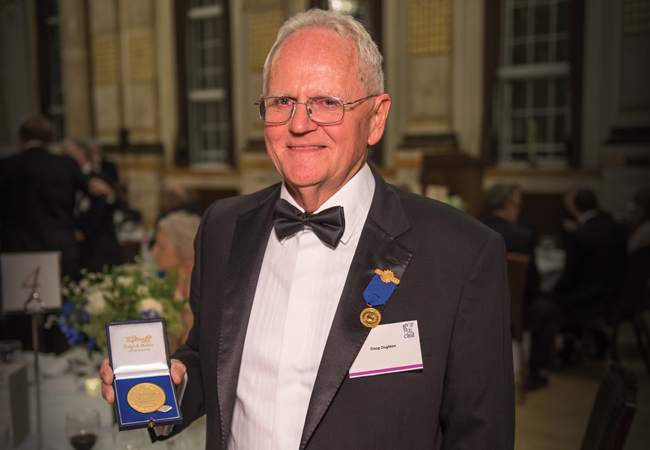 Doug Oughton is passionate about building services. 'It's a super career,' he declares after serving more than half a century in the industry.
As well as working on some of the most high-profile projects, Oughton has co-authored five editions of the Faber & Kell standard-setting reference book Heating & air-conditioning of buildings. His broader industry achievements have also been plentiful: he became a Fellow of the Royal Academy of Engineering in 1995 and an Honorary Fellow of CIBSE, of which he was president in 2002-03.
Throughout his career, Oughton has striven to promote the industry to the younger generation and get them excited about choosing engineering as a profession. 'After so many years, I genuinely believe building services to be a great career choice, despite many challenges along the way,' he says. 'Building services is in constant development and the environmental impact of what we do has a relevance to modern-day thinking.'
Starting out with Oscar Faber in 1967, Oughton's first design project was Belfast City Hospital and, in 1975, he was promoted to associate. Since then, he has worked on galleries at Buckingham Palace, the British Museum and Somerset House, a major refurbishment at London's Royal Exchange, and designed arenas in Belfast and Sheffield. One of his most memorable moments during the post-fire restoration project at Windsor Castle was being interrupted mid-morning during client meetings by the changing of the guard.
Early career
In 1960, aged 18, Oughton joined contractor Matthew Hall – now Spie Matthew Hall – as an apprentice. 'I always wanted to be an engineer, but had no idea what discipline to go for,' he says. After a stint in the nuclear department, he transferred to the mechanical and electrical division, where he felt most at home, and was awarded the Higher Diploma in environmental engineering at the National College.
Seven years later, Oughton joined Oscar Faber & Partners – the forerunner to Aecom – in its Belfast office, before transferring to the company's headquarters in St Albans. He become a partner in 1981, a director in 1983 and, after retirement, a consultant in 2004. 'It was an enjoyable place to work,' he says. 'I've always had an interest in developing technical standards and it had a strong technical bias.'


I am very passionate about the industry and I want to tell young people what a great career it is

Indeed, Oughton's technical input within Oscar Faber soon became apparent beyond his own projects through the distribution of in-house 'technical snippets' and papers presented at conferences. In 1979, he became Oscar Faber's technical leader for mechanical engineering and was awarded an MSc from the University of Bristol after presenting a research paper dealing with energy consumption and energy targets for air conditioned office buildings. During this period, the firm had set up Faber Computing for Engineering and Technology (FACET), of which Oughton became a director in 1984.
Throughout his career, Oughton's biggest lesson was learning how to keep up and cope  with changes in technology. 'When I started, we had no technical aids such as computers; we carried out manual calculations, used slide-rules and old-fashioned typewriters, and all the drawings were done by hand, on linen or tracing paper.' But, he says, Oscar Faber was at the forefront of change, with Oughton providing engineering input for software development in computer programming in the 70s and 80s.
'It was difficult to pick up on technologies that you were not totally familiar with, but it was an interesting challenge – and interest is what makes the job worthwhile.'
As well as the shift from imperial to metric, Oughton has had to deal with an ever-evolving construction industry. Changes in contractual arrangements have demanded the biggest adjustment, he says. With closer integration of designers and contractors – and the introduction of fee bidding in the 1980s – consultants have had to become much better at factoring time and cost into their work. 'The industry rose to that challenge and dealt with it,' he says.
Organic route
Oughton's five-year apprenticeship with Matthew Hall gave him a broad background to the industry.
'Most of my vintage got into the industry through contractors' apprenticeships, which are the best way of learning what the industry is about,' he says. 'You get the opportunity to work on the tools and witness, first hand, the practical problems of installing and the all-important commissioning.'
By learning in a different way and getting site-management experience, Oughton says apprentices can better visualise, for example, the scale of equipment and plan both for its installation and access for maintenance. 'Graduates coming into design offices these days are missing out on understanding the practicality of installation and commissioning. The organic way in is best.'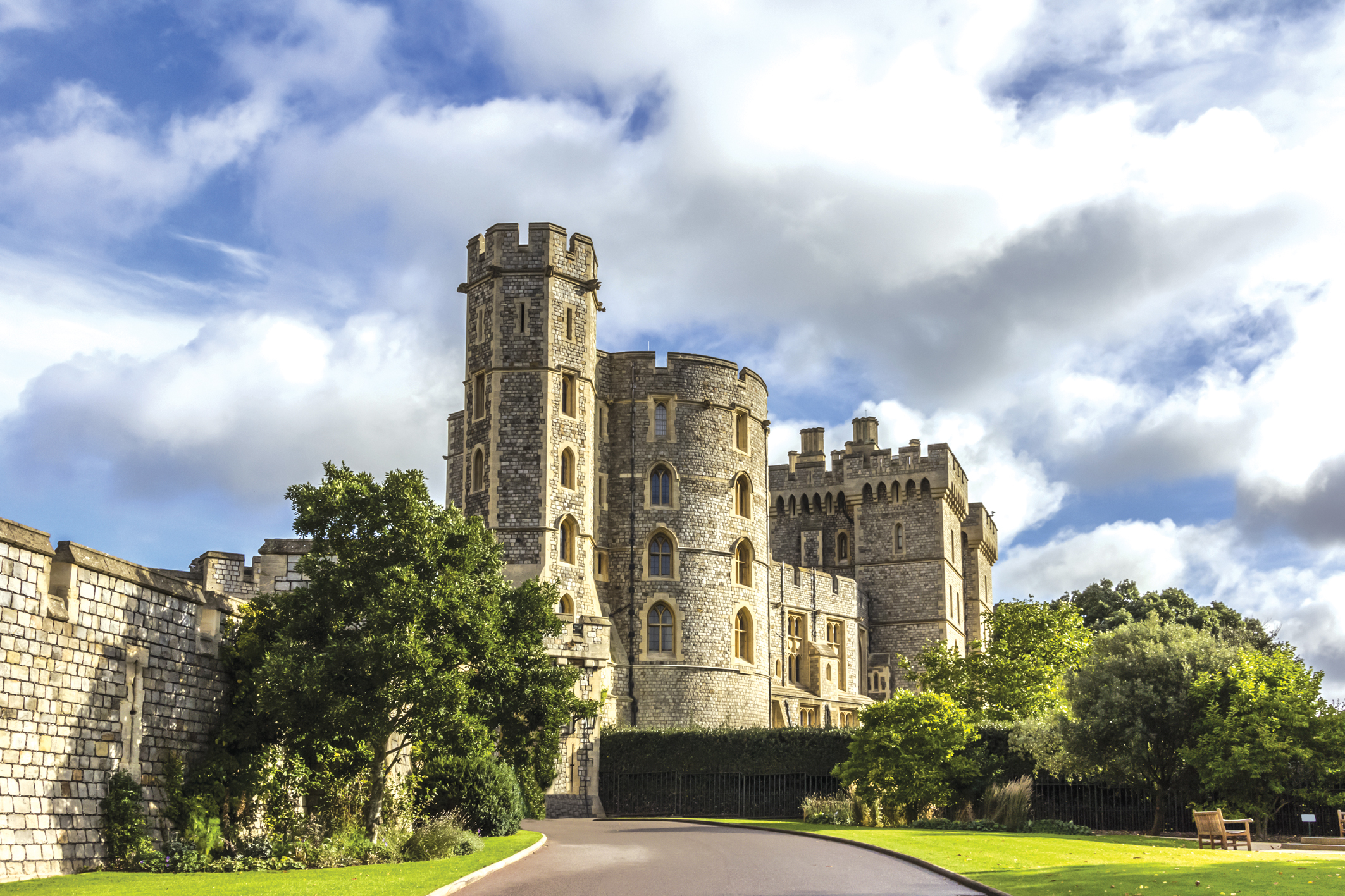 Oughton worked on the post-fire restoration project at Windsor Castle
The next generation
As highlighted in his presidential address in 2002, Oughton believes encouraging young people into the profession is still one of the most important tasks of the supply chain.
Having set up and chaired the CIBSE Careers Panel for 10 years, Oughton went on to become the inaugural chair of Education for Engineering – an alliance of 36 professional engineering institutions, including the Engineering Council and the Royal Academy of Engineering. 'This was one of the few occasions when all the professional engineering institutions were working together and speaking with one voice to government and industry,' he says.
'I am very passionate about the industry and I want to tell young people what a great career it is. But to get good-quality people into the industry, you have to invest in young people and get them trained.'
One of the upsides to the industry is that every day is different. 'The continual technical developments add to the variety in our work, contributing to the environmental impact of our day-to-day decision-making.'
Industry focus
When selecting systems in the 1960s, cost was king. Now, carbon and energy use are at the forefront, says Oughton.
'This has been a significant change for the industry and it began in the 1970s with the miners' strikes and the three-day working week, signalling the danger of fuel shortages and energy price rises, prompting architects and engineers to work together more closely on ways to reduce energy consumption.'
This ethic has moved the industry forward, adds Oughton. 'Our focus should be working together with other designers, architects and contractors, and with those who maintain and operate buildings.' Teamwork is crucial, he says, as is an understanding of what each party is trying to achieve.
'I am lucky to have done what I have as an engineer, and I thank my colleagues for their support. Building services is a rewarding career – it has served me well.'