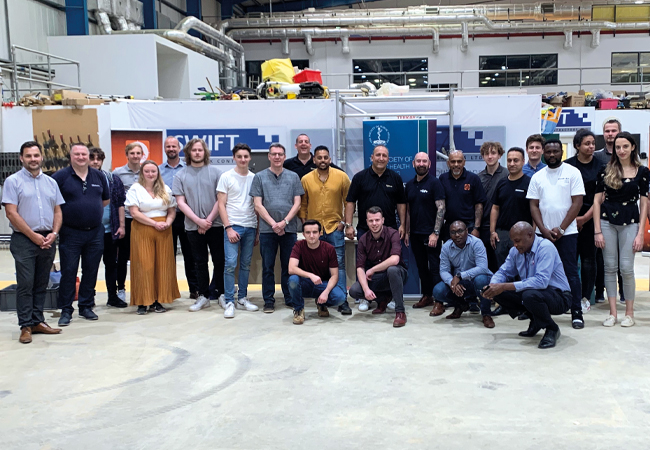 Sophe's YEN group
SoPHE ensured its members still had access to high-quality CPD throughout the lockdowns and other restrictions. Thanks to Malcolm Atherton, SoPHE Global CPD coordinator and North West representative, it hosted 11 online CPD events, which attracted more than 1,400 registrations.
A range of topics was covered, including: 'What are the key considerations for above-ground drainage systems?', presented by Matt Lightbody, commercial director at Saint-Gobain PAM UK; and 'Vacuum drainage systems – how air can help us save water', by Andrew Hay, of OtterVacuum Systems.
After a short summer break, SoPHE restarted its regional CPD programme in September, accompanied by further Global CPDs (details will be sent to members in due course). You can access the recordings of previous CPD events at CIBSE – Society of Public Health Engineers – SoPHE
The society was also able to operate in person, as restrictions allowed. In July, in collaboration with the SoPHE Industrial Associates Industry Working Group, the society hosted the SoPHE Plumbing Centre of Excellence Young Engineers Training Day at New City College Construction & Engineering Centre.
The day was facilitated and organised by SoPHE Steering Committee members Sanjay Modasia, Contractors Group representative; Jonathan Gaunt, past chair; and Peter White, chair. It covered practical skills associated with the installation of domestic water piped systems, to give young engineers valuable experience of pipework installation to complement their theoretical knowledge.
Attendees were involved in a number of practical CPD sessions with various pipework materials, fittings and valve manufacturers, followed by a team exercise to put their newly learned skills into practice.
SoPHE would like to thank New City College and event sponsors Pegler, Abbots Engineering, Ashworth UK and BSS, which also supplied materials and prizes, as well as Chris Sneath, for generously supplying the Bursary for the Level 2 first-prize winner.
CIBSE congratulates all those who were elected to the SoPHE, SoPHE Industrial Associate, and SoPHE Young Engineers Steering Committees at the 2021 AGMs, and, in particular, the committees' respective chairs: Peter White, Miguel Garcia and Ben Goodfellow. We look forward to working with them during their term.
CIBSE would also like to thank Jonathan Gaunt and Alan Flight for their hard work and dedication during their time as chairs of SoPHE and the SoPHE IWG, respectively. They achieved a great deal, and their effort and resources were invaluable.
After a two-year hiatus, we are excited to announce that the SoPHE London Dinner will take place on 4 November, at the Royal Lancaster Hotel. The dinner will bring together members, industrial associates, and individuals and organisations from across the public health industry. CIBSE would like to thank all the event sponsors, without whom the event would not be possible.
SoPHE has an important and exciting year ahead. If you would like to become involved, sign up as an Affiliate Member at Login to MyCIBSE (force.com)
If you have any questions about joining, or wish to learn more, get in touch at sophe@cibse.org