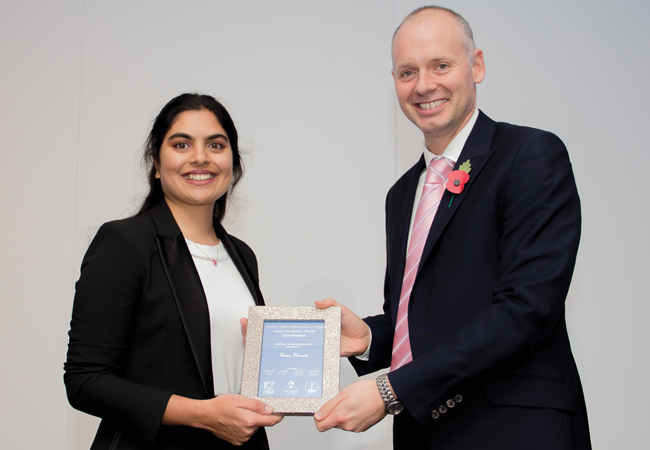 Yasmin Chamadia with Edward Clarke, of SoPHE Education Group
A filtration system cartridge design to eliminate arsenic from groundwater – by Darryl How and Yasmin Chamadia, from Arup – has won the Society of Public Health Engineers' (SoPHE's) Young Engineers Awards.
The awards are run in association with Engineers Without Borders UK and Caminos de Agua, which recently developed low-cost technical filtration media for fluoride removal and set the challenge to develop a similar one for arsenic. Entrants' designs had to be lowcost and openable with commonly available, reasonably priced tools. The containers needed to be refillable, air- and watertight, and be able to connect to other filter cartridges.
Judges were impressed by the FlexiFiltro solution, which used simple components to create an inexpensive and resilient design. Thought had also been given to expansion and scalability. How and Chamadia will be developing the design into a real product for use.
The awards were presented at the SoPHE annual dinner in November, when an Honorary Fellowship Award was also presented to Professor Mala Rao OBE for her outstanding contribution to addressing healthcare and social inequalities. Rao is a champion of climate change action and has worked closely with the World Plumbing Council to promote water conservation and access to safe water and sanitation globally.
With thanks

SoPHE would like to thank: ACO Building Drainage; Alumasc Water Management Solutions; Aquality Trading & Consulting; Aquilar; Baxi Heating UK; Blucher UK; European Vacuum Drainage Systems; Geberit Sales; GIRPI; Grundfos Pumps; Hamworthy Heating; Hargreaves Foundry; Heatrae Sadia Heating; Hydrotec (UK); Kylemore Services; Lochinvar; Marley Plumbing and Drainage; Pipex; Polypipe; ProEconomy; Rinnai UK; Roth UK; Saint-Gobain; Sentinel Performance Solutions; TClarke Contracting; Teekay Couplings; Waterscan; Wilo Group; and Zip Heaters (UK).