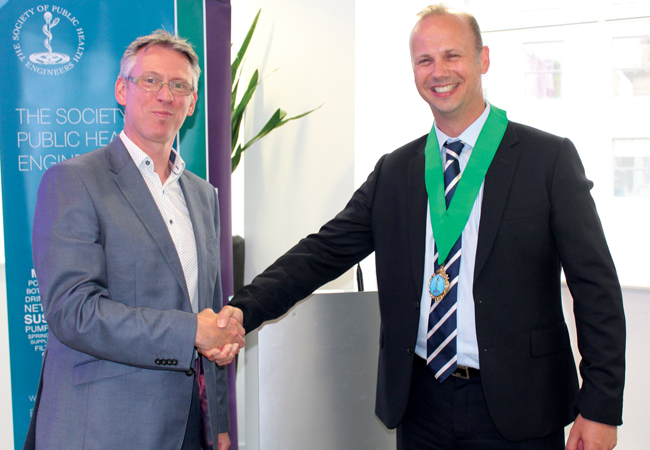 Steve Vaughan (left) with SoPHE president Jonathan Gaunt
The Society of Public Health Engineers (SoPHE) will give two presentations at the Healthcare Estates Conference and Exhibition at Manchester Central on 8-9 October 2019.
Steve Vaughan will present 'The SoPHE/CIPHE Plumbing Centre of Excellence Initiative' at 2.30pm-3pm on 8 October, while Dr Richard Beattie's topic will be 'From engineering design to water-quality compliance of domestic services' at 12.30pm-1pm on 9 October.
The theme of the two-day event focuses on 'Fund, Design, Build, Manage and Maintain', and incorporates presentations, exhibitor stands and a formal awards dinner. In addition, SoPHE and CIBSE will host a stand at the event to promote membership opportunities and highlight what the organisations can offer.
Other speakers at the conference include Simon Corben, director and head of profession NHS estates and facilities, and Alasdair Coates, Engineering Council CEO.
For details and to register, visit healthcare-estates.com