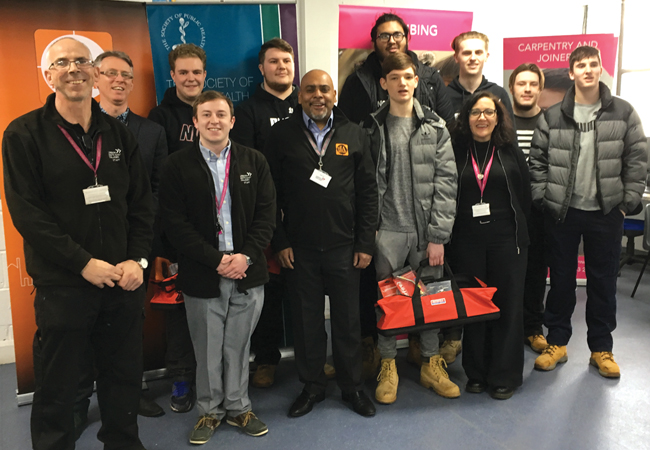 SoPHE plumbing competition entrants
CIBSE SoPHE chair Steve Vaughan, and Sanjay Modasia, chair of the SoPHE Contractors Working Group, attended London South East College's Bexley campus recently, to present prizes to the winners of an NVQ Level 1 plumbing competition.
The contestants had to complete a multiple choice test, before moving into the workshop for the practical assessment – a static task board, which included technical challenges associated with the use of copper, black iron and plastic pipework materials, as well as working to specific dimensions and connection details. Philip Clarke took first prize, William Brooke second, and Danny Williams third, and were presented with plumbing tool sets and personal protection equipment.
The prizes were sponsored by the SoPHE Industrial Associates, and the materials for the competition task boards were donated by JA Brooks Mechanical Services.
At the SoPHE annual dinner in London in November, Vaughan had outlined how SoPHE – with its Industrial Associates and Contractors Working Group – planned to collaborate with London South East College as part of its Construction Advisory Board (CAB) initiative.
Working with Bob Noseda, sector skills executive at the college, and the Chartered Institute of Plumbing Engineers, the aim is to develop a Centre of Excellence. This will enhance the NVQ Level 1 to 3 syllabus for plumbing trainees, offering skills and knowledge aligned to commercial plumbing installations and public health engineering consultancy. The Society hopes such engagement will inspire those who want to progress within the sector.
SoPHE also plans to promote technical CPDs to the students and lecturers at London South East College, to align with the training syllabus, and develop installation bays to represent commercial plumbing arrangements. It believes early engagement with students and further education providers will significantly benefit both the trainees and potential employers.