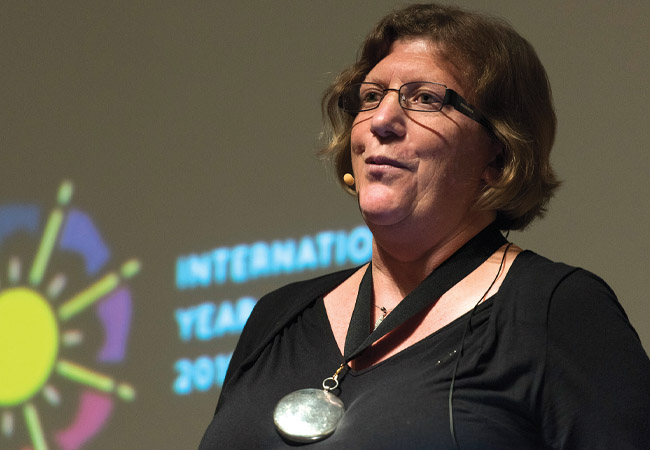 It is with great sadness that the Society of Light and Lighting (SLL) can confirm the death of Liz Peck, past president, former secretary and Fellow of the society.
Liz joined the lighting industry in 1999, taking a customer service role with Concord Lighting. Working alongside Mike Simpson, she moved from Concord to Philips, becoming a senior lighting designer while undertaking the Bartlett MSc in light and lighting. Liz was named the Worshipful Company of Lightmongers Student of the Year 2003 and graduated the following year.
In 2007, Liz set out her own independent lighting consultancy, LPA Lighting. She also provided training for CIBSE and the Lighting Industry Association.
Liz's projects include Dover Castle and, more recently, the Iron Bridge in Telford, a project that she worked on with the current SLL president Bob Bohannon (LuxRapide), winning the Outdoor Lighting Project of the Year at the Lux Awards in November 2020.
In 2008, Liz was awarded the SLL Lighting Diploma and, before being elected to the SLL executive committee, was the society's secretary. She became SLL President in 2015, the Unesco International Year of Light.
In her presidential year, Liz was one of the instigators and project leads of the first SLL Night of Heritage Light. Embracing and celebrating the International Year of Light, SLL members lit nine Unesco World Heritage sites across the UK on 1 October 2015. Liz was also named Lux Person of the Year 2015.
Liz was an active member of the society's technical and publications committee, contributing to several SLL Lighting Guides. After moving from Brighton to Leeds, she started the Northern Lights initiative, which gave light-minded people in the north of England the chance to socialise and discuss the topics of the day.
A great champion of the lighting community, Liz felt strongly about supporting and encouraging those within in. She was very passionate, hardworking, and committed to the lighting profession.