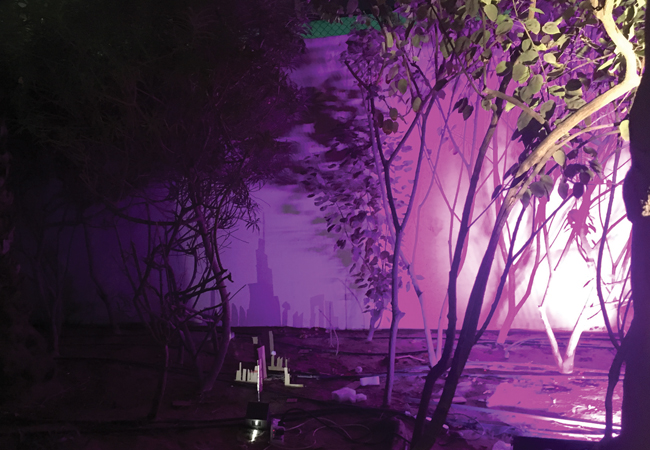 The winning installation
The third Ready Steady Light Middle East took place at Light Middle East in Dubai in September. Held in partnership with Messe Frankfurt and Light.Func, the Society of Light and Lighting (SLL) event celebrates the art and science of lighting.
Seven teams competed to create an exterior installation in just 90 minutes. They were randomly allocated a site and given a limited selection of equipment.
This year's competition was themed around the Year of Zayed, marking 100 years since the birth of the founding father of the United Arab Emirates, Sheikh Zayed bin Sultan Al Nahyan.
The judges included Sharon Stammers and Martin Lupton, from Light Collective, who awarded prizes for the Most Creative Effect and Best Technical Solution. The teams also judged each other for the Peer Prize. The Most Creative Effect and the Best Technical Award were given to Team 2 for its installation 'The Vision of Zayed'. The Peer Prize was awarded to Team 1 for 'The Garden of Eden'.
This year's event was supported by Creation, Cinmar, iGuzzini, Linea Light, Martin Professional Middle East, Venuetech and Zumbotel Group.