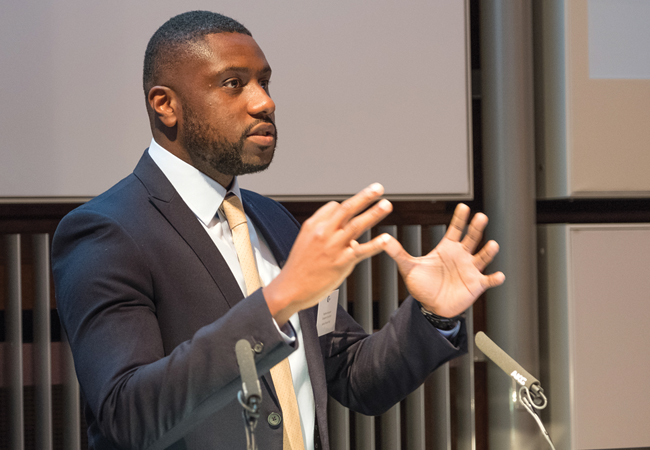 Eight inspiring young engineers took to the stage in October, vying to become CIBSE Graduate of the Year 2017.
Raphael Amajuoyi, graduate consultant within the energy and sustainability development team at Hurley Palmer Flatt, won the title after giving a calm and collected presentation.
Ana Recio, graduate mechanical engineer with the Arup buildings team, was first runner-up, with Kiyomi Honjigawa, graduate engineer at Buro Happold, taking third position. In their five-minute presentations, the finalists had to answer the question: Is engineering an art, and should building services professionals be more creative in the way they approach projects?
Amajuoyi – who was first behind the lectern – asked the audience to pick a rectangle from a selection shown on the screen. He said most engineers would choose one based on the ratio of 1:1.618, which dates back to Italian mathematician Fibonacci and his sequence. He said Fibonacci's sequence was used to create what we now know as the golden ratio, which produces the golden spiral.
'We see examples of these in nature. We see its presence in art, in architecture and engineering. While engineering is an art, it is science based,' said Amajuoyi, who achieved a BSc in architectural engineering and design management, and an MSc in low-carbon building design and modelling from Loughborough University.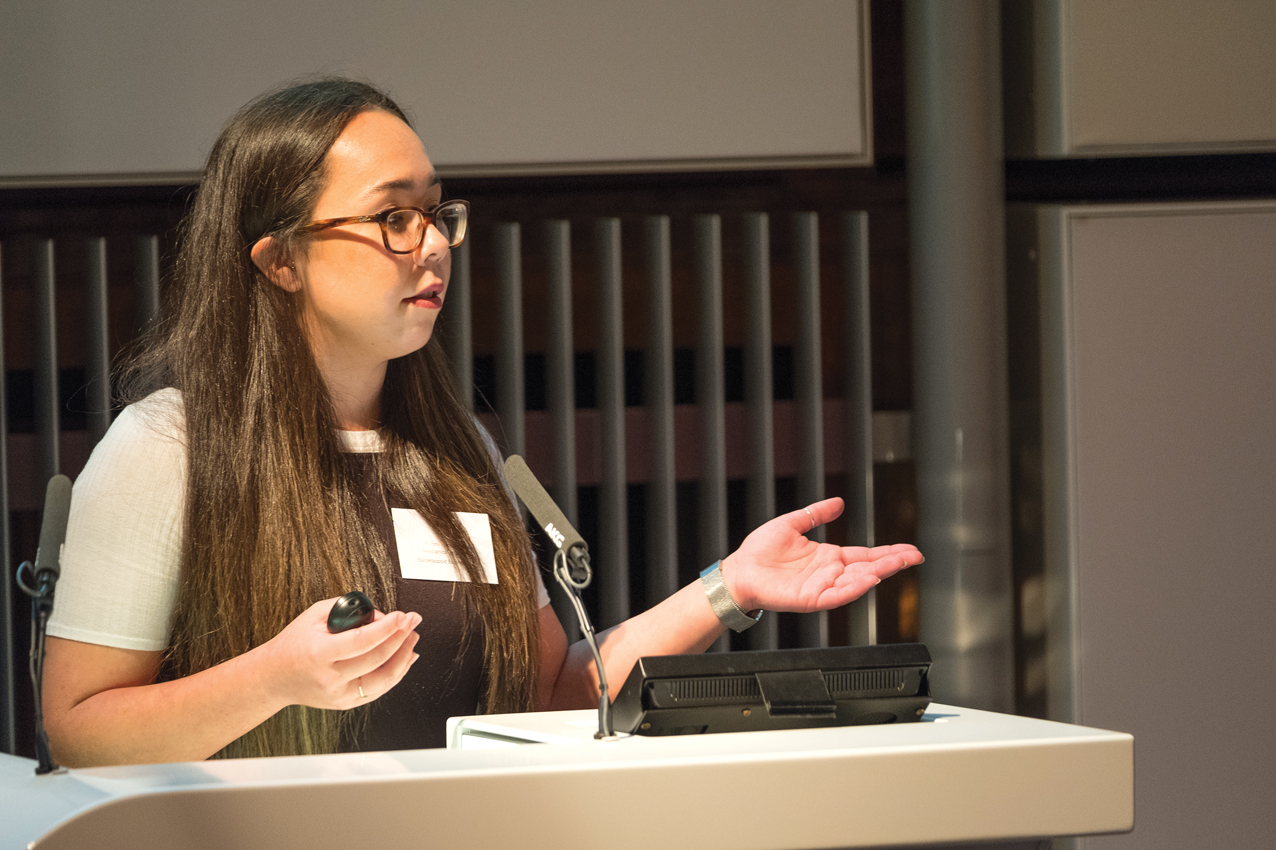 Kiyomi Honjigawa said, for her, beauty could be found in a plant room
As much as 90% of the information that reaches our brains comes from vision alone, leaving the other senses to make up the other 10% of the picture, said Amajuoyi. 'We process visuals at least 60,000 times faster than we would text. It clarifies context, it allows context to be taken onboard quicker, and it helps with understanding and simulation of knowledge. But our eyes are susceptible to illusion – hence the importance of science in engineering.'
Amajuoyi showed the audience a checkerboard with squares that appeared to be different colours, but which were actually the same shade when connected.
'Being creative isn't necessarily about flashing lights and fireworks,'he said. 'You can demonstrate it as simply as using BIM to show the client that you can fit a generator into an existing plantroom, or for clash detection. These tools help building services professionals be creative in their projects.'
'Engineers create, and that in itself is a form of art,' Amajuoyi added.
Quoting Ove Arup, Recio said: 'Engineering is not science; it's the art of arriving at a good solution. And this is a creative activity involving imagination and intuition.'
As an artist, Recio said she expressed herself through painting and sketching – but that wasn't enough. She wanted to transform her ideas into something tangible, and contribute to what Picasso called 'washing the dust of daily life off our souls'.
She decided to blend her scientific mind with her creative art by studying architecture and environmental engineering at the University of the West of England.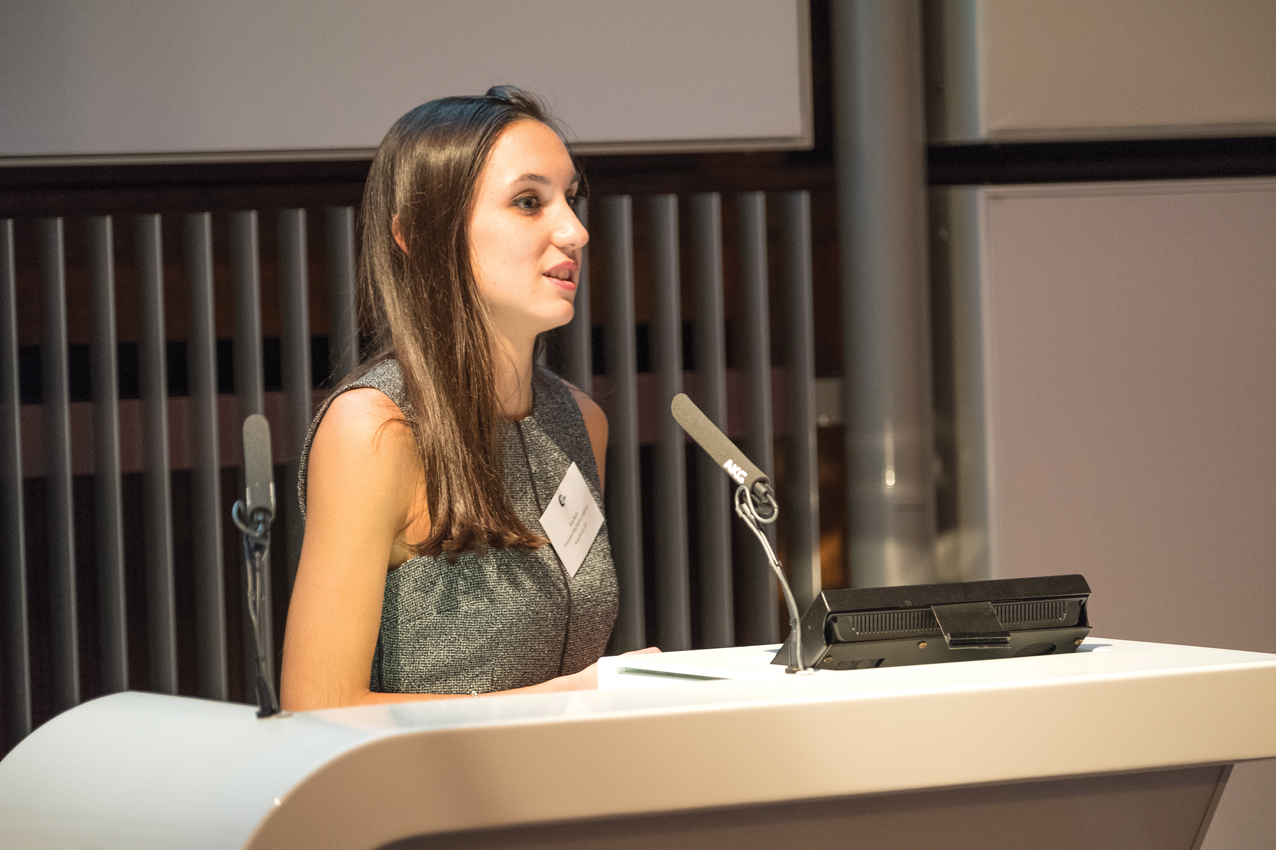 Ana Recio compared engineering to a flower in her presentation
In her current role with Arup buildings team, based in Bristol, Recio explores ideas by sketching – 'an essential tool for building services engineers to foster creativity and imagination, and communicate our ideas with others'.
Working on the £50m restoration of Bristol's Victorian Colston Hall concert venue was, she told the judges, a perfect example of combining art and design theory to create inspiring spaces that foster creativity within them.
'For me, engineering is the art of using creativity to find good solutions,' Recio added. 'Engineering is like a flower. An idea can grow into a building; however, its stem needs to be strong enough. It needs to promote growth through a combination of engineering, creativity and innovation.'
Honjigawa, who joined Buro Happold's Edinburgh Office in 2016, said that to formulate her answer to the question, she had put it to the engineers of the future – today's children. One child said: 'Art is being creative and expressing your feelings. Engineering is building and designing things', while another said: 'Art is everything. It's how the viewer interprets it.'
'Good art should elicit an emotional response from the viewer,' said Honjigawa 'Although I don't appreciate fine art, to me, a bunch of pipes and ducts in a plantroom is a thing of beauty. To me, beauty was not but it was beauty in functionality; beauty in coordination; beauty in form; and beauty in the way it brings buildings to life.'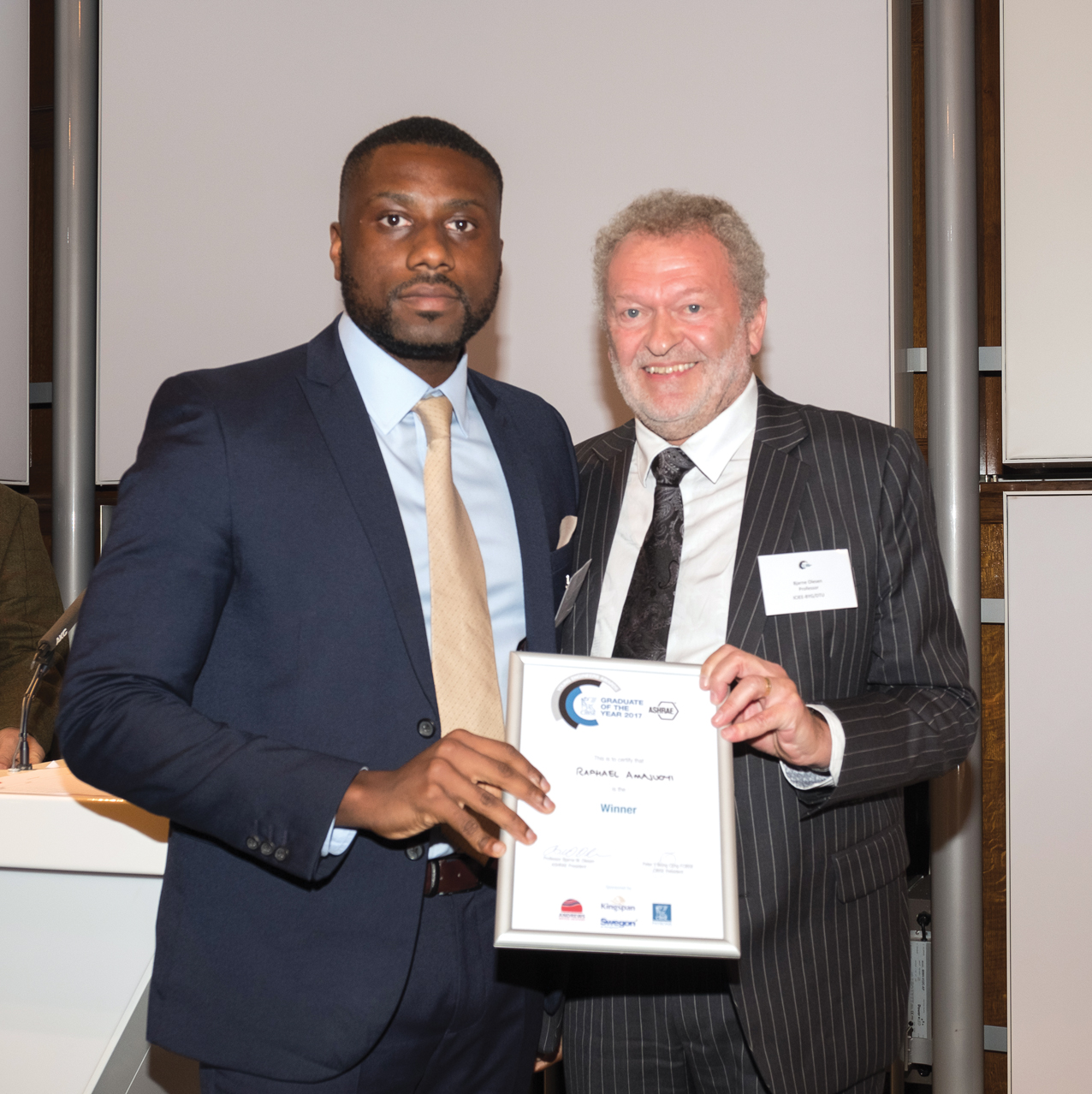 Raphael Amajuoyi receives his award from Ashrae president Bjarne Olesen
Another child had said: 'Engineering is art because engineers build things, which uses creativity, and so does art.' Honjigawa added: 'It's not artists that are going to save the day – it's engineers. Creative engineers, but engineers that do engineering.'
Jo Harris, of Eli Lily – a member of the CIBSE FM Group and chair of the CIBSE maintenance task group – gave the IMechE annual lecture after winning the Construction and Building Services Division Award 2017.
Throughout her career, her driving aim has been 'improving operation, challenging the individual culture and improving collaboration'. She added that one of the key aspects of building services is asset management, not just facilities management.
'Our technology is talking to us, and we have to start listening,' Harris said. 'To be a good engineer in the future, we need to understand other disciplines, and the impact your niche has on other specialties.'
She urged everyone to communicate more and share good and bad experiences by contributing to guides. 'Take your good practice and share it, otherwise it'll never improve.'