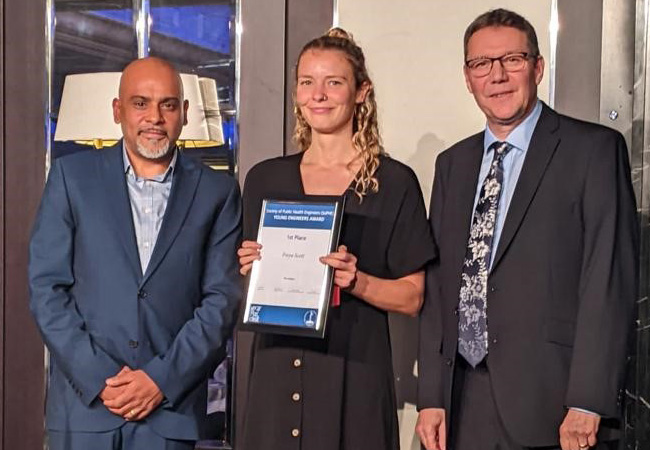 Arup's Freya Scott was named SoPHE Young Engineer of the Year
The Society of Public Health Engineers (SoPHE) rounded off a productive and successful year with its annual dinner in London in November.
The event, attended by more than 350 people, was an opportunity to celebrate and award achievements within the public health engineering sector.
Freya Scott, from Arup, was named SoPHE Young Engineer of the Year after her work at the 2022 SoPHE Plumbing Centre of Excellence/YEN plumbing competition.
Rachel Yates, from Arup, and Jess Humphries, from Ramboll, were awarded joint second place. SoPHE would like to thank Pump Technology for its generosity in sponsoring the prizes for the Young Engineers awards.
The Chris Sneath Bursary was presented to Kevin Buchanan for his achievement of Level 2 first prize.
Phil Salmon MCIPHE, SoPHE was made a SoPHE Honorary Fellow for his incredible contribution to the public health industry.
The SoPHE London Dinner is a clear example of how important our volunteers and members are to the running of CIBSE.
CIBSE would like to extend its thanks to those involved in the organisation of the event – the SoPHE Steering Committee and Industry Working Group – and the SoPHE Industrial Associate members for their generous sponsorship of the dinner.