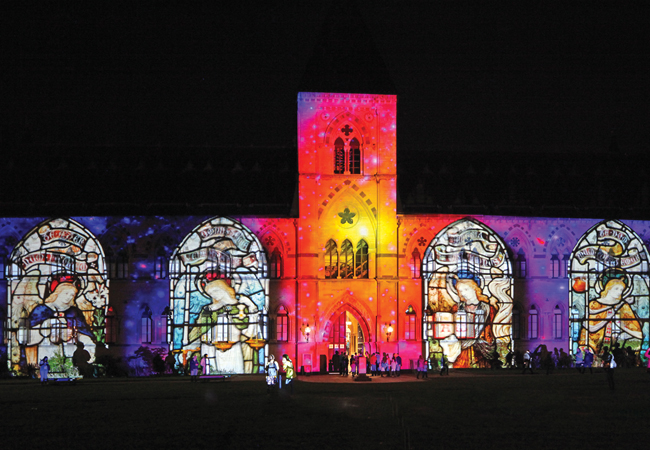 Oxford University Museum of Natural History
Some of Oxford University's most recognised buildings were transformed in a dramatic display at the third Night of Heritage Light (NOHL) on 29 September.
The Society of Light and Lighting (SLL) event involved teams of volunteer designers using their technical and artistic skills to demonstrate creative and technical possibilities.
The sites were: Ashmolean Museum, Radcliffe Observatory, Radcliffe Humanities, Radcliffe Camera, the Museum of the History of Science, the Museum of Natural History and the Pitt Rivers Museum.
The event demonstrated the impact of lighting on architecture, transforming the shadowy presence of buildings in the dark into assertive and vibrant icons.
For the second year, the project also included the Pockets of Light programme, which involves schools and aims to engage young people in lighting.
Students from the City of Oxford College, St Gregory the Great secondary school and North Kidlington primary school, were challenged to come up with their own designs for the quad of the Bodleian Library.
More than 60 were submitted, with a winner from each school selected and brought to life on the night by a team of lighting experts.
Richard Caple, SLL president, said: 'The Night of Heritage Light has become a fixture in the society's calendar as a celebration of what our work is all about – the art and science of light.'
The event prominently featured local lighting companies and designers including DPA, Hoare Lea and LuxPopuli, as well as design themes focused around the history and function of the buildings.
NOHL and Pockets of Light were held in association with the Oxford Curiosity Carnival, an event giving members of the public a chance to find out what research is about, and how it affects our lives.