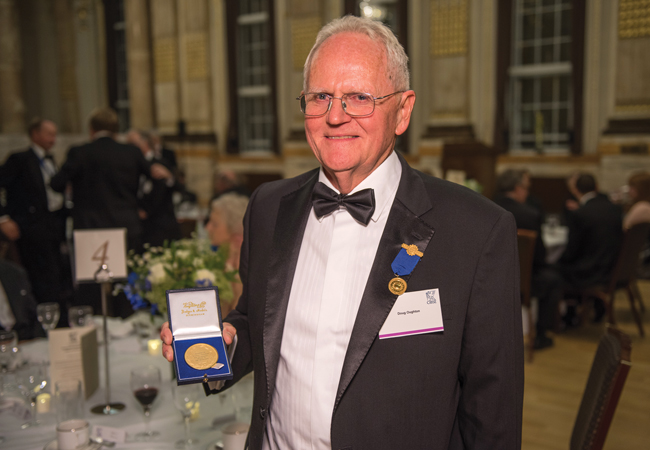 Former CIBSE president, Doug Oughton Hon FCIBSE, was awarded a CIBSE Gold Medal – the highest award of the Institution – at the President's Awards dinner in October.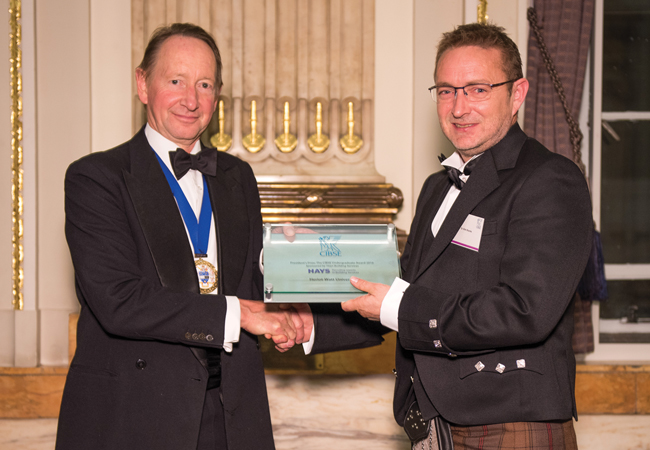 CIBSE President John Field gave Heriot-Watt's Dr Kirk Shanks the Hay's President's Prize
Oughton – the 31st recipient of this award for exceptional services to the Institution – was recognised for his contribution to CIBSE over almost 50 years, especially his work on skills and professional development within the building services profession.
Alex Moir gave the citation, highlighting Oughton's achievements in a career that dates back to the 1960s and started with Oscar Faber. He continued as director of Oscar Faber and Faber Maunsell until his retirement in 2004, but he continues to work for its successor company, Aecom.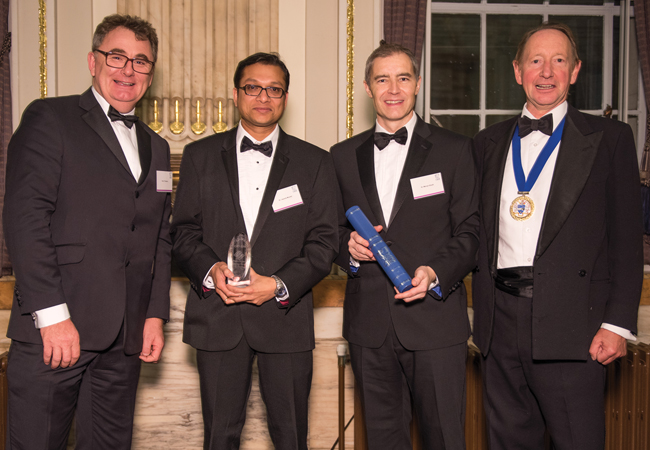 Ulster University's Jayanta Mondol and Mervyn Smyth (centre) received the Happold Brilliant prize from Happold Trust chair Gavin Thompson and John Field
He links with CIBSE and the profession are also notable: he became a Fellow of the Royal Academy of Engineering, was chair of the European Intelligent Building group and of CIBSE Patrons, and served as CIBSE President in 2002/03.
Moir said: 'With that outstanding career and contribution to brining the engineering community together to ensure they speak with a single coherent voice on education and skills, for the benefit of future generations of engineers and technicians, we thank you and congratulate you on your well-deserved Gold Medal.'
Other awards presented on the night included:
Hays Building Services President's Prize
Ann Johny, of Heriot-Watt University, won the CIBSE Undergraduate Award and a prize of £500, for her work on 'Optimising double-skin facades for high-rise buildings in the UAE.'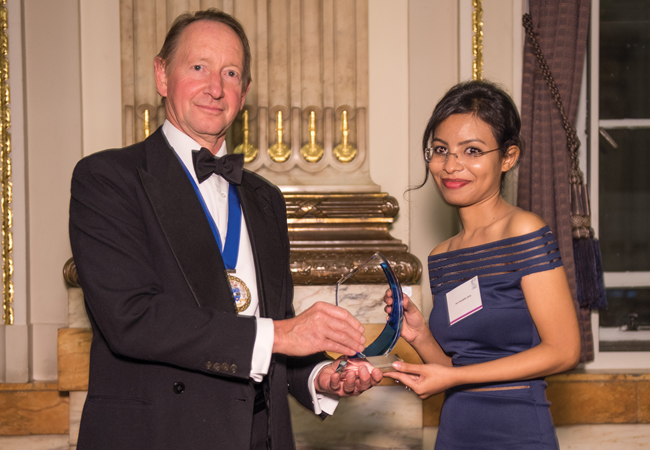 Ann Johny won the CIBSE Undergraduate Award
The award, sponsored by Hays Building Services, is designed to encourage students to develop their potential and aim for excellence. It is open to those in their final year of a building services course accredited by CIBSE, and recognises their academic achievements.
A trophy was also presented to Heriot-Watt University in acknowledgement of its achievements.
Happold Brilliant Award
This recognises excellence in the teaching of building services engineering and, this year, the award went to Ulster University. It was presented by Gavin Thompson, chair of the Happold Trust, to Dr Jayanta Mondol and Dr Mervyn Smyth, who accepted it on behalf of the university.