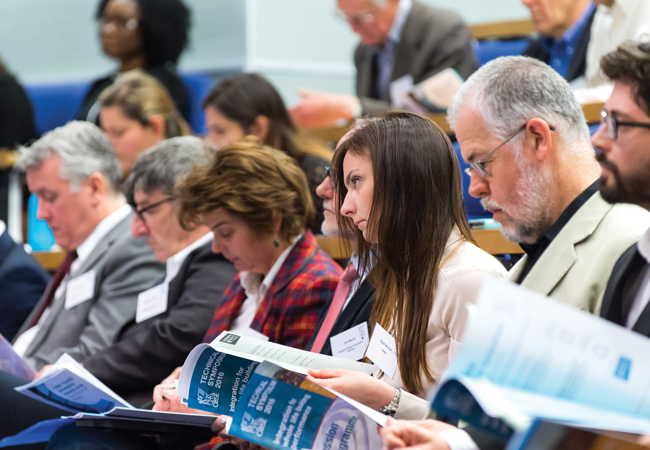 Delegates at last year's symposium
There just four days to go until the 2017 CIBSE ASHRAE Technical Symposium, which this year takes place at Loughborough University on 5-6 April.
Over the last few weeks, the CIBSE Journal has been highlighting some papers that will be presented at the event, giving you a flavour of what to expect at the 7th Technical Symposium.
This year's theme is 'Delivering resilient high performance buildings', which is inspired by this year's ASHRAE and CIBSE presidential themes, respectively 'Adapt Today to Shape Tomorrow' and 'Improving
Performance'.
The aim of the 2017 Technical Symposium is to provide evidence of the successful adoption of resilience in the design and operation of buildings.
A preliminary agenda is available at the CIBSE website.
Today's mini-preview looks at a paper by Steve Munn, of Hevasure, who will present his paper Condition monitoring of the cooling system at Principal Place during commissioning.
Traditionally, water sampling has been used as the primary method to judge the condition of closed heating and cooling systems. Munn says this has significant drawbacks because it only gives a snap-shot view every few weeks and fails to measure system parameters, such as dissolved oxygen. It is also open to misinterpretation.
Hevasure has developed and trialled a unique condition monitoring system that captures up to nine critical parameters continuously and remotely. It is currently monitoring the chilled water systems at Principal Place, a new office development in central London, during the commissioning phase.
Munn's case study will look at the output from the various sensors over the six-month commissioning period, and examine the significance of each with regard to impact on corrosion and other aspects.