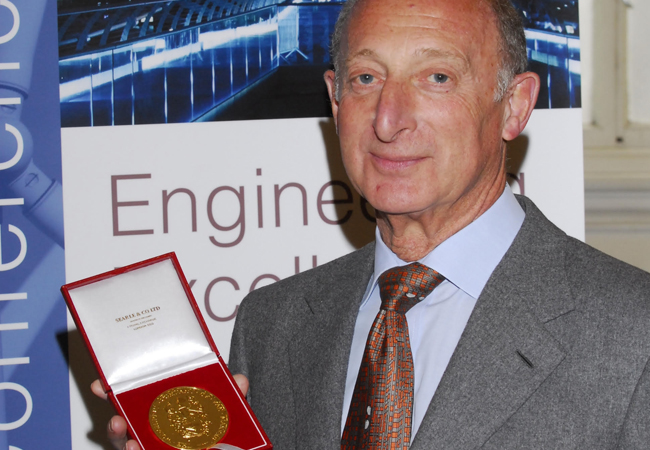 Brian Moss, one of CIBSE's most distinguished and recognisable members, sadly passed away last month. Well known within CIBSE and across much of the heating, ventilating and air conditioning industry, he was involved with a very broad spectrum of activities and achievements, for the Institution and elsewhere.
Brian was born in London on 7 April 1936. He went to Latymer Upper School and then read mechanical engineering at the University of Nottingham.
His sporting activities were largely concentrated on swimming; a member of Ealing Swimming Club, Brian occasionally competed for Middlesex.
Brian was president of CIBSE for 1992/1993. He had been a member of the Institution since 1976 – and a fellow since 1986 – and participated in its activities before, and long after, becoming president. He was made an honorary fellow in 1999 and awarded the Institutions' Gold Medal in 2009 for his outstanding service to CIBSE.
As well as treasurer of CIBSE from 1993 to 1998, Brian was a board member of the Institution for a considerable period.
He also served on many committees, including the Publications and Research Outputs Delivery (Prod) committee, for which he was chairman from its inception in 1999 until 2012. As a result of Brian's vision for Prod, the Institution now has a Knowledge Portal, making it the only professional engineering body with its technical guidance online as a member benefit.
CIBSE is a charitable organisation, but it does have a commercial entity – CIBSE Services – so Brian's industrial and financial expertise made him the ideal member to act as the Institution's director of services. This is an important and sometimes fraught role, which he carried out very successfully for many years. He took great care when assessing proposed projects for CIBSE Services, to ensure they had positive financial implications.
In the 1990s, Brian was one of the CIBSE members who improved the Institution's working relationship with the American Society of Heating Refrigeration and Air Conditioning Engineers (ASHRAE) – and the relationship has prospered ever since. He was not afraid to voice his opinion about some of ASHRAE's attitudes and activities, and its members listened to, and respected, Brian's views.
Everybody found Brian very approachable and prepared to listen. At committee meetings, he would always allow the differing views of the participants to be discussed, and would happily accept suggestions to improve tabled proposals. Only very rarely did he need to 'put his foot down', and he was always calm.
Socially, he was a delightful person to have at any gathering and he would chat equally to friends, acquaintances and people he'd never met before.
CIBSE was an 'outside' interest for Brian, who was the managing director, and then chairman, of fan manufacturer Nuaire for several decades. Because of his knowledge of the product manufacturing side of the industry, he became involved with the Heating Ventilating and Air Conditioning (Hevac) Association, which represents the various non-professional sectors of the industry. He was elected its president from 1982 to 1984.
Brian became a liveryman of the Worshipful Company of Fan Makers in 1984 and was awarded its Gold Medal in 2009 for his work in the field of mechanical fans.
Among his other activities, Brian chaired a committee for the Engineering & Physical Sciences Research Council for several years. Its role was to evaluate research proposals for financial support in our sector of the industry.
Brian was made an OBE in 1986 for his services to the National Economic Development Office.
He was a long-standing member of The Rumford Club, a dining and discussion forum attended by senior personnel from across the industry. He became a member in 1979, was made chairman in 1993/94, and became an honorary member in 2006.
Brian was very family-orientated, and enjoyed spending time with his wife, Jill, his two grown-up children, his grandchildren and his wider family. Art and sculpture were passions of his and – when he could find the time – Brian and Jill would visit galleries and exhibitions.
Fervently involved in all the organisations he was associated with, Brian particularly supported all CIBSE functions and activities. He was a generous contributor to various charities.
For the past five years, Brian had an aggressive form of cancer, but refused to let it interfere with his activities. He died on 2 April 2016, aged 79.
He will be sorely missed by all who knew him, whether they be family, friends or colleagues.