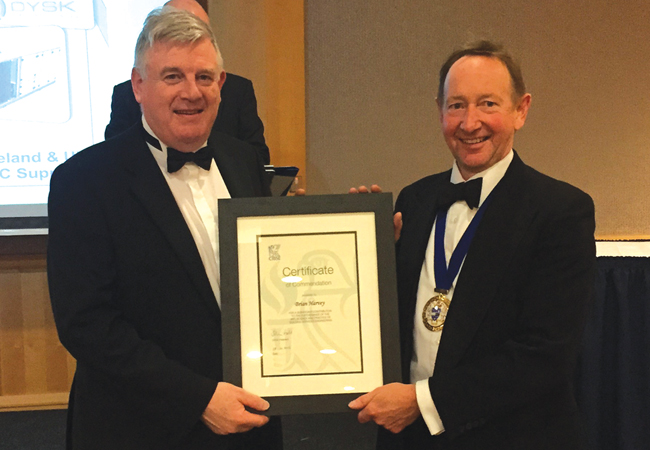 The Northern Ireland Region celebrated its 50th anniversary with a dinner in Belfast on 4 November. John Field, CIBSE President, joined the regional chair, Jonathan Grimshaw, and regional dinner secretary, Richard Gilpin, to commemorate the half-century.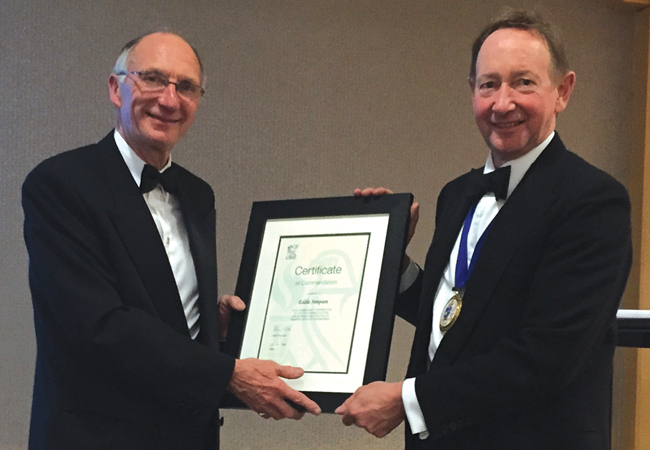 Eddie Simpson received his certificate from CIBSE President John Field
Also present were; Michael Dennison, ECA branch chair; David Browne, Institute of Energy regional chair; and Kevin Munson, managing director of Ruskin Air Management – the event's main sponsor.
The CIBSE President presented Certificates of Commendation for long-standing and continued support for the Northern Ireland Region to:
Brian Harvey (pictured, top) who, through his company, The Harvey Group, has been a patron of CIBSE for 17 years and has provided additional specific support for the region. Harvey Group continues to support the annual Students Awards at the University of Ulster, Jordanstown.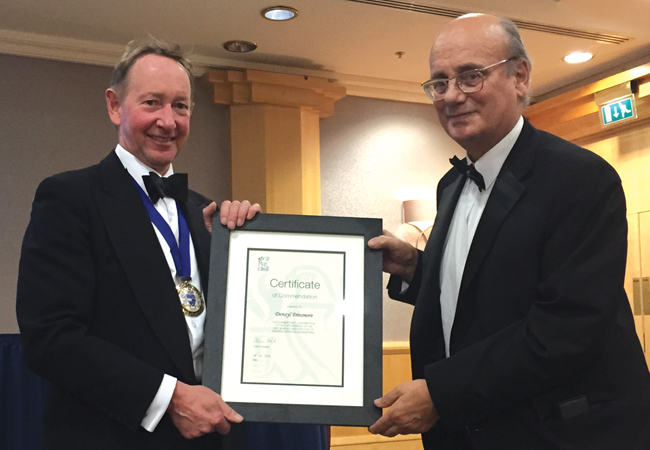 Denzyl Dinsmore received his certificate from CIBSE President John Field
Eddie Simpson – formally of Williams & Shaw, now retired – who has been a long-term supporter of CIBSE and the Northern Ireland Region. He has served as vice-chair, chair and, more recently, as regional almoner. Simpson is currently a trustee of the CIBSE Benevolent Fund.
Denzyl Dinsmore, of Cogan & Shackleton, Coleraine, who has been a long-term committee member, treasurer and one of the region's auditors. He was present at the first meeting of the Northern Ireland Region and is still involved today.
Table sponsors and other industry sponsors supported the charity raffle, which raised £800 each for the CIBSE Benevolent fund and Children in Need.