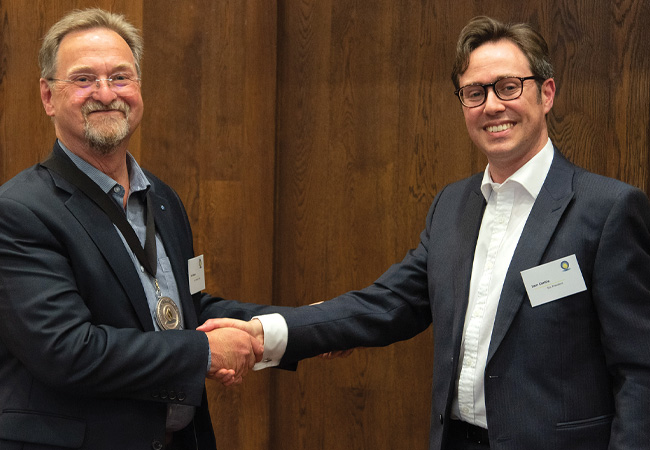 Jim Shove took over from Iain Carlile
In his inaugural address as President of the Society of Light and Lighting (SLL), Jim Shove set out plans to emphasise the importance of quality and best practice in the face of 'value engineering'.
Shove was appointed president at the SLL AGM in May, taking over the role from Iain Carlile. He thanked Carlile and his predecessor, Richard Caple, adding that he was keen to build upon the work they have done in relation to science, technology, engineering and maths (STEM), and close the gaps where talent might not be recognised or nurtured.
Shove said he had enjoyed watching the developments in lighting technology, manufacturing and design, but is concerned about instances where design integrity is challenged on the basis of value engineering. He outlined his intentions to work alongside other professional bodies and government to promote a better understanding of the ramifications of putting cost above quality within the built environment.
The new president also wants the Society to be a leading source of information on circadian lighting, an area of increasing interest. Referencing its position paper on the subject, he highlighted ongoing research in this area and emphasised the importance of clarity – particularly in relation to health.
In addition, Shove called for renewed focus on access to technical education, enabling students that may not be academically strong to gain confidence and skills through a learning style more suited to their needs. He will be looking to the SLL to work with other institutions to promote the benefits of apprenticeships.
He concluded his address by recognising the ongoing work of the Society's committee chairs, members, regional representatives and staff.
For more information, visit www.sll.org.uk or contact sll@cibse.org