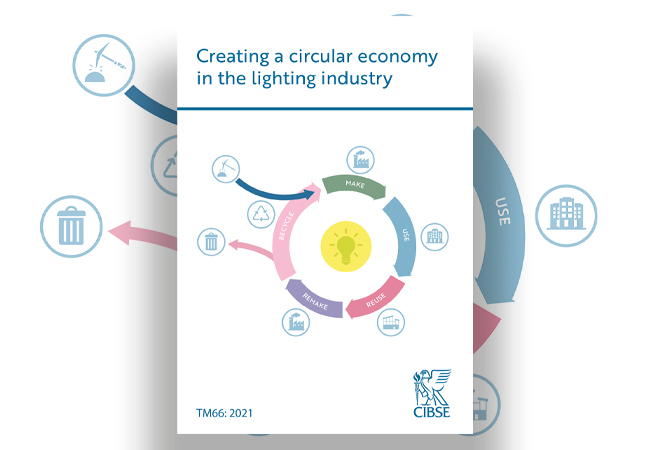 CIBSE and the Lighting Industry Association have launched a new scheme to support the accuracy of circular economy claims made by lighting manufacturers and specifiers.
The TM66 Circular Economy Assured scheme will give a quality mark for the design and manufacture of lighting products, and supports TM66: Creating a circular economy in the lighting industry and the accompanying Circular Economy Assessment Methods (Ceam).
Published in 2021, TM66 offers practical guidance and tools to enable the sector to deliver a circular, sustainable approach to lighting and building services engineering more broadly.
Manufacturers are already rating their luminaires, while others are seeking help to do so, with a shared ambition to ensure credibility, objectivity, and consistency in their ratings.
Society of Light and Lighting president Ruth Kelly Waskett said: 'Sustainability is at the heart of good lighting practice, but our focus is now shifting from energy efficiency in use towards whole-life carbon and the life-cycle of materials.
TM66 and Ceam have given us a framework within which to evaluate products and make the right specification decisions. TM66 Circular Economy Assured gives us the added benefit of knowing that circular economy claims are robust and comparable between products.'
● TM66 is available from the CIBSE Knowledge Portal: www.cibse.org/knowledge