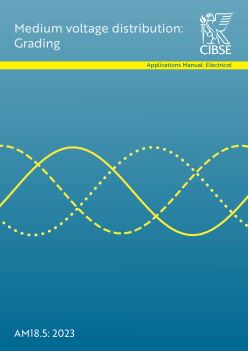 A new Applications Manual, Medium voltage distribution, has been published by CIBSE to help fill the gap in electrical knowledge in respect of how to safely employ medium voltage for the distribution of electrical power.
The publication aims to provide an understanding of a number of key aspects at different design and construction stages of a medium voltage (11 kV) power distribution system to buildings. It is intended to be used in conjunction with established international wiring standards and relevant codes of practice.
Medium voltage distribution is a specialised area of power engineering. This Application Manual is one of five. The first part, AM18.1: Methods, introduced the basic principles and the common methods of medium voltage distribution.
AM18.2: Equipment, explored in more detail the equipment necessary to deliver medium voltage supplies to buildings – cables, switchgear and transformers.
AM18.3: Protection, considers the operation and application of medium voltage (MV) circuit protective devices such as medium voltage fuses and protection relays that control the circuit breaker configurations already introduced in AM18.2.
AM18.4 looked at fault calculations – necessary to determine suitable protection relay settings.
This final part, AM18.5: Protection grading, provides typical calculations and solutions for the protection of transformers, distribution cables, busbars, generators and motors.
AM18.1-5 are all available on the CIBSE Knowledge Portal at www.cibse.org/knowledge