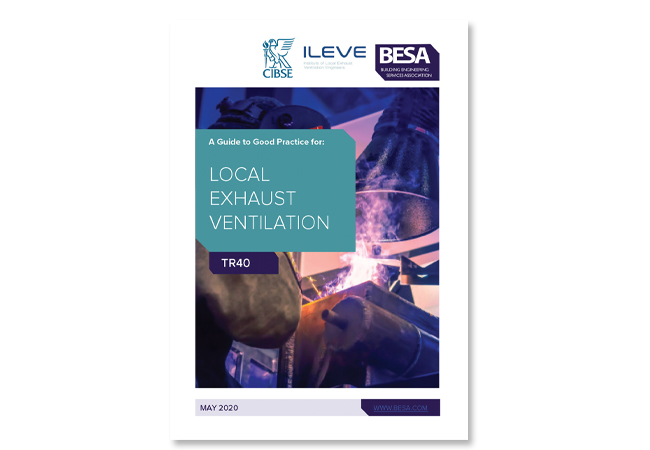 The Institute of Local Exhaust Ventilation Engineers (ILEVE), together with the  Building Engineering Services Association (BESA), has published new guidance on local exhaust ventilation.
TR40 – A guide to good practice for local exhaust ventilation, is a comprehensive guide for all those who design, commission, operate and maintain LEV systems, including LEV commissioning engineers.
The guide has been produced to support the ILEVE aims of reducing ill health and death resulting from workplace exposure to hazardous substances, improve competence, and provide members and the wider public with first-class information and criteria for best practice.
TR40 includes information on the different roles and responsibilities, and associated  legal and statutory duties, offering guidance on what to do and when to ensure the LEV process provides effective solutions to control exposure to hazardous substances.
It includes guidance on: identifying LEV competency skills, experience and knowledge; training (to be used in conjunction with the industry LEV Competency Matrix); the importance of keeping records; what to look for and what to ask when evaluating LEV tenders and quotations; and the installation and commissioning process through to handover.
'TR40 will help give the consistent approach we have all been working towards. The guide is designed to ensure we have bespoke systems being designed and installed, to protect the health of all those in the working environment,' said Dean Greer, chair of ILEVE.
The guidance supports the principles of the government's Helping Great Britain Work Well strategy by providing simple, accessible and relevant advice to facilitate proportionate, appropriate and effective risk management, encouraging all those in the system to take much greater ownership of health and safety.
TR40 is available for members to download from the CIBSE Knowledge Portal at cibse.org/ knowledge; everyone else can purchase it from www.thebesa.com