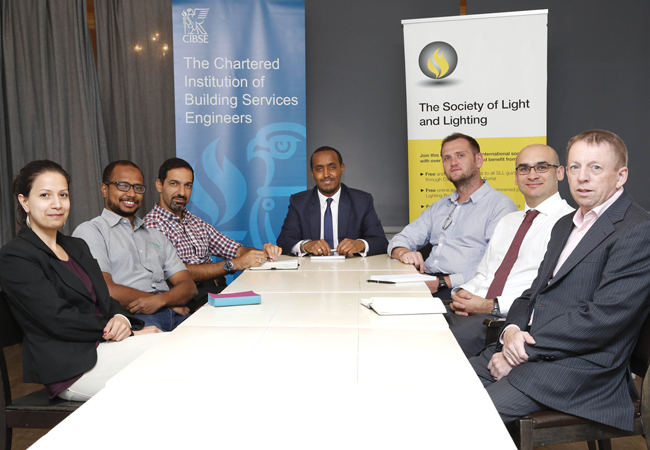 CIBSE Abu Dhabi committee (from left): May Shunnar, Mohamed Abubaker, Ninos Kamber, Idris Sudi, Daniel Williams, Richard Ebrahim and Chris Ackers
CIBSE has established a new Chapter in Abu Dhabi. It was officially launched in December 2016, with the intention of reaching out to more members in the capital of the United Arab Emirates (UAE).
The creation of the Chapter follows the launch of the UAE Region in April 2016. An Abu Dhabi committee was subsequently formed with members including: chair Idris Sudi, James Cubitt & Partners; vice-chair Daniel Williams, Hoare Lea Consulting Engineers; membership secretary Richard Ebrahim, Cleveland Clinic Abu Dhabi; YEN champion May Shunnar, Acoulite; events officer Mohamed Abubaker, Schneider Electric; technical officer Ninos Kamber, Hilson Moran; and Society of Light and Lighting technical lead Chris Ackers, Fagerhult.
The committee will seek to liaise with local authorities and institutions in Abu Dhabi to host technical events, at which people in the industry and region can meet and network, thereby building collaboration and cooperation.
It also intends to hold accredited technical seminars in Abu Dhabi, as well as supporting existing members with their career development. The committee will endeavour to assist new members through the relevant CIBSE membership grades.
The CIBSE Abu Dhabi Chapter staged its first event on 11 April – a technical seminar on chilled beams, sponsored by Trox.
More than 30 people from Dubai and Abu Dhabi attended the event, which included a presentation from CIBSE Abu Dhabi chair Idris Sudi, who introduced the Chapter and its objectives for 2017.
It is hoped more events will be organised throughout this year, covering topics such as HVAC, lighting, sustainability and MEP services for healthcare settings.
The Chapter is committed to offering broad seminars to support the diverse technical needs in the United Arab Emirates.