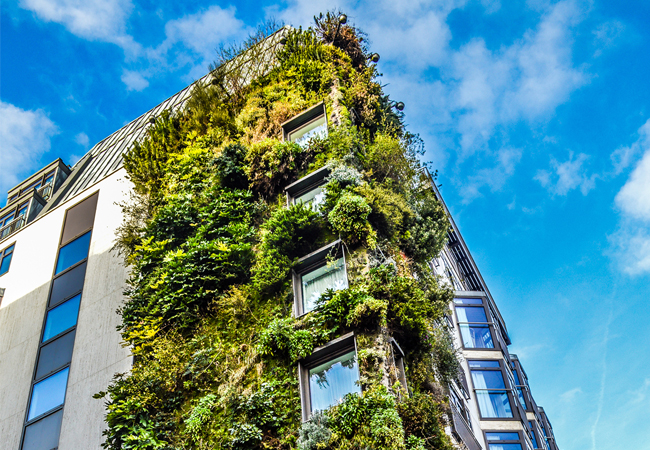 A key focus of the draft London Plan is to create policies that realise the mayor's manifesto commitment to make more than half of London green by 2050.
This is evidenced by the large chapter dedicated to green infrastructure – which encompasses green-belt strategies, community gardening and urban greening – and another chapter on sustainable infrastructure.
These two sections largely refer to the London Environment Strategy 2017.
Urban greening
A new green infrastructure policy is the introduction of the urban greening factor (UGF). This tool has been used elsewhere in Europe – where it is known as the green space factor – and will be applied to all major applications
to ensure a desirable amount of 'greening' on a plot of a given size. More information on the UGF can be found in chapter 8.5 of the draft London Plan and in the Urban Greening Factor for London report, produced by the Greater London Authority and the Ecology Consultancy.
'Greening' techniques include green walls, open water, and rain gardens. The factor is calculated by a formula, and an example is included in the draft plan.
Residential development will be held to a higher standard – with a target score of 0.4 – because of the greater demand for green space, while commercial developments will have to achieve a score of 0.3.
Different surface-cover types are given scores from 0 to 1 – for example, green walls will score 0.6 and water features 0.2. These are then calculated against the surface area to generate a composite score.
The UGF seems to be an attempt to systematise the way value is given to greenery, but it requires local authorities to assess their individual needs and create a version for their borough. More detail is needed to gauge how much change it will bring about, and its potential effectiveness, as there could be a lack of uniformity across boroughs.
Encouraging, but lacks clarity
The draft London Plan offers more stringent guidelines on some issues, but lacks clarity on others. In addition, the separation of 'green infrastructure' and 'sustainable infrastructure' hints at a somewhat blinkered approach to environmental issues that require integrated and strategic planning.
It is not apparent how the wider benefits of green infrastructure are being accounted for in relation to the city's wellbeing and – more importantly – overall sustainability. For example, the sustainability of a piece of green infrastructure must be considered against all other environmental costs and benefits, including water management, energy usage, and air quality. It is encouraging to see a stronger stance for a more sustainable future, but policies need to be integrative and ambitious to deliver a holistic approach.
CIBSE will submit a response to the London Plan consultation, but would like to hear from you so it can best represent your views. Please let us know if you would like to contribute to the response, or you can send your comments to head of sustainability development Julie Godefroy at JGodefroy@cibse.org by Friday 9 February.
Michelle Wang is studying for an MA in environment, politics and globalisation at King's College London, and is currently interning at CIBSE