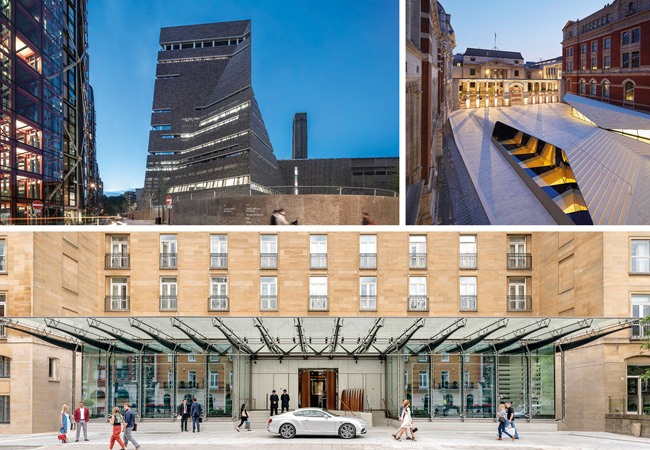 Clockwise from top left: Tate Modern, V&A Museum entrance, Berkeley Hotel entrance
Three London projects have taken titles in the 2017 Façade of the Year competition, run by the Society of Façade Engineering (SFE). The annual awards, which recognise outstanding and innovative architectural façades, attracted the largest number of international entries to date, and were presented at the Glass Supper event in December.
The UK division of Danish-based consultancy Ramboll won the Façade Of The Year New Build for the Blavatnik Building, Switchhouse Extension of the Tate Modern.
Octatube won the refurbishment category for the new entrance at the Victoria & Albert Museum, in Exhibition Road, London.
The Outstanding Façade Innovation Award was given jointly to Catalonia-based façade specialist Bellapart and Arup Façade Engineering for their work on the new entrance to the Berkeley Hotel in Knightsbridge. This is the second year in which the Bellapart/Arup partnership has produced a winning entry.
In addition, FKN Group received a special commendation for its work on the Axel Towers landmark project in Copenhagen.
Head of the SFE judging panel Saverio Pasetto said: 'The purpose of the competition is to draw attention to the importance of façades in modern architecture. Our winners have succeeded in achieving that, with façades that are diverse but equally remarkable.'
The awards' headline sponsor was Reynaers, and other sponsors were: E H Smith Specialist Façades; Holloseal Glass; Interface Façade Engineering; Century Façades; Allies and Morrison; Wintech; Wedge Group; and Skanska.