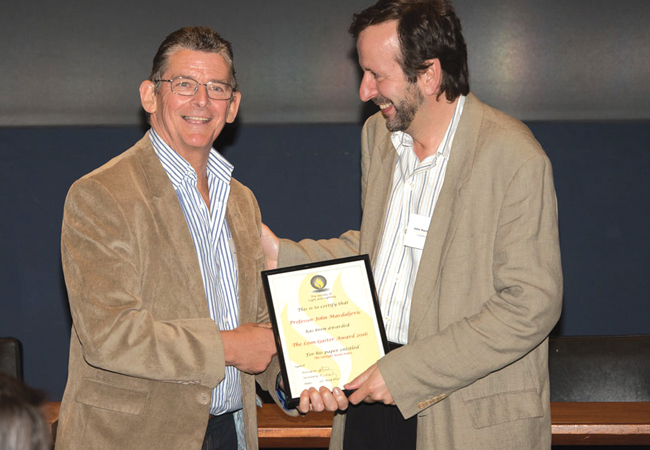 Kevin Kelly with John Mardaljevic receiving a prize for his technical paper
Various awards were presented at the Society of Light and Lighting (SLL) AGM, held at London's Royal Society in May.
Sponsors in Partnership certificates were presented to Chris Wilkes (Holophane) Lou Bedocs (Thorn), Jamie Yates (Trilux) and Roger Sexton (Xicato), while LET Student Prizes went to Simon Blyth, Nicola Parker and Ben Poulton.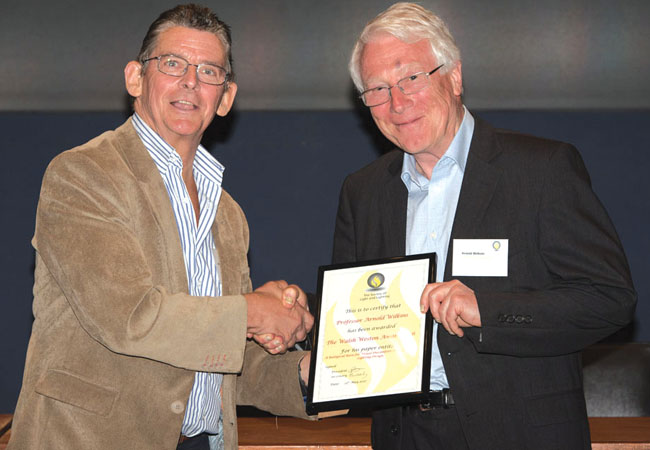 Kevin Kelly with Arnold Wilkins receiving a prize for his technical paper
Prizes for technical papers published in Lighting Research and Technology (LR&T) – available for free to CIBSE members – were awarded to Professor John Mardaljevic and N Roy, who received the Leon Gaster Award for The sunlight beam index. Professor Arnold Wilkins was presented with the Walsh Weston Award for A physiological basis for visual discomfort: application in lighting design.
Dan Lister, SLL representative for the Yorkshire region, received the Regional Award in recognition of his continued and significant contribution to the SLL, as well as his extensive work on the Night of Heritage Light and Pockets of Light in October 2016.
The SLL Lighting Award went to Iain Macrae for his ongoing commitment to lighting and to the SLL. Joe Lynes was given an Honorary Fellowship, while the President's Medal was awarded to Lou Bedocs for his outstanding contribution to the lighting industry.