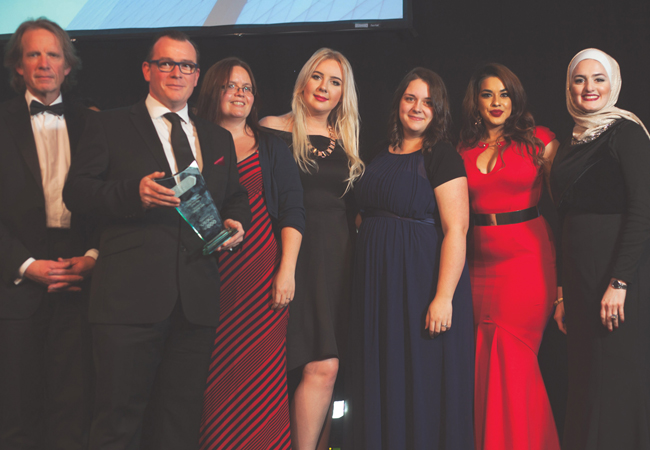 The Large Consultancy of the Year Award was presented to Hoare Lea
Leeds Environmental Design Associates (LEDA) won the Project of Outstanding Performance accolade for the Keyes Building, at the 2016 CIBSE Yorkshire Region Awards (CYRA's), held in November, while Hoare Lea (main image) scooped the large Consultancy of the Year Award.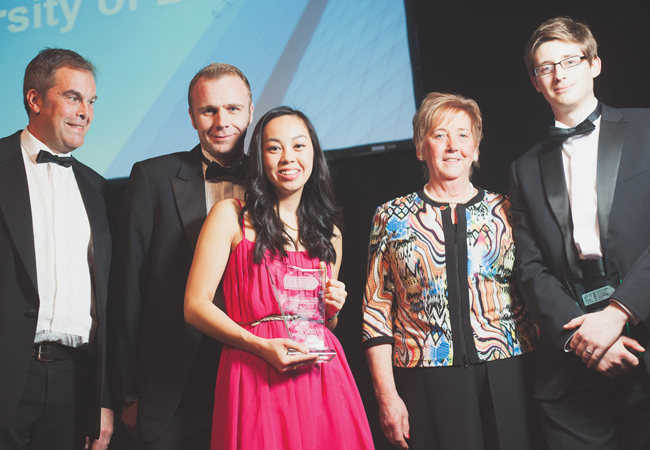 The Facilities and Energy Management Award was won by the University of Bradford
More than 300 people attended the event at the Royal Armouries in Leeds. Replacing the traditional annual dinner, the CYRAs are the only services-specific awards outside London.
Simon Owen, region chair, said: 'I wanted to create and opportunity for the Yorkshire building services family to gain recognition for its achivements.'
Trophies were given to those with the highest continuing professional development (CPD) hours, as well as the more traditional 'of the year' awards for: project; small and large consultancies; students; manufacturers; and facilities management teams.
Guest speaker Chris Gorse, from Leeds Sustainability Institute, discussed climate change and the role of building services engineers in educating clients and creating solutions.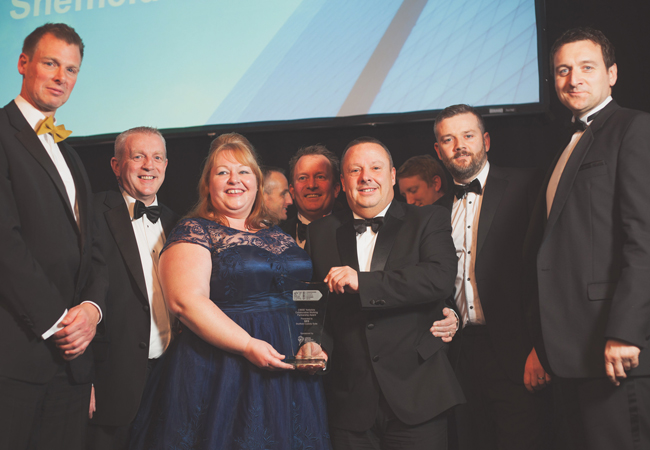 The Collaborative Working Partnership Award was presented to SES for the Sheffield Custody Suite
He issued a call to action, saying: 'As services engineers- the most powerful environmental engineers in construction – we have to innovate to help sustain the things we have grown to love.'
As well as the awards, the event showcased and celebrated positive community impact. Alison Watson, from Class of Your Own (COYO), launched her crowdfunding appeal to build a school in Parabongo, a region in Uganda. Search #BuildParabongo on Twitter for more information.
The school was designed by students from King Ecgbert School, Sheffield – as part of the COYO competition. They are the students of Helen Vardy, a design and technology teacher at the school. Arup provided detailed design input and BAM offered costing information.
During the evening, pledges were also made to give time and skills to the Real Junk Food Project and COYO.
Peter Hansford, Professor of Construction and Infrastructure Policy at The Bartlett School of Construction and Project Management at UCL, was a guest speaker at the event. He said: 'The CIBSE Yorkshire Awards was a great success. My congratulations to all the award winners. I hope that many of your members take up the call to help inspire the next generation into construction, by supporting COYO and its #BuildParabongo.'
Yorkshire Awards 2016 winners
Project of Outstanding Performance
(sponsor:Silcock Leedham Consulting Engineers) LEDA, Keyes Building
Building Performance Training Programme of the Year (sponsor:Hoare Lea) Waldeck, Pinnacle
Small Consultancy of the Year (sponsor: Anderson Green) Silcock Leedham Consulting Engineers
Large Consultancy of the Year (sponsor: Vexo International) Hoare Lea
Project of the Year Commercial and Industrial (sponsor: SES) Waldeck Consulting, Bentley Works
Project of the Year Public Use and Leisure (sponsor: Mitsubishi Electric) Arup, The Diamond
Project of the Year Sports Buildings (sponsor: MRB Consulting Engineers) Anderson Green, University of Derby
Chairman's Choice Award (sponsor: CIBSE Yorkshire) Energy Jump Limited, Mulberry House
Collaborative Working Partnership (sponsor: Leeds Beckett University) SES, Sheffield Custody Suite
Facilities and Energy Management Team Award (sponsor: Asset Wisdom) University of Bradford
Manufacturers Award (sponsor: Arup) Goodwin Development Trust & 21c EcoEnergy Limited, The Oxypod
CPD Award (sponsor: Toshiba Air Conditioning) Sharib Yousuf, Atkins
Student Award (sponsor: Calibre Search)
Matthew Biggs, Silcock Leedham Consulting Engineers, University of Northumbria
Richard Leese, Leeds College of Building, Leeds Beckett University
Ido Popper, Arup, University of Leeds
Calvin Sargeant, Ramboll, Leeds College of Building