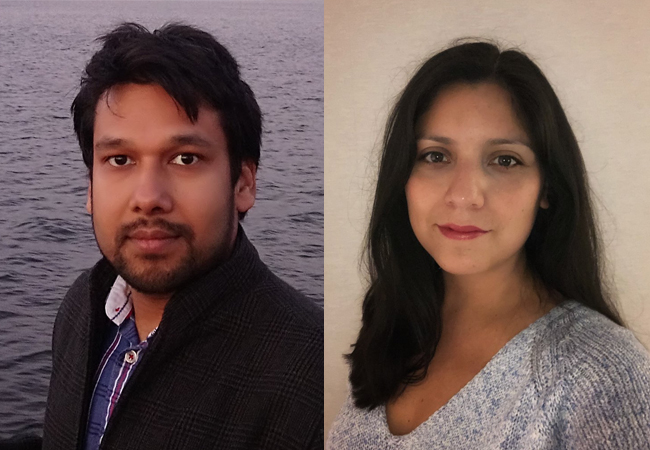 Nishesh Jain and Patricia Pino
The winners of the CIBSE Building Simulation and Young Modeller awards were announced at an event held online in December.
Nishesh Jain, a Knowledge Transfer Partner associate at UCL Institute for Environmental Design and Engineering, was recognised as the Young Modeller of the Year, having been runner-up in 2020.
The judges were very impressed with his continuous support for the industry and academia, and his contributions to publications, including TM63, TM61 an TM64.
They said Jain had successfully demonstrated how he has been advocating building simulation, both locally and abroad, and sharing knowledge across sectors through his involvement with UCL and DesignBuilder software.
In accepting his award, Jain said: 'I believe that building simulation is an integral part of making buildings perform to meet low-energy, low carbon targets. Therefore, I actively participate in discussions ensuring that simulation delivers on what it promises, and provides realistic and accountable solutions.'
Patricia Pino, of Wirth Research, won the Building Simulation Award, for the project 'Covid-19 – the work environment – a multi-tool modelling approach to estimate infection risk within office spaces'.
The project was a team effort from Wirth Research, with other team members being: Thomas Avery-Hickmott, Dr Giulio Vita, Rob Rowsell.
The project modelled two floors in a London office for a client who wanted to ensure they could offer a safe environment to their employees in the context of the pandemic, using the modelling to assess the risk of infection for occupants throughout the space.
Using the methodology, designers can understand the risk within their spaces and where to make improvements, which could be as simple as rearranging furniture.
In presenting the award, Darren Coppins – vice-chair of the CIBSE Building Simulation Group, and head judge – said the judges felt the modelling was pioneering and that it was important to recognise it.
'We particularly liked the way existing tools were leveraged to consider a complex new problem to a level of detail that provided a high level of robustness in modelling,' Coppins added.
Pino wanted to emphasise that it was a team effort and she thanked all involved.
To watch the awards ceremony and other presentations from CIBSE's Build2Perform event, visit:
www.build2perform.co.uk/2021-presentations