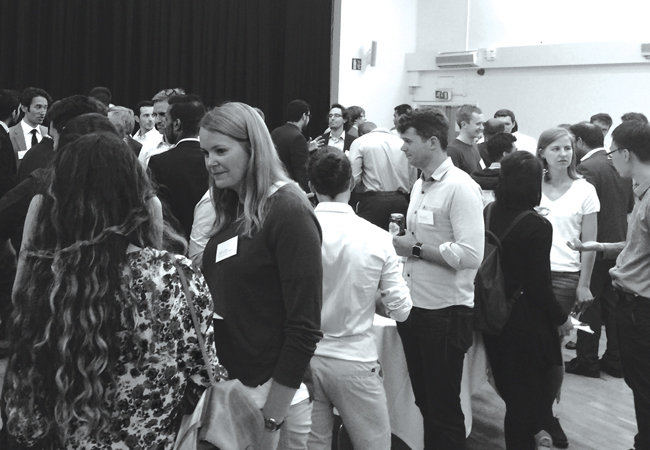 An architect, services engineer, manufacturer and acoustician walk into a building…
No, not the introduction of an industry joke, but rather the scenario that awaited more than 70 guests at the long-anticipated 2016 Inter-Institute Networking Event.
CIBSE Young Engineers Network (YEN), with members of the Institute of Acoustics (IoA); the Landscape Institute (LI); the Institution of Mechanical Engineers (ImechE); the Institute of Fire Engineers; London Forum for Tomorrow (London FfT); and the Royal Institute of British Architects, met in July for the second annual Inter-Institution Networking Event in London.
The event highlighted the enthusiasm that exists from practitioners in the construction and property sectors to work together, and offered a great chance to make connections with other young engineering and architectural professionals in an informal setting.
It is uncommon for the various professionals from across the construction sector to come together in informal circumstances, so it was fantastic to see the Institute of Acoustics' younger members leading the hosting duties, and a high turnout of architects was seen as an indicator of success.
Guests were greeted with a 'networking bingo' card upon arrival, which encouraged them to talk to as many people as possible in the hope of winning a prize at the end of the evening.
Our thanks to the IoA, RIBA, IMechE, LI, IFE and the London Fft for co-hosting the event.