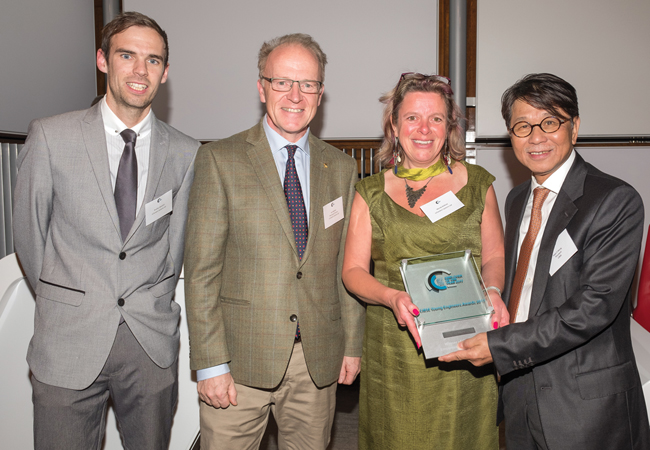 InTandem's Bradley Mackfall, Jon Belfield and Wendy Belfield with CIBSE President Peter Y Wong
InTandem Systems, Norman Disney and Young, and Elementa Consulting have been recognised for their exceptional commitment to mentoring newly qualified engineers at the Employer of the Year awards 2017.
The winners were announced at the Institute of Mechanical Engineers in October, as part of the wider CIBSE Young Engineers Awards.
InTandem Systems won the small employer category and was also named overall champion.
The firm impressed the judges with its commitment to nurturing and retaining young talent; 44% of its staff is under 30, and its in-house fully equipped BEMS training room has been built to support and progress staff to BEMS engineer. As much as 12% of the team is on an apprenticeship programme, with the rest doing some form of training or development.
Wendy Belfield, of InTandem Systems, said: 'When InTandem was formed in 1997, we soon recognised the importance of staff and skill development if we were to build and grow a sustainable business. The whole company understands the importance of receiving and 'paying forward' knowledge to school, college and university work experience students, apprentices, undergraduates and ex-service personnel. The award is recognition of how far we have come on this journey and the personal satisfaction and commercial sense this approach to training brings.'
the award in the large employer category went to Norman Disney and Young, which has developed bespoke training and mentoring regimes for engineering graduates. It also runs a graduate rotation scheme where staff gain experience in a number of disciplines.
Elementa Consulting won the medium employer category. The firm has a strong mentoring scheme, with young engineers having access to senior members through presentations and workshops.
The Employer of the Year awards are sponsored by Andrews Water Heaters, Kingspan Industrial Insulation, Swegon Air Management and the CIBSE Patrons.