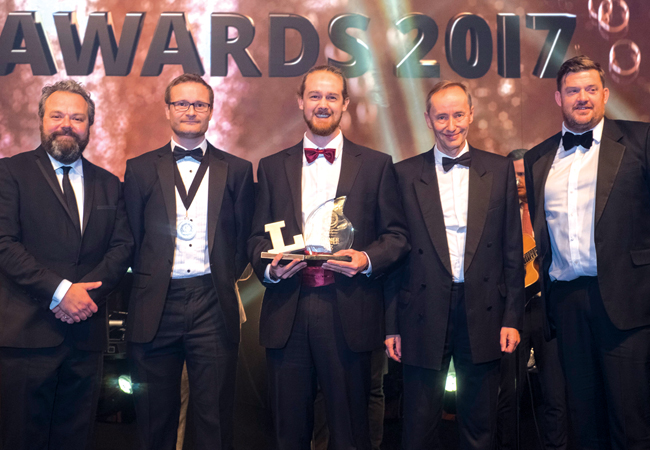 From left: Comedian and Lux Awards host Hal Cruttenden; SLL president Richard Caple; Young Lighter Matt Hanbury; and Mark Sutton Vane, judging on behalf of the LET
Matt Hanbury, founder of Lightly Technologies, has been named Society of Light and Lighting (SLL) Young Lighter of the Year 2017.
The announcement was made at the Lux Awards 2017 dinner in November.
Hanbury impressed the judges with his presentation and paper, Ulta-thin surface light sources: Picking up where OLED stalled, during the LuxLive exhibition. He also took the prize for the best-presented paper.
Other finalists included Amir Nezamdoost, who won the Best Written Paper Award for his paper A new manual blind-use pattern for annual energy and daylight simulation, and Seren Dincel, of AF Lighting, with her paper City lighting in Scandanavia – design approach and methodology. Each finalist gave their 15-minute presentation to a full audience at LuxLive on 16 November.
Judging the awards were Mark Sutton Vane, on behalf of the Lighting Education Trust (LET); Dr Peter Boyce; John Aston and SLL president-elect Iain Carlile.
Now in their 23rd year, the awards offer a unique platform for young lighters to illustrate their knowledge and research on a lighting subject, hone their presentation skills, and raise their profile within the industry.
Calling all young lighters
Entries are now open for the 2018 Young Lighter of the Year competition. The contest, open to anyone with an interest in light and lighting, acts as a forum to help promote young people.
The winner receives £1,000 with a  second prize of £250 for best paper, and £250 for best presentation.
Anyone under 30 years old on 11 May 2018 – the deadline for entries – is invited to take part.
For details email sll@cibse.org