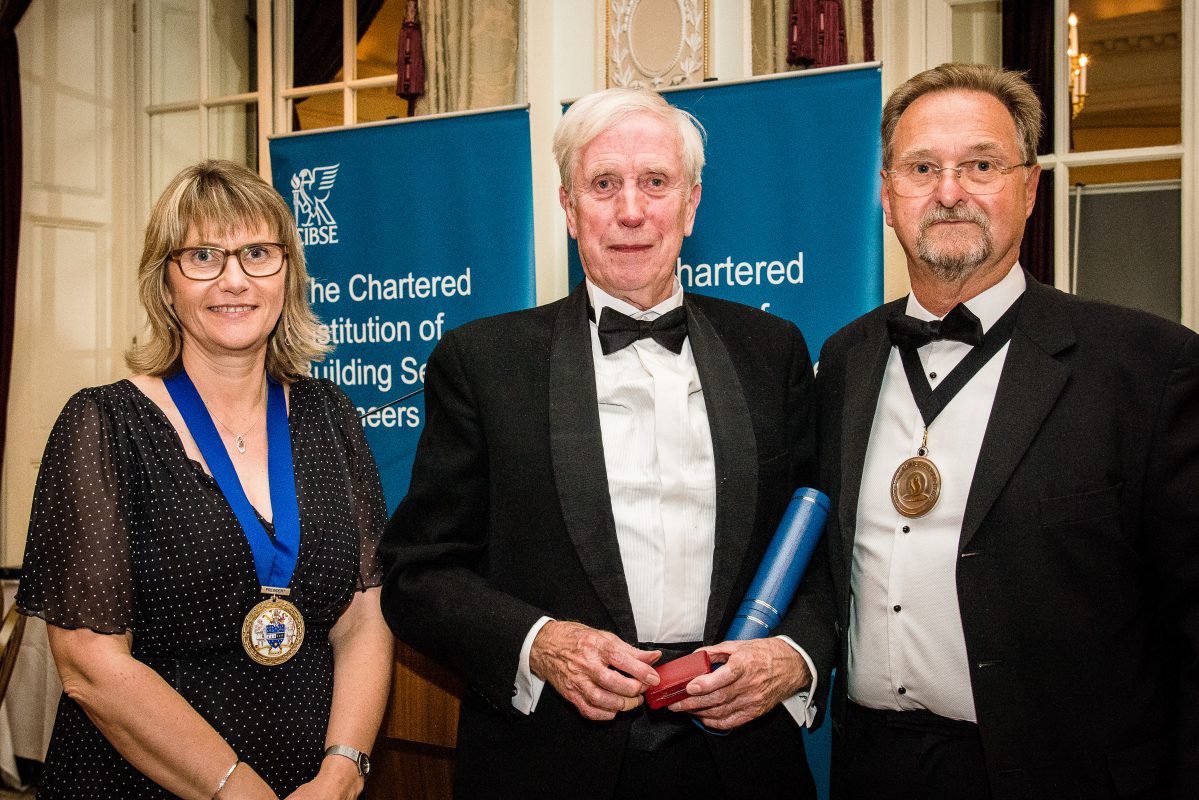 Lynne Jack (left) Peter Boyce (centre) with James Shove (right)
Three CIBSE members have been honoured with gold medals, the highest accolade awarded by the Institution.
Peter Boyce, David Wood and Victor Cheung Chi-Kong have all been recognised for their outstanding contribution and service to CIBSE.
James Shove read the citation for Boyce at the President's Dinner in October. He said: 'Boyce has made an outstanding contribution to the world of lighting and the work of the Society of Light and Lighting (SLL). He has been prolific in his production of lighting research papers and lighting guidance. He joined the Illuminating Engineering Society – forerunner of the SLL – in 1966, while working at the Electricity Council Research Centre, and was chair of the CIBSE Lighting Division in 1986-7.
'He first worked on the Code for Lighting in 1977, then contributed to updates over the years; he wrote the majority of the SLL Handbook and contributed to the SLL Code. He has been technical editor for LR&T since 2008, is an honorary SLL Fellow, and was named Lux Person of the Year in 2017.'
Wood and Cheung Chi-Kong were unable to attend the dinner in London.
Three Bronze Medals were awarded to: David Mather, for his services to the Young Engineers Network, and Andrew Michael Forrest and Steve A Hunt for their services to the Merseyside and North Wales region.
The annual president's dinner recognises and rewards industry talent with a number of awards, showcasing both newly qualified and experienced engineers. Also presented on the night:
Hays President's Prize: CIBSE Undergraduate Award

Yu Fu from University of Nottingham Ningbo China was awarded the CIBSE Undergraduate Award 2019. Yu, studied for a BEng in Architectural Environmental Engineering and won with his final year project entitled 'A machine learning approach to predict window openings in naturally ventilated buildings'. The judges felt that the project was an original idea which attempted to use machine learning across a wide range of locations to optimise natural ventilation window openings. He was presented with a £500 cheque and certificate.
A trophy was also awarded to University of Nottingham Ningbo China as acknowledgement of its achievement. Shimeng An accepted the award on behalf of the University.

The award, sponsored by Hays Building Services, is designed to encourage students to develop their potential, and aim for excellence. It is awarded to those in their final year of a building services course accredited by CIBSE and recognises their academic achievements.
Happold Brilliant Award
The award recognises excellence in the teaching of building services engineering, and was this year presented to London South Bank University (LSBU). The judges were impressed by the high quality of graduates produced by the university and felt that project topics studied by the students covered a wide range of building services areas and included sustainability and renewable systems. They recognised the excellent links LSBU has with the industry through their advisory panel and staff involvement with knowledge transfer partnership schemes.
The award was presented to Dr Alex Paurine, accepting on behalf of the University.