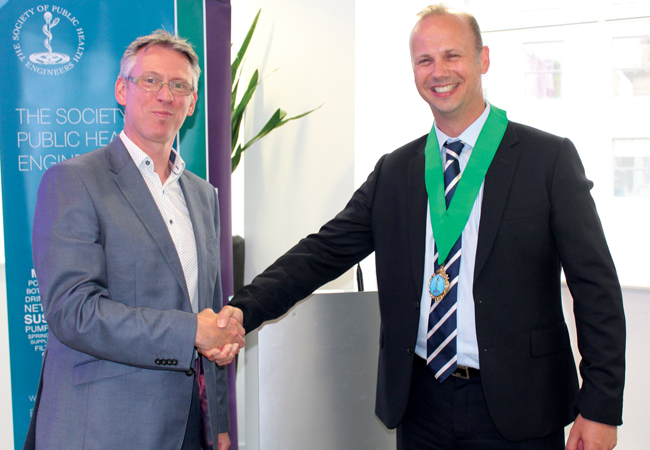 Steve Vaughan and Jonathan Gaunt
The Society of Public Health Engineers (SoPHE) welcomed Jonathan Gaunt as its new chair at its AGM in June. He takes over from Steve Vaughan, who held the position for three years.
'I have been privileged to watch the society grow and develop over the years, and now look forward to building on previous successes,' said Gaunt. 'I envisage this will include establishing collaborative links with like-minded professional institutions and organisations; increasing production of technical guidance for our members; raising awareness of the public health profession to the wider construction and built environment industry; and developing robust apprentice training courses for NVQ students, in collaboration with regional colleges.'
Gaunt thanked Vaughan for his passion, dedication and hard work in the post over the past three years. Handing over the role, Vaughan said: 'I would like to express my sincere thanks to all those who have assisted me over the past three years.
'During my tenure, we have had some great successes: the formation of a young engineers network focusing on public health engineering; the new look Journal; the launch of technical bulletins; and London technical trips.
'The Young Engineers Award has continued to flourish as we work with Engineers Without Borders (UK). New regions have also been formed, including the UAE and Midlands, ensuring technical events are available to more members than ever.
'The contractors working group has grown with its engagement with technical colleges to address the skills shortage and enhance apprentice training. They will soon be launching the SoPHE School of Excellence, in collaboration with Havering College. This opportunity will bring much-needed enhancement to students' technical skills and offer career aspiration and encouragement to progress within the industry.'
Other new members of the steering group elected at the AGM were vice-chair Peter White and education chair James Day.