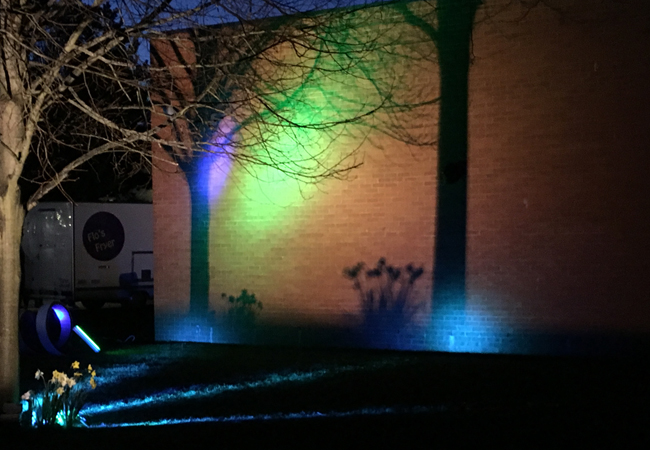 Future Designs' site
Future Designs celebrated its second success in three years at the annual Ready Steady Light event, organised by the Society of Light and Lighting (SLL) with Rose Bruford College.
The competition – now in its 15th year- took place at the Sidcup-based college in March, when 13 teams vied to design and set up temporary exterior installations in only 180 minutes.
Kent-based Future Designs was awarded the Peer Prize, with WSP Parsons Brinckerhoff taking the Technical Prize, and Light Bureau the Artistic award. The judging panel for the Technical Prize was chaired by SLL president Jeff Shaw, while SLL president-elect Richard Caple chaired the Artistic Award on behalf of the International Association of Lighting Designers (IALD).
Each team, led by an SLL member, was allocated a site on the college campus at random. Focusing on return-to-basic engineering and design, they then overcame challenges to light each site using designated equipment, without a budget and within time constraints.
Ready Steady Light is supported by the IALD, with further support and equipment from Philips, Lee Filters, Whitelight and Erco. The teams came from: Llumarlite; Lighting Projects; Marcus Stefan Lighting Design; Future Designs; WSP Parsons Brinckerhoff; DPA; UCL; Into Lighting; Arup; Light Bureau; Studio 29; Philips; and Hoare Lea.