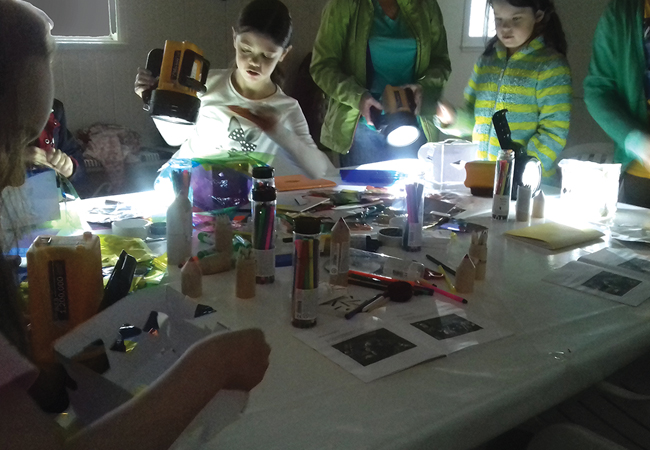 [post_image id=11001 margin="10px 10px ​1​0px ​​0px" width=250% align="life"
In winning SLL Young Lighter of the Year 2018, Emma Beadle engaged with a large demographic that is largely overlooked by designers – children.
Beadle, a lighting engineer at WSP and graduate of Edinburgh Napier's MA Lighting Design progamme, impressed judges with her paper Children's Utopian Vision of the City: co-designing lighting masterplans through play and exploration.
The paper described how she engaged with young children on lighting design using co-design methods of working around observation, interviews and workshops.
Beadle, who also won the award for the best written paper, said children should receive an education in lighting design to develop problem-solving skills and to enhance their personal development. She is keen to raise awareness of a career in  lighting and attract greater numbers of young people to the industry.
A video explaining Beadle's project can be viewed at http://bit.ly/CJFeb19QA
Why is it important to involve children in lighting design?
It is important to work with children as it teaches them valuable skills such as problem solving, teamwork and creative thinking. By introducing children to the field of lighting, and the idea of lighting design, it gives young people a glimpse into the lighting world, the roles and responsibilities of lighting designers and thereby possibly encourage them into a future career in the industry.
What can children bring to lighting projects?
Children bring a new perspective to a project. Working with younger children can be very beneficial as, at their age, the line between what is real and what is not is not set in stone, thus their imagination can be much more creative than adults.
How did you develop the co-design methods? What worked best?
Co-design methods were developed from the adaptation and combination of adult co-design methods and university-level lighting teaching methods. These combined methodologies were then tried and tested on the children from the utopian workshops. Through observation and feedback from the children, the methods were adapted further for the Lighting Club, where we designed the Children's Tool-kit of Light. Workshops appeared to be the most successful way identified, as they incorporated several methods and created an environment for the children's development.
What is in the children's Tool-kit of Light? What works best?
The children's Tool-kit of Light contains the tools for several lighting games, along with a manual designed and written by the children of the Lighting Club. These include: Stencil; Glow Stick; Where's the light?; Blocks and Bubbles; Draw a picture of light; and Material Box. I handed out feedback forms after the workshops which revealed that the Glow Stick game was the favourite.
Was there anything the children came up with that surprised you?
The most surprising thing about working with the children was realising that they did know a lot about light, but they found it difficult to articulate their thoughts on the
concept of light. However, by using a mixture of drawings, models and other materials, it helped the children to demonstrate their knowledge and, when in a relaxing, playful
atmosphere, they began to discuss their design ideas and thoughts.
What can designers learn from children?
Adults can learn a new way to look at their project, and get a glimpse at how children see the world. By engaging with children as design partners and experimenting with light or other design aspects together, adults can come across new ideas.
Can anyone use the Tool-kit of Light? 
Throughout this year, I will be developing the Children's Tool-kit of Light to make it accessible for more people. I will also upload the children's manual on how to
play each game, as a guide and inspiration for fellow designers to go off and run similar workshops.
What was the most effective way of engaging with children?
The most effective way of engaging children was by creating an environment of fun and exploration. The lighting games allowed the children to learn about some
of the basic characteristics of light in a fun and 'hands on' way. Lighting is a complex subject, and as such it would be difficult to teach children about light solely through
oral methods.
■ Emma Beadle is an assistant lighting engineer at WSP