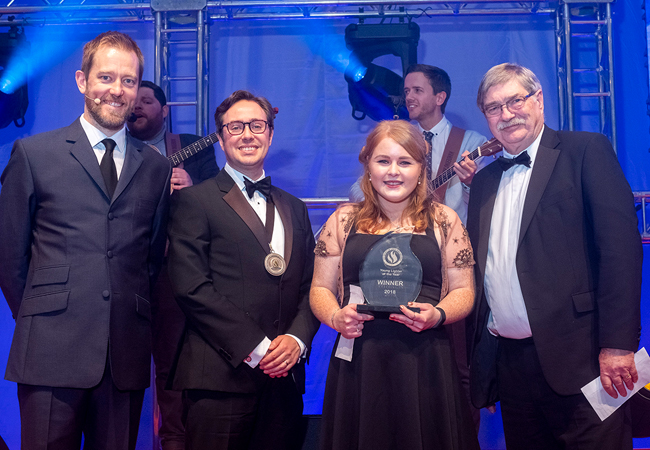 From left: Compere Alun Cochrane; SLL president Iain Carlile; Emma Beadle; and Lighting Education Trust chair Bob Venning
WSP's Emma Beadle has been named the Society of Light and Lighting's Young Lighter of the Year 2018 for her paper Children's Utopian Vision of the City: Codesigning lighting masterplans through play and exploration.
Using a co-design methodology, Beadle's project aimed to engage students with lighting design at a young age. Adopting tested co-design methods for working with children, the project was formed around ethnography, observation, interviews and workshops.
Beadle, who also won the award for the best written paper, asserted that children should receive an education in lighting design to develop design thinking and problem-solving skills, and to enhance their personal development. She wants to raise awareness of a career in lighting and attract greater numbers of young people to the industry.
The prize for best presentation was won by Katia Kolovea, of Urban Electrical, for her paper Light as a Medium to Enhance Communication in Urban Spaces.
Also in the final were Carla Piatta, of Glamox AS, with her paper Interactive Lighting in Public Spaces, and Sanny Yuwono, of Nipek, with her paper Is there a threshold for the degree of chroma used to allow colour in exterior lighting without making the building incongruous to its surroundings?
Each finalist delivered their 15-minute presentation in front of judges at LuxLive 2018 in November, with the winner announced that evening, at the Lux Awards.
The Young Lighter of the Year awards test not just the finalists' ability to develop a lighting project, but also their presentation skills – an important soft skill that can make a big difference in communicating and implementing theoretical ideas on a project.