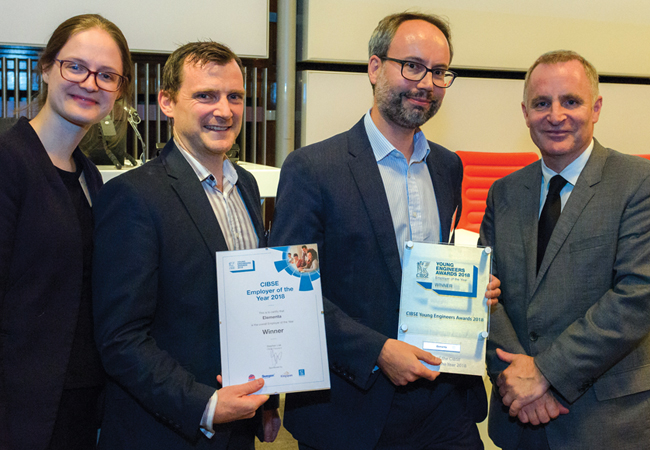 Elementa's Clara Bagenal George, senior engineer; Ronan Pigott, associate principal; Simon Ebbatson, principal; and CIBSE President Stephen Lisk
For the second year in a row, Elementa Consulting has been recognised at the Employer of the Year awards 2018 for its exceptional commitment to supporting and mentoring newly qualified engineers.
It won the Employer of the Year title in the medium-sized company category before being crowned overall champion at the IMechE in October, as part of the CIBSE Young Engineers Awards.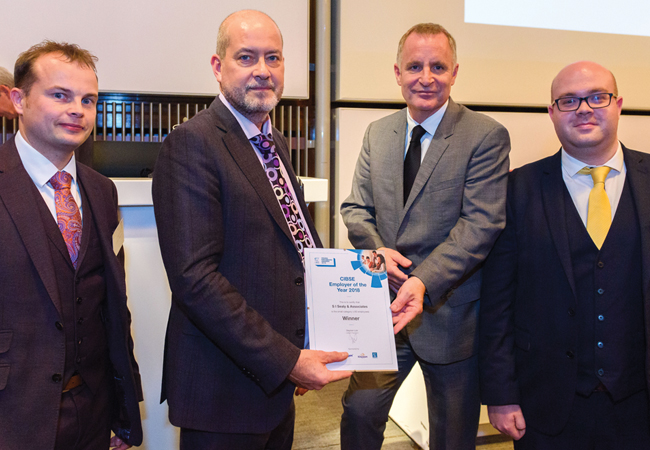 SI Sealy won the small company category award
This year, Elementa created a training schedule and encouraged junior employees to attend and present a topic to their peers, to boost their confidence. The firm also published its first Corporate, Social and Environmental Responsibility (CSER) report, to measure and track its impact and commitment to education, leading to the launch of some new initiatives, including: increased Next-Gen attendance at industry events, encouraging junior engineers to become STEM Ambassadors, and personal training allowances.
In her supporting statement, Alkyoni Papasifaki, environmental design engineer at Elementa, said: 'Although my role is in the sustainability department, I have had the opportunity to work with the mechanical, electrical and public health teams, broadening my knowledge, widening my skill set and enhancing my confidence in my own abilities as a rounded engineer.'
S I Sealy won the award in the small company category, after showing its commitment to developing junior staff. All six of its senior management team joined the company as junior engineers and worked their way up.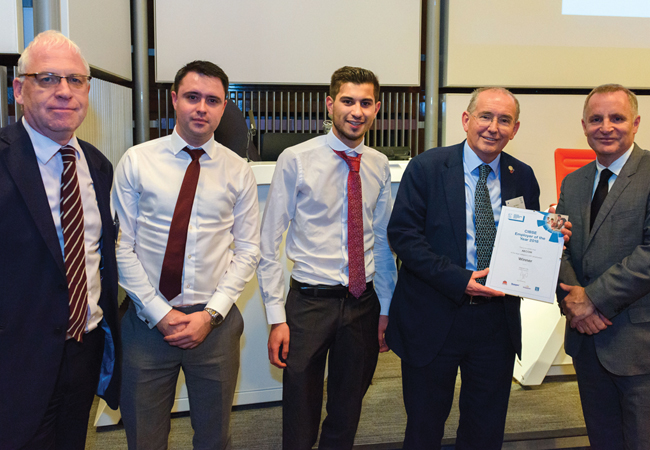 Aecom triumphed in the large category award
In the past 10 years, S I Sealy has supported 12 engineers to achieve formal professional and technical qualifications, and has recruited four apprentices in the past three years. Dean Simpson, senior engineer, said: 'In the 11 years I have been with S I Sealy, I have progressed from assistant engineer to senior engineer. I now train the junior engineers. I am keen to replicate the support I received to make the new, aspiring engineers feel as passionate about building services as I do.'
Aecom was the winner in the large company category, impressing the judges with its mentoring and training structure. Working with the Education and Skills Funding Agency, it has developed an apprenticeship scheme to help candidates study for a degree and gain work experience with a client, consultant and contractor. Its Apprentice Plus offers flexible working and is open to everyone, regardless of age, qualifications or experience. Every year, Aecom's schools outreach programme also offers up to 250 work experience placements.