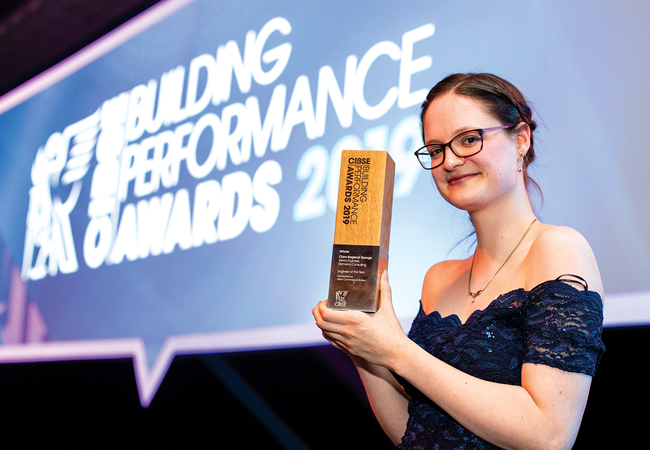 Clara Bagenal George
The inaugural winner of the CIBSE Building Performance Engineer of the Year Award – Clara Bagenal George – leads mechanical, environmental analysis and sustainability consulting projects at Elementa Consulting. She has worked on many low-energy schemes, including Hackbridge Primary in Surrey – a net-zero energy and Passivhaus school – and a fossil-free residential development in Brighton. In May 2017, Bagenal George launched the London Energy Transformation Initiative (Leti), which has brought together more than 250 built environment professionals to put London on the path to a zero carbon future. She also champions diversity and equality in the industry, and has established a Women in Engineering group at Elementa.
What inspired you to start Leti?
I and others at Elementa Consulting were frustrated that the energy policy in London wasn't driving design solutions to encourage long-term reductions in carbon emissions. The outcome of this was to establish Leti, with the aim of putting together evidence-based recommendations for the London Environment Strategy and the London Plan. Leti has had a massive influence on Elementa's projects, enabling us to work with other engineers and across disciplines. We bring this peer-group learning and collaborative attitude to our projects, to consider decisions in a more holistic way.
What work do you do outside of the office?
I am a Mayor's Design Advocate for Good Growth, supporting the Greater London Authority (GLA) and Transport for London (TfL) by reviewing projects and working towards a circular economy. I am an advocate of STEM, visiting schools and tutoring at the Bartlett School of Architecture, UCL. A neglected area of building services engineers' work is our collective understanding of the whole-life carbon impact of the decisions we take. To this end, I have completed a research paper, Understanding the importance of whole-life carbon in the selection of heat-generation equipment, which will be published as part of the CIBSE Technical Symposium in April.
How do you balance your volunteer work with professional duties?
Elementa Consulting is supportive of personal research and development, so I have been able to split my time on Leti between working hours and my own time. I have always been passionate about sustainability, so working for a company that is so driven in this mission is fantastic. Previously, I have worked on voluntary projects – such as building a wind turbine in Peru – with campaign groups such as Greenpeace and Citizens UK. It is normal for people to spend their own time on things about which they are passionate – for me, this is reducing our impact and influence on climate change. Leti gives me the chance to merge my professional life, campaigning and advocacy work.
What can the industry do to inspire more women into engineering?
Like the schoolchildren who have been taking part in climate change strikes recently, I went to demonstrations with my school and learned that everyone has the capacity to make change – and, more importantly, has the responsibility. This type of thinking needs to be promoted, with the understanding that engineering is a way to create positive change. Young people should be encouraged to pursue their passions when considering a career, and practising professionals should create inclusive and nurturing environments.
Are there benefits to chartership?
You gain instant trust and credibility when you tell clients you are a chartered engineer. I found the process of working towards chartership with my CIBSE mentor, Simon Ebbatson, very rewarding – it gave me a framework and enabled me to focus on areas I needed to develop. Chartership also gives you confidence in yourself as an engineer.
Can the industry achieve net zero carbon buildings?
I am optimistic that we can; the timeframe in which we achieve this depends on the definition of net zero carbon. My optimism is based on necessity of action – we must make huge changes in this industry to meet our targets. As engineers, we all have a responsibility to act. If you share this sentiment, get involved in Leti by visiting www.leti.london/get-involved
 What does it mean to win the CIBSE award?
To be recognised by an institution such as CIBSE is a great honour and I hope this award offers a platform for Leti to continue having an impact. Leti would not have been so successful without the enthusiasm and dedication of numerous industry professionals and, for that, I am extremely thankful.
Clara Bagenal George is a senior engineer at Elementa Consulting