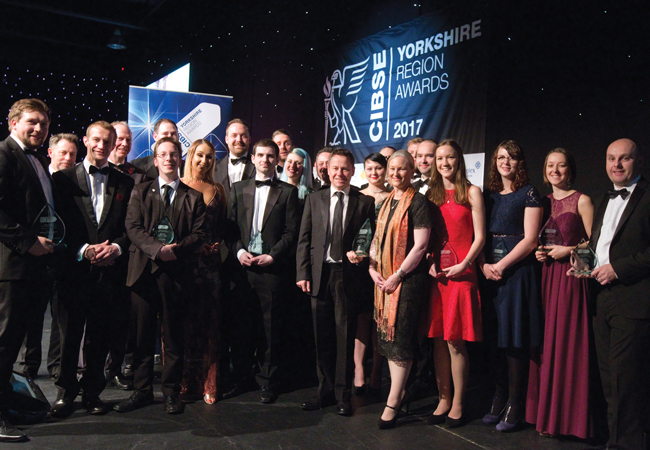 LEDA and Couch Perry Wilkes were double winners, while Hoare Lea retained its Large Consultancy of the Year crown, at the second CIBSE Yorkshire Awards.
Nearly 400 people attended the event at New Dock Hall in Leeds in November, where the focus was on celebrating the achievements of the Yorkshire building services industry.
Trophies were awarded to young and graduate engineers, who had stood out from their peers, as well as awards for projects, small and large consultancies, students, manufacturers and contractors.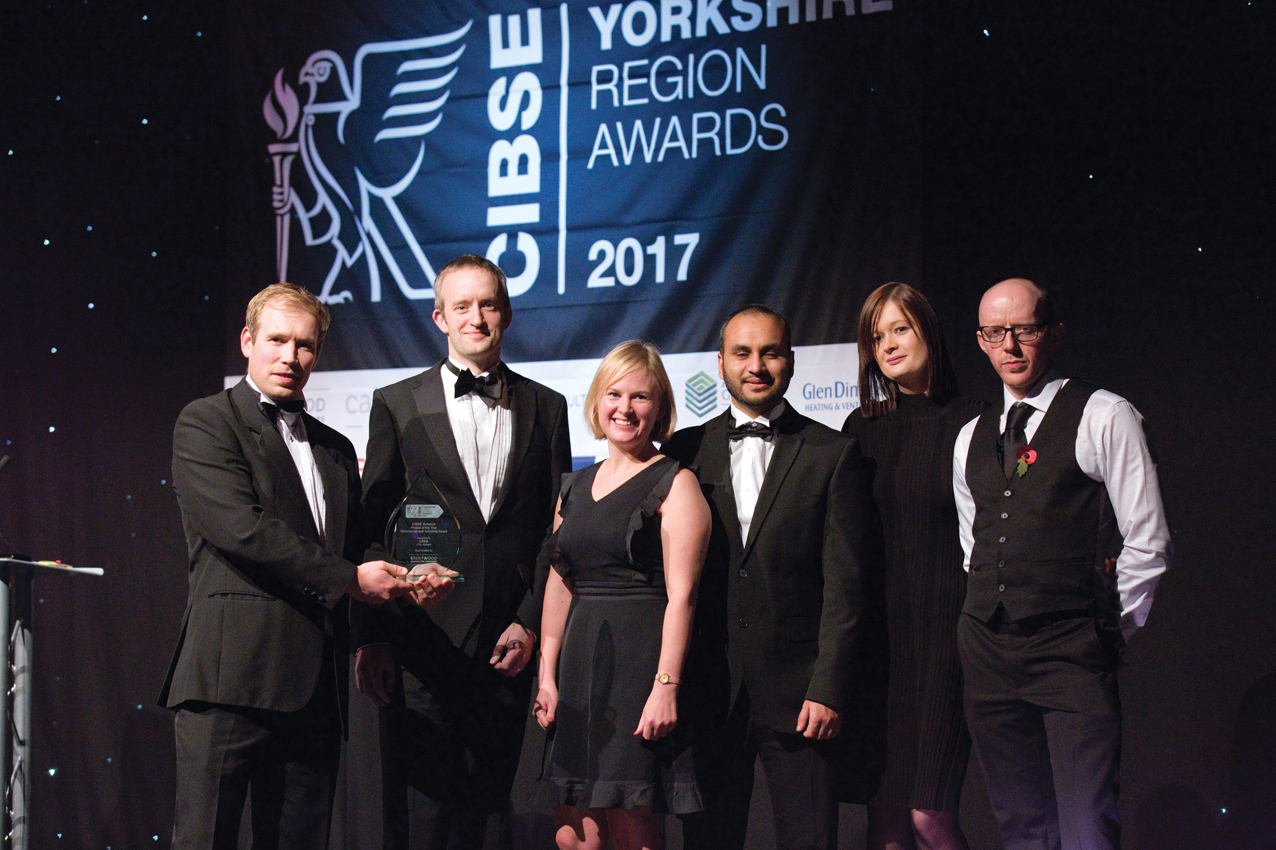 LEDA collects the Commercial Industrial Project of the Year Award from Jonathan Goodliffe of Brentwood Design Group
Kayley Lockhead, from STEER Group, discussed its mentoring programme to help retain construction students in the industry and support them into their first roles.
Martin Brown talked of restorative sustainability, and fulfilled his role of provocateur by asking the audience to 'imagine if every act of construction made the world a better place'.
Peter Head, executive chair at EcoSequest Trust, spoke of his work, which includes raising US $150m to re-green the Sahara desert and ensure global sustainable development goals are achieved by having a demonstration region in each of the 200 countries signed up to the agreement. Rounding up, he asked if Leeds would want to be that region for the UK – a call answered by Tom Riordan, CEO at Leeds City Council, by Twitter, suggesting they should meet.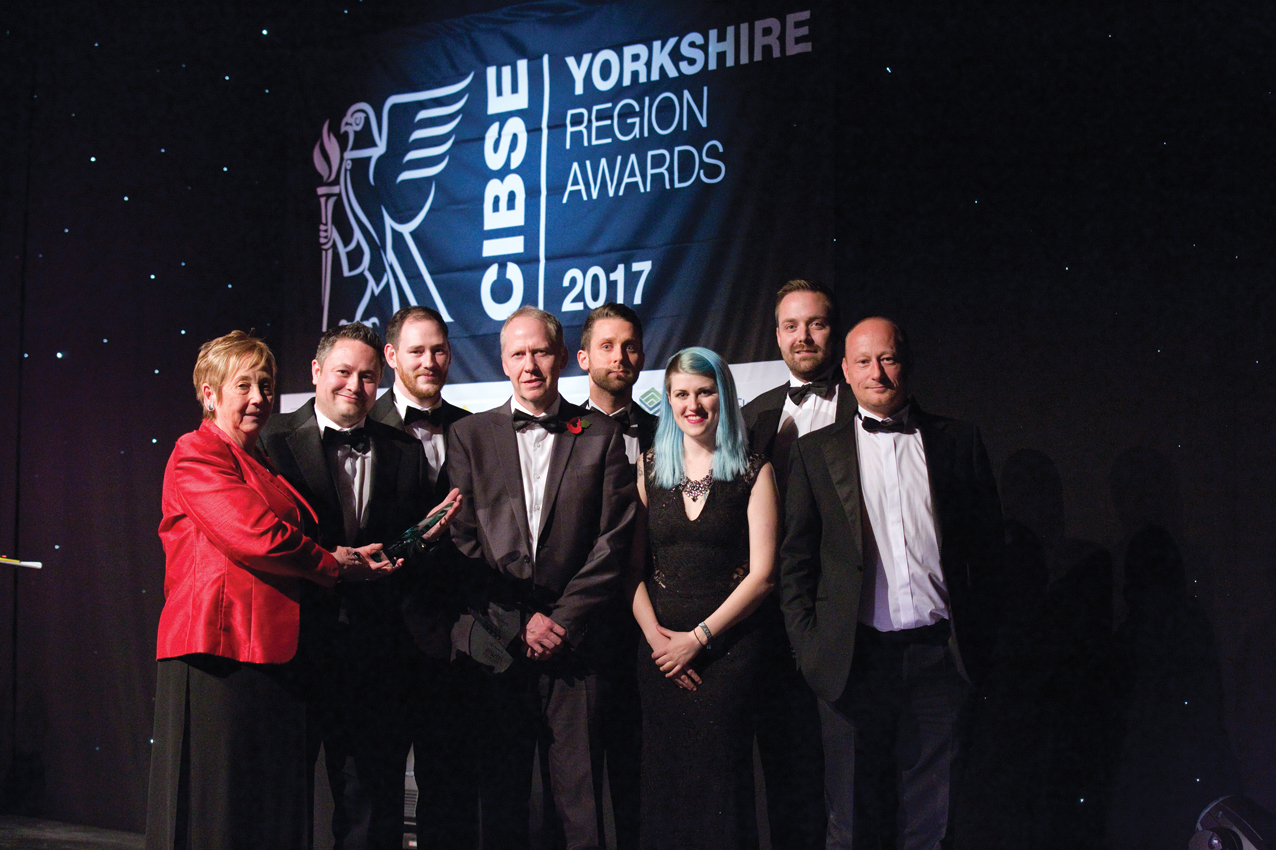 Airedale received the CIBSE Yorkshire Manufacturers' Award for the Artus hybrid, low-energy, fan coil unit, from June Lancaster of Asset Wisdom
Retiring committee members Colin Wilson and Steve Goodhead were both recognised for their work and service to the region, with a CIBSE Silver and Bronze medal respectively.
Simon Owen, CIBSE Yorkshire chair said: 'The awards are about outcomes and celebration. Kayley has had more than 40 offers of help, Leeds could be a demonstration region, and Martin has got a lot of people looking at what they do differently.
'Not only that, we've raised more than £2,400 for our charities, and shown that the industry has a lot to be proud of.'
Yorkshire Awards 2017 winners
Project of Year – Education (sponsored by Toshiba Air Conditioning)
Couch Perry Wilkes, Worsley Building
Project of Year – Sport and Leisure Award (DSSR Consulting Engineers)
MRB Consulting Engineers, Yorkshire Event Centre
Commercial and Industrial Project of the Year (Brentwood Design Partnership)
LEDA, Little Kelham
Chairman's Choice Award (Hoare Lea)
The University of York, nominated by NG Bailey as Client of the Year
Manufacturers' Award  (Asset Wisdom)
Airedale, Artus hybrid, low energy, fan coil unit
Contractor of the Year (Anderson Green)
Mansfield Pollard
Collaborative Working Partnership (SES)
Waldeck Consulting
Small Consultancy of the Year (Glen Dimplex Heating and Ventilation)
LEDA
Large Consultancy of the Year (Ideal Commercial Boilers)
Hoare Lea
Graduate Engineer of the Year Award (MRB Consulting Engineers)
Anastacia Kruglova
Highly Commended: Kieran Lean and Grace McMahon
Young Engineer of the Year Award (Silcock Leedham Consulting Engineers)
Emily Marner
Student Award (Calibre Search)
Sarah Lumb, University of Northumbria
Zack Taylor, Leeds Beckett University
Jessica Ritchie, The University of Leeds
Cameron Noman, Leeds College of Building
Florence Maskell, University of Sheffield
Nick Darling, Brunel University London